Local Olympia nonprofit organization SideWalk has a new executive director. Olivia Hickerson brings her hands-on experience of helping people, who are facing or experiencing homelessness, navigate services to secure housing. Out of a little blue cottage, in an East Olympia neighborhood, Hickerson, her staff and her volunteers are helping people walk a path to having a roof over their head and a place to call home.
SideWalk Mission Supported by Hickerson's Education and Experience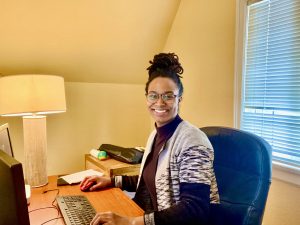 Hickerson has experience serving abroad and a degree in government and social science. "I've always had this will to help or be in a profession that helps," Hickerson says." I also have an associate degree in criminal justice and corrections. It started with re-entry, and that is what I was passionate about and moved into homelessness." During college, Hickerson spent time in the Dominican Republic working with the Mariposa Foundation, which strives to send girls affected by generational poverty to college who otherwise wouldn't feel that it was an opportunity. After college, she went to Vietnam and taught English.
Hickerson comes to Olympia after working in Mount Vernon, Washington at Skagit Friendship House. As their winter shelter manager, she restructured program operations and built community relationships. When local entities combined funding into a single, year-round, 24-hour, 7-day per week shelter, she did the hiring and training. When her mentor left the job, she took over in the interim, doing more administrative duties. She liked both aspects of the work, being on the ground for three years as point person for intake and being in a leadership role.
Hickerson Leads the Dedicated SideWalk Volunteers
"I like that now I can be the vision," Hickerson says. "I still like to interact with clients, and I think that helped me where I am today, but I do enjoy the admin part, having that vision and then encouraging people to fulfill that vision. I enjoy building those bonds with the people who are on the ground, our volunteers, other staff and our peer team. Building those people up to then produce those services is something that I'm really passionate about."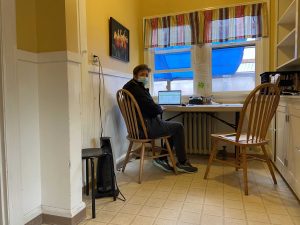 Hickerson gathers her team for staff meetings and to conference and brainstorm about current cases. "My leadership style is empowering others to lead," she says. "I think that is something that is needed. I'm not a 'This is my way. Do it this way.' I like a collaborative effort, and I like people involved in the decisions that affect them."
All of the current SideWalk volunteers have been there for over two years, staying on through the COVID-19 pandemic. Hickerson emphasizes their giving nature by describing them as people you don't pay, that show up every week. "They are dedicated and stay late and get on Zoom at four and five o'clock in the afternoon to discuss people that they talked to the previous week," she says. "It's a very special and unique model here."
SideWalk Helps Olympia Navigate Housing Complexities
Often, managing housing application processes is complicated. When people have help navigating, it could mean reaching one's goal of obtaining housing. SideWalk staff and volunteers have been helping people navigate the housing process since 2012.
"Ultimately our mission is to end homelessness," Hickerson says. "One thing that drove me to this organization is that it's a broad mission, and that means, to me at least, that we can do whatever to meet that end goal. I see SideWalk in the tiny home space. At this time, I don't know how we would navigate that. I am a huge advocate for tiny homes. I think tiny homes will end homelessness. I think it is the cost-effective option, and it's proven to work. That's where I see us going. Now, it's building those connections in the community. I'm new and no one knows me, and a lot of people don't know SideWalk. And, it's getting back in the community and understanding what Thurston County needs and who we can bring together to make that happen."
One aim of SideWalk is to streamline the many complex services and provide assistance where clients are eligible. For example, their peer program helps connect eligible applicants to supportive housing services for qualified Medicaid beneficiaries. On a one-time basis, SideWalk can help eligible people with diversion assistance, or they may fund basic transportation to a housing option outside Thurston County. People can also bring their options to the table or SideWalk can direct them where to start. SideWalk adheres to its service philosophy that focuses on housing first, strengthens their clients in solving their own problems and approaches them with trauma informed care. They strive to lessen the barriers to housing and to reduce harm affecting their clients.
"I believe housing is a basic right," Hickerson says. "Everyone should have a place to lay their head that is functional, that is habitable to live in. It's very sad to me that we can just see people sleeping outside and think that it's normal and that somehow based on some decision in their life they deserve to sleep outside. It's very heartbreaking."
To find out more about SideWalk, visit the SideWalk website or call 360.515.5587.