The summer's end is quickly approaching. Now is the time to get outside and enjoy the sunny days before they are gone for the season. Mountain biking and trail running are all-year activities but in the Pacific Northwest they are best enjoyed when the wet and mud are dried up, and the conditions are perfect for speed. Just a quick drive from Olympia, find a mountain biking or trail running adventure before summer ends at Fall Creek in the rugged Capitol Forest.
Fall Creek Trailhead and Campground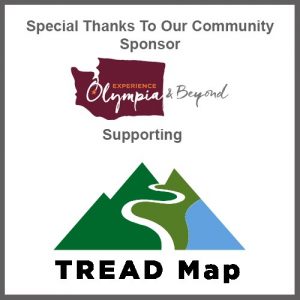 Conveniently, the Fall Creek Trailhead is where the Greenline, Wedekind, Lost Valley and McKenny Trails meet, making this area a central location to reach many of the beautiful places in the Capitol Forest. The trailhead provides access for hikers, trail runners, mountain bikers and those on horseback. The trails are well marked with signs and mile markers at key locations. Also, at the trailhead, find a large, covered shelter open to all users, complete with a fire pit, ping pong table and bocce ball court for fun downtime when not biking, hiking or running.
The cozy Fall Creek Campground offers eight campsites, with a restroom and a horse corral for equestrians. There is access to miles and miles of trails for walking, running, mountain biking and horse riding right from the campground. Open on a first-come, first-served basis until October 5, this free, small campground is a peaceful place to rest overnight while on adventures in the Capitol Forest.
Be sure to download the Fall Creek Trail System map before venturing into the forest. Note that routes marked in green are for those on foot only, and blue trails denote various trails for hikers, non-motorized bike riders and those on horses. Also, don't forget to purchase a Discover Pass for $35 annually or $11.50 for day use.
Mountain Biking at Fall Creek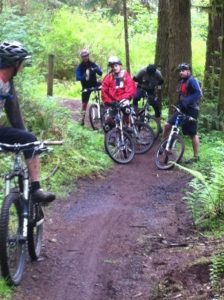 Riders new to Fall Creek quickly put the mountain bike trails in the Capitol Forest high on their favorites list. Multi-day rides are possible without seeing the same area twice. With various landscapes with nothing over challenging, this area offers straights for speed and curves for fun on two wheels. With all manner of trails, find shady old-growth and new-growth forests, sunny clear cuts and beautiful views to stop and enjoy. The tread is good with firm gravel in most areas, making Fall Creek fun for experienced mountain bikers as well as beginners, all just a short drive from Olympia.
Trail Running at Fall Creek
The Fall Creek area of Capitol Forest also offers runners the chance to hit some of the trail loops for a fantastic workout in the forest. Suggested loops include the Greenline, Crestline, Wedekind Loop at around 15 miles, the Greenline, Greenline Tie, Wedekind Loop at about nine miles and the Lost Valley Loop of approximately eight miles, to name a few. For even more trail running, hit the Mima Falls West or McKenny Trails as well.
For a quick summit that is open only to those on foot, Fuzzy Top is a fantastic route for a short trail run in solitude. With views of Mount Rainier and Mount Saint Helens, sit and enjoy the bench at the top before running back down.
How to Get to Fall Creek
From I-5, use exit 95 and continue on Maytown Road SW to Waddell Creek Road SW. Follow Waddell Creek Road and keep to the right at the first intersection. From Waddell Creek Road, continue west on Sherman Valley Road. At the intersection of Noschka Road, go west on C-Line Road 3.3 miles. Turn left on C-6000 Road and go south 2.5 miles. At the end of the pavement, keep left up the hill and follow the gravel to a left turn signed to Falls Creek. Falls Creek Campground is on the right just after crossing the bridge.
From hiking, running, and mountain biking to riding horses and even the chance to set up and camp for a night or two, there are countless ways to explore Capitol Forest. Fall Creek is just one section of this massive outdoor playground. So, don't miss the summer's last chances to get out there and find an adventure deep in the woods but close to home.
Get more information about outdoor activities by visiting: Outdoor Activities in Olympia & the Pacific Northwest | Experience Olympia
Sponsored