When shopping for a new home, it's easy to be wowed by tasteful staging and fine finishes. But a skilled home inspector looks beneath the surface to make sure the bits you don't see are as safe and strong as those you do. At Boggs Inspection Services, their team works hard to make sure your investment is secure, but they also shine their light on community causes, charities and nonprofits. This month, join them in raising awareness of childhood cancers via the Rachel Lynn Henley Foundation.
Dwayne Boggs: Cancer Survivor and Community Benefactor
The National Cancer Institute reports that almost 40% of people will be diagnosed with cancer during their lifetime. Boggs Inspection President and CEO Dwayne Boggs is one of the lucky ones, having recently celebrated one year cancer free himself.
"As he was going through it, he couldn't help but think about how much more difficult it would be for a child and their family to endure, both physically and emotionally," explains team member Heather Derrick. His first-hand experience and commitment to local giving led to this year's second annual fundraiser running throughout the month of September.
During that time, Boggs will donate $5 from each inspection to the Tacoma based Rachel Lynn Henley Foundation. "It has always been important to Dwayne, and our entire team, to donate to meaningful organizations," says Derrick. "We did a lot of research before choosing the Rachel Lynn Henley Foundation and we love supporting all they do. It was important to us to donate locally, and as a business, we feel it's important to do whatever we can to make a positive impact beyond our own company."
Supporting, Fundraising and Increasing Awareness of Childhood Cancer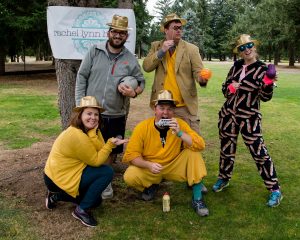 The Rachel Lynn Henley Foundation has a mission to support children, young adults and their families living with cancer by enriching their quality of life during the fight, and funding crucial important and ongoing research needed for cures and maintaining hope.
They are a family-run charity dedicated to the memory of Rachel Lynn Henley, who was diagnosed as a 14-year-old in 2007 and passed away in 2015 after a fierce battle with synovial sarcoma. Henley had a heart for helping others with similar diagnoses, especially children and young adults.
Since 2007, Team Henley has raised nearly $80,000 and continues to do so through auctions, garage sales, holiday giving, tournament sponsorship and fun nights out on the town. They recently sold out their Night Out with the Tacoma Rainiers on August 11 and are prepping for the annual Kicking and Swinging for Smiles FootGolf and Golf Tournament on September 17.
Rachel's Hugs Grants Wishes One Child at a Time
As with any project, task or challenge, it's best to take things one step at a time. For the Rachel Lynn Henley Foundation, this is done through the blessing of Rachel's Hugs. Since 2017, they have worked with Mary Bridge Hospital's Hematology/Oncology Clinic to grant wishes—called Rachel's Hugs—for young cancer fighters.
These wishes have included a big girl bed for 4-year-old Skyla and new iPhone for 17-year-old Edwin as they battled leukemia. Fellow patients 10-year-old Aaden and 16-year-old Cole asked for and received PlayStations to keep them distracted and help interact with friends. 16-year-old Charlotte wanted a shopping spree to boost self-esteem and 15-year-old Yasmine received a customized habitat for her many beloved pet rats. 5-year-olds Bentley and Olive and 3-year-old Bryce were given fun playground equipment to get the wiggles out and toddler George now has a gorgeous aquarium at home, just like the fish tanks he loves so much at Mary Bridge.
—
If you're able to sponsor a Hug of your own, consider donating to the Foundation today. To earmark your funds for a specific cause, email info@rachellynnhenleyfoundation.org with details. The Foundation is also part of the Washington State Combined Fund Drive, Boeing Company's Individual Giving Program and The Boeing Company's Gift Match Program as well as the Nike Matching Gift Programs. Follow the family on Facebook, Instagram, and Twitter or join their mailing list to keep track of upcoming events and activities.
To donate via a Boggs home inspection, schedule online or request a free quote through their website or by calling 360.480.9602. They offer inspections and packages for buyers, sellers and to combat pests, mold, termites and other common household issues. Their experience and expertise can shine a light on potential problems before you buy or sell a home or anytime on the home ownership journey.
Many of us will be impacted by a cancer diagnosis, whether ourselves or someone we love. Thanks to caring organizations like the Rachel Lynn Henley Foundation and corporate sponsors like Boggs Inspection Services, families undergoing treatment for their children can receive joy, support and even a kindhearted Hug in their time of need.
Sponsored