Now that it's July, doublecheck your calendar to make sure you have the date of the annual summer food and music festival in Yelm, it's the most fun you will have all summer. The whole family can come and enjoy some of the best barbecue in the county. The Nisqually Valley Barbecue Rally is happening July 23 from 10 a.m. to 7 p.m.
The Yelm Chamber of Commerce organizes this annual rally, which includes barbecue, musicians, vendors, games, contests, demonstrations and local performers. Since the event is located at the Yelm City Park there's also playground equipment and splash pad. And another bonus, the rally is right next to the Yelm Farmers Market. Line Roy, the Yelm Chamber's executive director, says the Market and the Rally will both be open on July 23. Shop local vendors of fresh flowers, produce, plants, hand-crafted items and more.
Rally organizers marched in the June Prairie Days Parade as just one of the many creative ways they are inviting you to the barbecue-themed happening. They have also been posting information on the Nisqually Valley Barbecue Rally website, Facebook page and otherwise spreading the word. "We are so excited to be in the final stages of putting on this amazing event," Roy says. "We can't wait to get everyone there. It's going to be super fun."
Last year, more than 8,000 visitors enjoyed the food, music and performances. To get a sense of what a good time is had at the Rally, check out this video from 2021 produced by Part One Media.
This year, this family-friendly community gathering will be "Saucier and Smokier Than Ever."
Nisqually Valley Barbecue Rally Kick-Off: July 22
The kick-off is the Friday night before the Rally, on July 22, when persons 21 and older can sip beers and ciders at the park beginning at 5 p.m. You will want to add this "VIP Prefunk" beer garden gathering to your calendar, too, and stop by local businesses in advance to pick up a Rally coaster. Roy says the drink coaster is a ticket that permits you to get into the beer garden kick-off.
The next day, the beer garden opens again for the July 23 cookout festival.
Nisqually Valley Barbecue Rally Food, Performances, Contests, Vendors and More: July 23
Several professional chefs will be selling their barbecue items on July 23. Businesses participating in this part of the cooking rally are the Comfort Food Café and Snack Bar, Jerk An Tingz, OG's Smokehouse BBQ and Steele Barrel BBQ.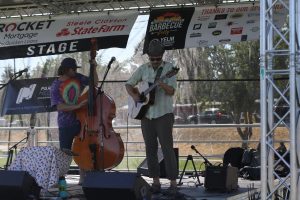 Musicians and performers will also be entertaining the crowds from two stages. Country music singer-songwriter Dakota Poorman is scheduled to perform on one of the two stages. His tunes feature original music and his interpretation of songs by country artists. Local favorite, the Clown Fish band, will be there, with its signature favorite sing-along songs and originals. Add the Prohibition Band from Chehalis to the list as they will be providing modern, classic and southern rock, outlaw country and rockabilly. And Kaitie Wade will perform her pop-country tunes.
Additional performances will be provided by the local Wings Aerial Acrobats and Kaos Dance Elite.
You can enter two competitions at the Rally. First, local amateur barbecue chefs will be competing against each other. 13 amateur competitors are signed up so far to grill and have their food judged by a panel of locals, who will award prizes. Prizes are given for the best in each category and one overall winner. Competitors need to sign up through the Yelm Chamber of Commerce and the cost is just $50. Proceeds from this fee and vendors' registration go to the Chamber's Business Economic Recovery Task Force's grant program providing financial assistance to area businesses.
And second, a timed pie-eating competition with youth and adult categories is also scheduled. Register for the pie contest at the booth the day of the event.
25 local vendors signed up to participate at the Rally. They will offer fun giveaways, drawings and goods for sale.
The Rally has a long list of sponsors who bring this community event to life. This year, the Yelm Community Center will also be a rally location for barbecue-related demonstrations and a cooling station.
There's no gate fee and parking is free on the streets surrounding the park. Rally mascot Brisket will be on hand to welcome you. If you haven't already, mark your calendar now for this summer celebration on July 23, and the kick-off on July 22. To learn more, see the Nisqually Valley Barbecue Rally website.
Nisqually Valley Barbecue Rally
115 Mosman Ave SE, Yelm
July 23, 10 a.m. to 7 p.m.
360.458.6608
Sponsored