Submitted by Mason Health
Mason Health is committed to offering the best patient-centered care in the Pacific Northwest to the residents of Public Hospital District No. 1. Attracting compassionate and highly trained providers feeds into that Vision. This year, Mason Health has welcomed three new providers to the fields of pediatrics, primary care and walk-in/urgent care: Thuy Van Nguyen, MD, joined Mason Clinic-Pediatrics in May 2022; Amanda Proctor, ARNP, joined Mason Clinic-Hoodsport Primary Care in January, and Francis Prince, ARNP, joined the Walk-In Clinic in January as well.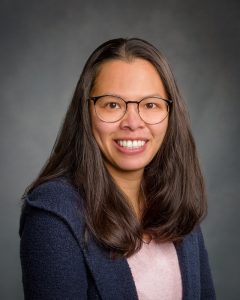 Dr. Nguyen (pronounced Nuh-WEN) grew up in Vietnam and graduated from the Pham Ngoc Thach University of Medicine in Ho Chi Minh in 2010. She completed her pediatric residency training in 2018 at Sinai Children's Hospital in Mount Sinai Hospital in Chicago.
For the past four years, Dr. Nguyen has been working in North Dakota for the Altru Health System, providing comprehensive pediatric care to children, ages 0 to 21. Her experience includes coordinating care for complex medical conditions, evaluating and creating evidence-based plans for behavioral health disorders and providing care to neonatal intensive care unit patients.
Her special interests are in general pediatrics, obesity management, allergies and dermatology. To make an appointment at Mason Clinic-Pediatrics, call 360-426-2653.
A full profile on Dr. Nguyen will be in the fall issue of SCOPE magazine.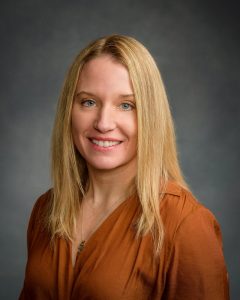 Amanda Proctor, ARNP, joined Mason Clinic-Hoodsport Primary Care in January 2022, and has quickly made a home in the Shelton community with her two dogs, Gus and Maddie.
Proctor grew up on 25 acres in Deer Park, Wash. She obtained her Bachelor of Science in Nursing degree from Washington State University's College of Nursing in Spokane, then worked as a registered nurse at Sacred Heart Medical Center in Spokane in the cardiac transplant and pulmonology units.
In 2016, she decided to go back to school for a doctorate degree. She obtained her Doctor of Nursing Practice degree from Gonzaga University's College of Nursing in Spokane.
While working on her doctorate, Proctor worked in urgent care, women's health and family practice clinics in Spokane and Idaho. She visited the Olympic Peninsula years ago, and thought the area was beautiful — when she saw the job opportunity at the Hoodsport clinic, she felt ready for an adventure.
"This brings me back to where I grew up," she said. "Working at a big hospital, I was ready for a change from a corporate company to something more hands-on and people-friendly. And, seeing the Hoodsport clinic sit right across from the water, it looked so beautiful and remote," Proctor said.
To schedule an appointment at Mason Clinic-Hoodsport Primary Care, call 360-432-7781. A full profile of Proctor is in the June issue of SCOPE magazine. You can also check out an interview with Proctor on Mason Health's YouTube channel.
Francis Prince, ARNP, followed in the footsteps of her mother, who worked as a nurse and later became a family nurse practitioner.
Her parents both served in the U.S. Army and they settled in Fort Lewis. Prince graduated with a Sociology degree from Pacific Lutheran University in 2009. She worked as an Emergency Medical Technician and a teacher in Pierce County before becoming an emergency room nurse in the South Sound area.
After she obtained her master's degree with a Family Nurse Practitioner specialty from Simmons University in 2019, Prince practiced primary care for the first time, in Puyallup and Olympia. Her wife, Hailey Prince, worked as an emergency room nurse at Mason General Hospital and they found out about job openings in the Walk-In Clinic. With five children, Francis Prince wanted more predictable and flexible hours.
"At the Walk-In Clinic, it is acute care, but there are close-knit relationships with patients and specialty providers, like orthopedics," she said. "It's a synergistic relationship. It is so appealing to be able to talk to another provider about one of our patients. All in all, that's how you truly help someone."
A full profile of Prince is in the June issue of SCOPE. The Walk-In Clinic is located inside Mason Clinic at 1701 N. 13th Street in Shelton. The hours are 9 a.m. to 6 p.m., Monday through Friday, and 10 a.m. to 3 p.m., Saturday and Sunday. Clinic hours are subject to change once daily capacity is filled.
Mason Health, Public Hospital District No. 1 of Mason County, is certified by Det Norske Veritas (DNV) and is a licensed and accredited acute care hospital with a level four emergency trauma designation. Mason General Hospital and Mason Clinic are ENERGY STAR® certified and Mason Health is the recipient of the Practice Greenhealth Partner for Change Environmental Excellence Award. There are more than 100 physicians on staff in 19 specialties. For more information or to find a health care provider, visit the Mason Health website.