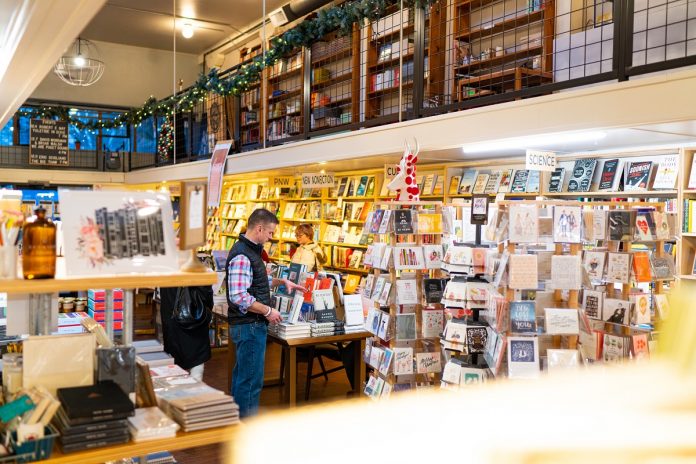 It's called retail therapy for a reason! And with this lingering wet, cold weather, we could all use a boost of endorphins. To answer the call, LoveOly Shop & Dine Week is returning by popular demand. May 23 through May 30, shop and eat at your favorite, locally-owned downtown Olympia stores and restaurants, collect stamps and get rewarded!
Of course, the time spent shopping and dining with friends and family is a reward in of itself, especially when you know your money is staying local and supporting local families. But Olympia Downtown Alliance is making the experience even sweeter with their LoveOly Shop & Dine week passports!
All you have to do is print out the LoveOly passport from the Olympia Downtown Alliance website or pick one up from a participating business. Then, make at least a $10 purchase at any of the participating locations to get your stamp! Collect five stamps and turn in your passport for LoveOly merchandise at Encore Chocolates & Teas, The Popinjay or Drees. Rewards include a fun apron, cell phone wallet and blanket, each with the LoveOly logo.
Presented by Timberland Bank, LoveOly Shop & Dine Week gives you just one more reason to get out of the house to experience the delights of downtown. Not that you needed it though! The businesses themselves are attraction enough. And you can find everything you might be wanting or needing without driving too far.
Maybe you need a gift for Father's Day—it's right around the corner—or for a beloved graduate. Check out Browsers Books, Three Magnets Brewing—for those dads that love craft brewing—or a box of chocolates from Encore Chocolates & Teas, because everyone loves chocolate! Shop for yourself and your home at The Popinjay, Compass Rose, Drees, Sound and Vision Living—they have the perfect décor to brighten up your home and accessories to liven up your wardrobe. Radiance Herbs & Massage can help you with self-care items for yourself and your family. Finally, get your favorite wee-one a new toy at Captain Little, it's a fairyland of childhood memories you'll love to visit, even if you don't have any kids in your life! They are having a special Shop & Dine week sale May 28-30, where select merchandise will be 50-75% off.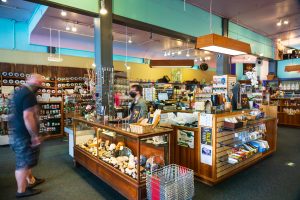 "Downtown Olympia is a great place to shop and dine because of the variety of locally owned and operated businesses and restaurants," shares Amy Shephard, Captain Little store manager. "Every place you go, you get an intimate, unique experience that you can't find anywhere else."
All that shopping is sure to work up an appetite, which is good because you can't go to downtown Olympia and not eat at one of the lovely restaurants. Maybe you want to grab a bite and a pint at Three Magnets Brewing, or savor the flavors of the Pacific Ocean at Chelsea Farms Oyster Bar. Why not do both? Start with a before dinner drink and appetizer at Three Magnets and then head to Chelsea Farms for their famous seafood tower or oysters.
You're sure to fill up your passport quick and that's okay, because you can repeat as much as you like during the week to earn more rewards. And, every full passport also enters you to win gift certificates to the participating businesses. It's like Christmas in May!
"We have an amazing sense of community in downtown Olympia," said Todd Cutts, executive director of the Olympia Downtown Alliance. "LoveOly Shop & Dine week allows everyone to shower their favorite shops and restaurants with some love while having fun and collecting cool merch. We've heard from customers and business owners alike that the sense of community downtown during Shop & Dine week is extraordinary."
Between the amazing items and food waiting for you, the rewards and the chance to win gift certificates, there is no excuse to not come and rediscover downtown Olympia May 23-30 during LoveOly Shop & Dine Week. While we wait for summer to lift our spirits, it's retail and food therapy you can feel good about.
Sponsored