Downtown Olympia has been an integral part of the community for many decades, drawing in tourists and businesses to its quaint and inviting streets. The views and landmarks provide breathtaking views alongside a slew of local resources and amenities. Harbor Heights is conveniently located in the heart of downtown Olympia, nestled alongside the water and surrounded by wonderful services. Harbor Heights resident, Loren Freeman, has found the walkability of the downtown Olympia area to be one of the many perks of life in this exceptional 55+ community.
Loren has lived in Thurston County for the last 45 years and always wanted to live in the downtown boardwalk area. "I saw it come to fruition with Harbor Heights," he shares. "Walkability was one of the key reasons my family chose to live here." Loren will be losing his sight sometime in the future and wanted to live somewhere they would be safe and have local resources to easily get around. With the easily walkable streets, neighboring businesses, and exceptional public transportation, Loren felt confident that life in Harbor Heights would be able to provide everything he and his family will need to be happy and comfortable.
Eighteen months ago, Loren and his family sold their house and moved into a brand-new apartment at Harbor Heights. Ever since, they have enjoyed discovering the many wonderful opportunities within the local the community and resources that make downtown living easy and convenient. From the farmers market and Bayview Thriftway to community credit unions and the senior center, downtown Olympia provides a multitude of local services that meet residents' daily needs and provide a sense of community. "We are increasingly shopping nearby and doing as many things as we can locally," Loren says. "He notes that he has seen people hungry for reconnection as downtown opens back up, and he is hopeful that there will be even more opportunities for people to gather and experience Olympia's rich resources.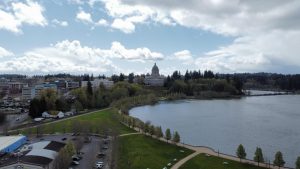 In addition to the committed and welcoming local businesses, downtown Olympia has a range of beautiful and relaxing places to walk and explore. "Our favorite walk is up to the Capitol Campus switchback," Loren says. "The lake is our go-to, though we also like to walk to the library every Friday through the downtown park." With the water so close, the boardwalk provides an exceptionally calming place to stay active and catch glimpses of sailboats and wildlife. . one of the best parts of settling into the community has been exploring all of the variety right outside their front door. "The great thing is that walking the same place can get boring," he shares. "Around here you have lots of alternatives."
Not only does downtown Olympia have great walkability, but also rideability. Local residents enjoy the benefits of the public transportation system. With convenient and plentiful stops, riding the bus is a great alternative for residents looking to simplify by getting rid of their vehicles or simply limit their driving. Loren has found this to be a huge asset to life downtown as he anticipates his diminishing vision. "Intercity Transit can take you to all kinds of hikes and walks around the county," Loren says. "Plus, in your car you never notice all of these local treasures because you just drive by. Now I can enjoy it more as a passenger." Through the many accessible bus routes and stops, Loren has found it easy to go to widely loved spots such as Priest Point Park and the North Forest Preserve at The Evergreen State College. Having so much to enjoy and explore has made life downtown a wonderful experience.
Harbor Heights is all about active living and connection, so it is the perfect place for people looking to explore and develop new hobbies or even friendships. The community is tight-knit and encourages residents to pursue their interests using their abundant resources. The staff are always looking for new ways to engage their residents further in the surrounding area and are hoping to create kayaking and hiking groups during the summer months. Additionally, the community has resident ambassador programs where residents can develop their own programs and groups to inspire each other and discover their joy. Through bulletin boards and an online resident portal, they can share local discoveries or interests, which promotes greater connectivity amongst the community.
Transitioning to a new community can sometimes feel overwhelming and uncertain, but with Harbor Heights and its local area, residents have found the switch to be the perfect next step. With the walkable neighborhoods, access to public transportation, and incredible services, downtown Olympia truly provides an exceptional experience like no other. If you are in searching for the right 55+ community for you, Harbor Heights is the perfect place to call home.
Harbor Heights
500 Columbia St. NW, Olympia
360.227.6800
Sponsored