It's almost time for caps and gowns, tassels and orchid leis. The 2022 graduating class of South Puget Sound Community College (SPSCC) is getting ready for that momentous march across the stage and into their next phase of life. The last few years have been chaotic but these dedicated students have worked hard and it's time to celebrate their success.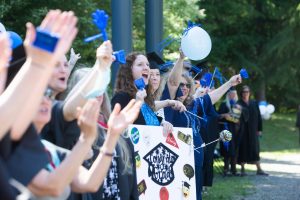 This year's 57th annual commencement ceremony takes place at 10 a.m. on Saturday, June 11 outdoors at The Evergreen State College's Red Square. Dean of Student Engagement and Retention Jennifer Manley can't wait to be on hand. "We are so excited to celebrate the graduating class of 2022! The students have shown their courage, determination, and persistence throughout their educational journey at SPSCC and we are honored to recognize them as SPSCC Alumni in our community."
After virtual graduation ceremonies in 2020 and 2021, this year they'll offer an in-person event that will also be livestreamed via the school's YouTube channel. And despite the ups and downs of in-person versus remote classes, they school is graduating roughly the same number of students as it has in the past.
"Last year, staff across campus came together and pulled off a drive-through parade celebration on campus," added Manley. "Students and families really enjoyed it, but we know that this year's graduates overwhelmingly preferred an in-person ceremony. We're so pleased we're able to offer that this year!"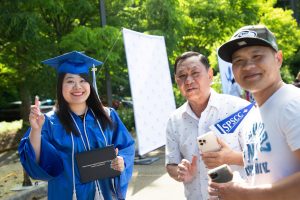 Students must apply to graduate whether or not they choose to walk at Commencement. But for those choosing to attend, they'll move across the stage and be recognized as in previous years. Tickets are not required for friends and family to attend. If students apply to graduate after the April deadline, they can still participate but their name may not be included in commemorative materials.
"The ceremony will include the traditions you'd expect," Manley said. "There is ample space at TESC's Red Square for graduates and families, and it just feels like the big graduation you feel excited for when finishing college. Plus, it's outside so folks can feel safer about coming to celebrate their graduate."
Graduates are required to wear a blue cap and gown with tassel, which is available through the bookstore and is shipped to their home. The bundle is available to purchase until May 19. Used options may be available to graduating students through the Office of Student Life.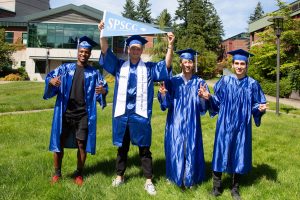 Along with the caps and tassels, students will be decorated with honors cords and stoles to represent their journey at SPSCC. White and silver cords indicate high and highest honors in overall GPA, a blue and white braid represents students in Running Start and a red, white and blue braid is reserved for student veterans. Stoles are often worn by student-athletes, students involved in the Diversity, Equity & Inclusion Center, and international students.
Graduates can expect to receive their diploma in the mail a few months after the ceremony. Diplomas will be mailed using the name and address in the school's system so students should verify it's up to date. Because they are not mailed for several months, email graduation@spscc.edu or call 360.515.3538 to notify staff of changes. That is also where students can reach out with questions about any step of the process or graduation ceremony.
The decision to attend college is an important one. Students and their families work together through the application process, financial aid and available work/study options. But those years of dedication pay off in tremendous ways.
Graduation ceremonies are full of pomp and circumstance, both the song and the festive atmosphere. Graduates deserve all the honors they've received and it's a great reason to throw a party for those we love. The graduating class of 2022 has been through the wringer but with the end in sight it's finally on to bigger and better things. Like a festive outdoor commencement followed by a well-deserved summer break.
Know someone looking for their next step? At SPSCC, they can attend online or in the evening after work, finish high school, or learn English thanks to course offerings for everyone. The application deadline for summer 2022 classes is June 20 and fall classes is August 30. First day of summer quarter is July 5 and the first day of fall quarter is September 19. Get started any time at spscc.edu.