The Capital High School girls fastpitch team defeated visiting River Ridge 11-1 Friday, April 1 at Yauger Park in 3A South Sound Conference play. Capital senior Savannah Johnson threw a complete game (five innings) with three strike outs and went two for three with a home run and a triple to lead the Cougars. Johnson was happy with how focused and upbeat her team was. "Our team is just close and I feel like we are getting stronger chemistry," Johnson remarked after the win.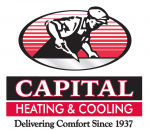 Capital (2-6, 1-3 3A SSC) head coach Amanda Beers loved her team's effort and clean defense on the day. "We had a goal to communicate and to play hard right from the start and we accomplished that," Beers stated. "Our team is a very resilient bunch. The juniors and seniors had a canceled season and last year an abridged season. They come out and work hard and get better after each game."
Marty Harvey, head coach for River Ridge, looks to keep building as the season reaches the mid part of the schedule. "We're a pretty young team and it's going to be a year of learning," Harvey remarked after the loss. "The future looks bright though so we'll just have to get through this year, learn and grow and hopefully keep building to be more competitive."
River Ridge (1-7, 0-4 3A SSC) looks to rebound moving forward. Ridge plays Lacey rival Timberline (1-5, 0-4 3A SSC) Monday, April 4 at 4 p.m. at River Ridge High School. Capital will rest for the high school spring break and then resume play against Timberline to begin the second half of the season April 11 at Timberline.