Autism is a diagnosis that impacts approximately 1 in 44 children, according to the Centers for Disease and Control (CDC) and Autism Speaks. All ethnic and socioeconomic groups are affected, and early detection, support and intervention provide the best path forward for families. To help raise funds and awareness, Boggs Inspection Services donates money annually during the month of April for the Washington Autism Alliance (WAA) and those in need.
Boggs has donated to the Alliance for more than five years. They contribute $5 from each inspection done through the month of April. "Giving back has always been very important to Dwayne," explains team member Heather Derrick. "It's one of the reasons Dwayne wanted to start his own business. He not only wanted to provide jobs for others, but he felt it was important to use any type of platform he had to help those in need. Our team is dedicated to giving our own resources to help others."
"This cause was brought to Dwayne's attention several years ago, and something resonated with him," says Derrick. "He has always had a heart for helping kids, especially those with disadvantages. We have two organizations we support every year. This one and Childhood Cancer Awareness in September."
Their dedication and financial support are vital to the Washington Autism Alliance. The organization explains that: "Washington State is home to 142,864 children, adolescents and adults on the spectrum… [They] face constant and sometimes overwhelming barriers to accessing healthcare, education, and community services. The very interventions that would support their connections to family, school and community are denied or disrupted time and time again. We all need consistency and supportive environments to develop independence, learn and thrive. For individuals with autism spectrum disorders these basic needs cannot be overstated."
"Even with health insurance," says Derrick, "many are fighting overwhelming barriers to receive care. Waiting times of six to nine months to get an appointment are not uncommon, especially for those with Medicaid coverage."
The WAA has a proven track record of advocacy, which provides access to services for 10,000 clients already and rights to coverage for nearly 60,000 more. They work through legislative and grassroots mobilization to provide services, resources and training workshops to families. They are proud to be the "nation's only legal advocate for people with autism and other intellectual and developmental disabilities that pairs individual/family navigation with legal services regardless of ability to pay."
The Boggs team appreciates how WAA helps real families in our state. "In 2021, WAA served 1,720 families," says Derrick. "One of them was the Smith family: Liz, Brett and their son Matthias. They came to WAA for help with an insurance company decision that denied behavioral therapies to their eight-year-old autistic son, Matthias. Liz and Brett were immediately comforted by the compassion of the WAA staff. They attended a WAA training workshop on health law and WAA's trained family navigators helped them identify valuable resources while WAA's legal services team assisted them with the insurance appeal."
And that is vital as many families are financially impacted by the diagnosis every day. Autism Speaks says that "On average, autism costs an estimated $60,000 a year through childhood, with the bulk of the costs in special services and lost wages related to increased demands on one or both parents. Costs increase with the occurrence of intellectual disability."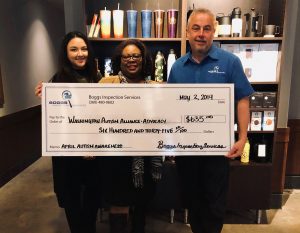 But these challenges don't stop when those with autism reach adulthood. Autism Speaks reports that almost half of diagnosed 25-year-olds have never held a paying job and many receive little or no healthcare after they outgrow pediatric wellness visits.
Thanks to the WAA, the Smith family found hope. "Liz and Brett were deeply grateful when they received the letter from the insurance company reversing their initial decision and agreeing to cover behavioral services for Matthias, who is now flourishing," says Derrick.
As a company, Boggs strives to exceed expectations and maintain a high level of integrity with all their customers. As President and CEO, Dwayne Boggs works hard to build a culture of caring, professionalism and community engagement. "Our team is humble, ready to learn, and gives what it takes to grow the company and see the vision fulfilled."
If you need a home inspected, schedule yours with Bogg's during the month of April and help give back at the same time. You can follow the Boggs Inspection Services autism fundraiser via Facebook or Instagram. There they'll provide weekly progress reports and updates as well as details of the final amount raised in 2022. Want to do more? Donate directly to the WAA online or join one of their many giving campaigns. Their next big activity is this year's Day Out for Autism which takes place on Saturday, April 30. The superhero-themed fun fair includes entertainment, sensory sensitive activities, a 3K leisurely walk and food trucks for tasty breakfast and lunch treats.
Autism is a spectrum. There is no single symptom, diagnosis, physical or mental impact, treatment or solution. But we can all do our part to benefit families who need a little extra support. If you or someone you love has questions about a possible autism diagnosis or needs help with family navigation, advocacy, legal help, insurance information or a parent support group, the WAA has something for everyone. Every little bit helps.
Sponsored