When Bryan and Jeff Turner set out to own a business, a coffee shop jumped to mind. But call it fate, call it karma, or call it luck, the father and son ended up with something more entertaining: The Brickhouse, a store that sells, trades and buys LEGOs in Olympia. Not bad, considering that Bryan has loved LEGO toys since he was a kid.
"I've just been personally collecting them really my entire life," he says, "since I was five years old when I bought my first set with some birthday money.
It was called Noel's House of Bricks when they bought it in 2015, a few years after it had opened. The owner sold them the brick-and-mortar store so he could focus on online sales. The Turners changed the layout a bit and the name, though that last part was harder than you might think."We wanted something that was kind of fun and told you in the name something about the store," explains Bryan. "We were actually having trouble just coming up with something that was fun and catchy, it was like 'LEGO bricks, well, the Brickhouse. Let's go with that.'"
An Impressive Sight
From the outside, the Brickhouse doesn't look like anything special, a standard building nestled in a small complex on Olympia's eastern side. But the resale store is a sight to see on the inside.
It is filled with shelves and display cases nearly overflowing with LEGO sets, many still in their original boxes. Some are decades old, including a pair of pirate sets from 1991. They even have an unopened set that came with a McDonald's Happy Meal in 1989. In addition, the Brickhouse has pieces dating back to the 1960s.
There are also four massive tables filled with bulk pieces and several scoops, just like the ones used in candy shops. Here is where some customers spend a fair chunk of time, hoping to find the specific parts needed for their creations.
Not far away is the minifigure table, a spot teeming with legs, torsos, heads, hats, hairpieces and tools. It's a favorite place for children who want to make their own character.
"Our specialty is secondhand LEGO in volume you can't get anywhere else in Olympia or Thurston County, be it building sets or individual pieces. Additionally, we have a few display pieces and the display table creations you won't find anywhere else."
Inspiring Customers
Though many adults shop at The Brickhouse for themselves, Bryan says children can be some of the most inspiring customers. He recalls a few years ago when two young sisters wanted to buy a $400 model of the Hogwarts Castle from the Harry Potter world. The parents said the girls would have to earn the 6,020-piece set. Undaunted, the sisters traded in about $200 of their own LEGO toys. They made the rest of the money by doing the dishes, mowing the lawn and walking the neighbor's dog.
"I feel like the youth these days get a really bad rap for being impatient, you know, they just want it now, the whole immediate gratification culture that we seem have," Bryan says. "These two girls were totally good with, 'Hey let's buckle down, we have a goal, we are going to sacrifice some of our personal stuff, we're going to sacrifice our time and we're actually going to earn this thing.'"
Community Involvement
Bryan and Jeff make sure they are part of the community. They recently hosted a sale from 6th Ave Second Hand, a baby and children's clothing store. The Brickhouse is also teaming up with South Sound Parent to Parent to help children with autism improve their communication skills. In the most recent session, the kids were each given a bag of random bricks to build something. The catch was that they had to speak with each other if they wanted a different piece, rather than simply walking over to the bulk tables. "The emphasis is on communicating with each other, being polite, being respectful," Bryan says. "Kids get excited with LEGOs."
More Than Just a Toy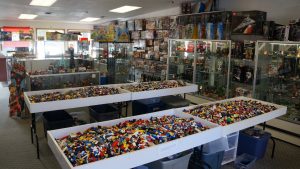 One thing Bryan wants people to know is that LEGOs are more than a present for a child or a must-have for an AFOL (pronounced "a-foal," a bit of fandom slang for Adult Fan of LEGO). In other words, LEGOs are more than just a toy.
"It inspires creativity and imagination, develops fine motor skills, exercises problem solving, lowers anxiety and stress, and emphasizes focus and concentration," Bryan says.
Ready to check it out? Don't forget to bring that old set sitting in a box in the closet, it might earn you a bit of cash or store credit. The Brickhouse buys, trades and sells LEGO products, including books, games and movies. The Turners do most of their announcements and answer questions on the store's Facebook page.
The Brickhouse
2747 Pacific Avenue SE Suite A7, Olympia
360.628.8568