Over 10% of households in the United States experience food shortages at some time during the year. People in Thurston County face food scarcity. It could be someone you know. A team of Tumwater neighbors, with the support of Tumwater Council Member Leatta Dahlhoff, are looking to establish a small, communal pantry within the Tumwater community. LeeAnn Percy, Jim and Betty Gebhardt and a few neighbors are in process of setting up Tumwater's first Free Little Pantry. It is a powerful way to address people's food needs.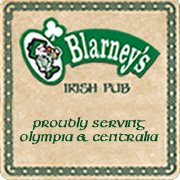 A small pantry box is not meant to compete or take the place of other programs in place, such as the Thurston County Food Bank. "There's a lot of need," says Leatta. "It is another layer of the social fabric." A Little Free Pantry allows people to easily access food and provides an opportunity for those with extra to share. They are a cousin of the freestanding book sharing libraries you might have seen before.
In the United States, more than 38 million people, including 12 million children, are food insecure. Many of these households do not qualify for federal nutrition programs and look to local options for extra support. It's not only people without homes that face food shortages. Sometimes there are more days than dollars to buy food for those with limited income. Some are underemployed and others have transportation issues. People have unexpected expenses, and little is left over for food. Leatta has heard from firefighters making house calls where people were not in actual danger but were lonely. They have seen food shortages in such situations. Too many in our most vulnerable populations, including the elderly and children, are hungry.
The idea for a little pantry originated with LeeAnn, who is a Thurston County master recycler composter. She has a high interest in reducing food waste, increasing composting and relieving hunger. "When I saw the Littlerock stand, it was awesome," she remembers. The Littlerock Sharing Spot has been around for years and offers food for people and pets as well as health and household supplies. Everything is donated by the community.
Typically, these small pantry structures are set in a neighborhood with easy access. Canned or packaged food with a hearty shelf life, such as tuna, peanut butter or pasta are common. Hygiene supplies like soap and toothpaste are also found in the pantries. "Lately, life has been so heavy and so dark," notes Leatta, adding, "The pantries are about hope, connections and positivity."
Leatta has been living in Tumwater since she was 18 months old. "I grew up with a garden," she says. When it was mealtime, someone went out to pick whatever was on the menu. Her family grew berries, salad greens, corn, garlic and more. "Everything!" Leatta says, recalling that if you needed something and didn't have it, you could just borrow from your neighbors. The free pantry would work a little that, people sharing abundance with each other.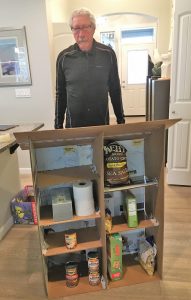 Leatta also loves to meet with her neighbors. "I want to get a pulse in Tumwater," she says. "A fresh perspective, maybe even something I don't want to hear." It is part of her desire as a council member. Leatta is also interested in ways to bring people together. Little Pantries look like an avenue. As a council member, she examines the barriers and challenges to making the project a reality. What needs to happen to make a little pantry viable?
Jim has already made a prototype from cardboard," says LeeAnn. It's approximately 30-inches by 36-inches by 12-inches deep, and the free-standing unit would cost about $200.  He's ready to move forward as soon as a place is found.
The group is also talking with various nonprofit organizations, hoping one might include the pantry under its umbrella. Such a connection would allow people to participate in the neighborhood matching grant programs with the City of Tumwater. Those funds could pay for building supplies.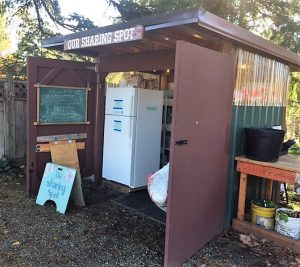 The Free Little Pantry team is starting small with a single unit. They envision it placed in a neighborhood or perhaps on a church property. The team will make sure the pantry is stocked and tended. If you have never seen photos or are curious about other nationwide locations, find them on the Little Free Pantry site.
If you are interested in joining the Free Little Pantry team or have donations to offer, please write to LeeAnn at sculptor.in.stone@gmail.com.
Making community connections is critical to our well-being, especially after pandemic isolation.
"We are here to help you be successful and thrive in our community," says Leatta. If you have an idea in your mind, we want to hear from you!" she adds. You can contact Leatta at Tumwater City Hall.