When Kelli Schueler's husband brought a team to the Lacey South Sound Chamber Golf Classic one year, something unexpected happened. It was their first time at the annual event and by the time they reached the 9th hole, the group had come to a conclusion. "They told us, 'This is the most fun I've ever had at a golf tournament,'" recalls Stephanie Hemphill, Schueler's business partner at Kesh Marketing, one of the event's main sponsors. "They had never experienced anything like it. It was great feedback."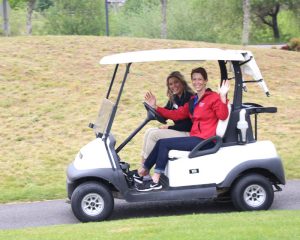 This year's tournament will kick off at 7 a.m. on Friday, May 13 and wrap up at 2 p.m. following a reception and awards ceremony for winners in various categories. The Golf Club at Hawks Prairie will once again host the event. "They're a great host," says Hemphill. "I appreciate their partnership and it's a beautiful course."
Players can register individually for $130 or as a team for $500. Members of the military or first responders receive a reduced fee of $100 per individual. Anyone who signs up for the Captain's Package for an additional $20 will also get two mulligans, putting & chipping contest tickets, five raffle tickets and two feet of putting string. The cost covers a continental breakfast and coffee bar, lunch, a golf cart and greens fees.
Awards go to the first, second and third place teams as well as winners of the men's and women's long drive contests and closest-to-the-pin competitions. Chamber members donate raffle items that range from various types of food packages, including pizza parties, to tree stump removal.
Although some accomplished golfers participate, the emphasis is on fun and not taking yourself too seriously, according to Hemphill. The tournament is set up as a scramble in which players take the best of four shots and play from that point. There is a requirement for two drives from each player on the team. "If you can hit two solid drives, that's all you need," she says. "You don't have to be a good golfer because your team will carry you. I'm a novice golfer, but I've played in this tournament, and I always have fun."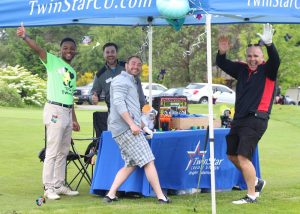 Hole sponsors are an important part of the overall vibe. As they vie for the coveted title of Most Spirited, sponsors go all out with games within games, themes such as tiki bars, and absurd contests. Last year, the winner was Chicago Title. "They had a whole French theme with little charcuterie boards and they were all wearing berets and scarves and giving out drinks," says Hemphill. "It was so much fun. There is definitely more going on than just golf."
Mike Jones, executive director of North Thurston Education Foundation, is the tournament chair. Two things stand out for him regarding past tournaments: participants' innovative approach to scoring and the weather. "It's fun to watch the scores," he says. "People get quite creative with their math." Last year's tournament had perfectly sunny weather but that is not always the case. One year they had to shut down early when the rain became too intense, but even that can be a bonding activity, he notes. The Golf Classic was canceled in 2020 because of the COVID-19 pandemic but returned full force in 2021.
Jones believes the event is an opportunity for members and non-members alike to network and get to know each other outside of typical chamber meetings. "We have breakfast and then lunch after the event," says Jones. "Then you spend four-plus hours with people on your team and you get to know the people in front of you and behind you pretty well, plus interact with the hole sponsors."
Hemphill points out that the tournament is a great introduction for anyone who might be considering joining the chamber. "It's a nice, long day and you get to see who the Lacey South Sound Chamber is," she maintains. "You see the energy and the vibe of the people who are members and how supportive everybody is. I would suggest that if someone is thinking about joining us, this is a great event to get a flavor of what this chamber is all about."
Learn more by visiting the Lacey South Sound Chamber of Commerce Golf Classic webpage or calling 360.491.4141.
Sponsored