Dental health means more than just a whiter, brighter smile. Regular dental care helps prevent cardiovascular disease, tooth decay, bone loss and oral cancers all thanks to the careful training of skilled professionals. South Puget Sound Community College (SPSCC) offers a dental assisting program that trains the next generation of dental assistants for the booming dental job market and a lifelong career in the industry.
"I might be a little biased, but dentistry is the best!" shares Program Director Laura Moe-Genther. "As a dental assistant, you are never on call, and don't work weekends or nights. It is always changing and finding ways to provide patients with the best care. Dental assistants play a key role in the dentist's office, serving as a friendly face dedicated to making a patient feel comfortable, welcome and safe. As a dental assistant, you'll work with a variety of people and provide important preventative health care services. You'll enjoy a flexible part-time or full-time schedule in an in-demand industry that can set the tone for a patient's future approach to their health."
She encourages prospective new students to consider learning more about their program. "Do you enjoy helping others feel good about themselves?" She asks. "Do you care about others, want to be part of healthcare but don't want to be on call or work long hours, have flexibility in hours you want to work and like to work in a wide variety of specialties and with age groups?" If so, SPSCC is ready to get you started.
The requirements to enroll are simple. Students must be 18, have completed high school, and have math and English 101 and medical terminology classes completed. Students who wish to start this summer have time to take these classes in Spring Quarter.
"The programs fits all ages and life stages. We have had recent graduates who are grandparents, veterans and single parents," Moe-Genther adds.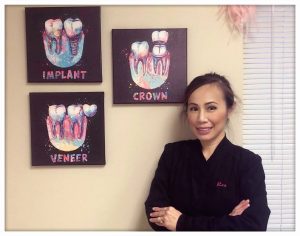 "Our program is one year starting in the summer, July 1 to the following summer ending in August," says Moe-Genther. "Due to the need for dental assisting, some students start their new career while still in school in that second summer during externships or the preceding spring quarter."
Natthanik "Bee" Hall graduated from the program in 2014. She has worked steadily—and happily—in the industry since graduating. "The next step for me is to build upon my previous experience," she says. "I am now returning to SPSCC and attending the Expanded Function Dental Auxiliary (EFDA) program. This program would help me get an EFDA license and would further prepare me for additional patient care duties."
Hall found SPSCC's dental instructors to be truly knowledgeable. "They encourage each student to be responsible for their actions and teach how important it is to follow instructions," she adds. "The faculty members really wanted each student to learn every skill needed to have a successful career. They also focus on hands on learning with real patients throughout the program."
Her new EFDA classwork is tough but rewarding, Hall adds. "The program provides lots of hands-on experience because being an EFDA offers the dental assistant increased skills but also more responsibility. Once you decide to make a change and pursue a career in dentistry, then SPSCC is a suitable place to receive your training and certification. I highly recommended the program."
Another student of the program is Meagan Yeoman. "The Dental Assisting program at SPSCC led me to a career that I love, not just a job that I go to earn a paycheck," she shares. "It has brought me lifelong friends and led me to more opportunities for success and growth."
"The best part about the program for me, was how tight knit and hands on it is," Yeoman continues. "You are there all week, all day. Not just like any other college class you go to for an hour—it's like a full-time job in itself. There are a lot of opportunities to try, and fail, and do better the next time with a whole class of people cheering you on as you go."
Many are looking for a path that leads straight to a job when done with schooling, and SPSCC provides that. "If you are looking to be a dental assistant, this program will send you out the door more prepared than you knew was possible," Yeoman shares. "Doctors look for graduates of this program because they know they've been trained well and have confidence they are capable and efficient."
The U.S. Bureau of Labor Statistics reports that, "Employment of dental assistants is projected to grow 11 percent from 2020 to 2030, faster than the average for all occupations." To start your journey, submit an application between March 1 and April 29. Until then, explore the program and admissions processes, or request more information or plan a campus visit. Email Moe-Genther with questions at lmoe-genther@spscc.edu or call 360.596.5529. A dazzling new career awaits.
Sponsored