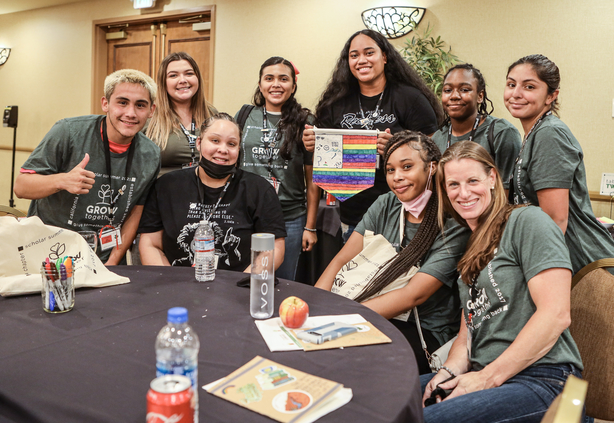 Those who receive a windfall of good fortune often feel compelled to pay it forward by giving it back. Aptly named, the Give Something Back nonprofit scholarship and mentorship program was begun by a person who wanted to reciprocate generosity. The program is targeted at students experiencing unique and often overwhelming barriers. Though operating nationwide, Give Something Back is active here in Washington State and in Thurston County. Donors, mentors and recipients are local, and the funds follow the student to local schools and programs.
How it Started
Give Something Back started in Illinois almost 20 years ago and later expanded to the Atlantic Coast, then California and Kansas. Founder and Chairman of Give Something Back Robert Carr, was a scholarship recipient himself and had always aimed to turn around and do the same for someone else. "I think it's the best place to invest money for the future of our society," says Carr in a Headline News interview. "I received a scholarship when I was graduating from high school. $250. I thought it was great. It meant a lot to me. I promised that I would give that back, and many years later I did. It was so rewarding, the results of what we did, that we just kept expanding it."
Carr feels strongly that the act can have far reaching effects. "We want to change the world for as many people as possible, and we want to help people who need the help the most," Carr shares in "The Story of Give Something Back." "And the way to do that is to put people through college and break the cycle of poverty."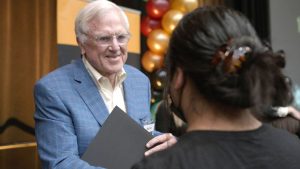 For college preparedness, the organization focuses on students starting in seventh and eighth grade, seeing them through their post-secondary education and bachelor's degree. Early interventions include college readiness programs, campus visits, financial aid workshops and test prep classes. Rigorous courses and good grades are expected. Scholarships provide tuition, room and board. Partner schools include Illinois State University, Kansas State University, Binghamton University and California State University San Bernardino, exemplifying the program's coast-to-coast reach. In 2021, 476 high school students were awarded scholarships. Give Something Back is giving a personal connection too. Money alone does not guarantee a win over adversity, and that's where the crucial support given through mentorship enters the picture.
Mentors give that which is priceless. Encouragement goes a long way and helps students believe in themselves. Guidance in navigating career opportunities and connections or sorting through the FAFSA application process and evaluating college pathways is golden. Money helps pay for courses that prepare and train students for a career, but the motivational support and direction that mentors provide is vital when sometimes overwhelming challenges in life clouds one's view.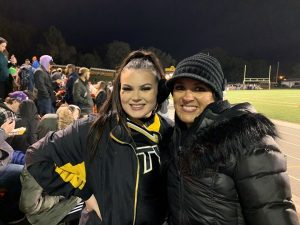 "Give Something Back prioritizes students who experience, or have experienced, homelessness, had a parent incarcerated, or experience in the foster care system," explains the Washington State Give Something Back Program Director Brenda Burns. "This characterizes about 80% of the students enrolled in our local Washington Give Back program. These students may face hardships, such as not knowing where they will sleep some nights, which has an impact on their ability to navigate education and career paths." Mentorships provides the human connection and support that students need to find their way over hardships and through barriers that often prevent them from entering college.
Give Back Careers Program
Going to a four-year college is not the appropriate path for every student, or they may not be ready. Some students seek a certificate program, technical training or an associate's degree as a more direct path to employment. This program continues its practice of long-term mentoring and scholarships, but also includes support with career exploration and career planning. Such an approach helps both the students and the community at large. Local economies benefit when the young adult population can join the workforce.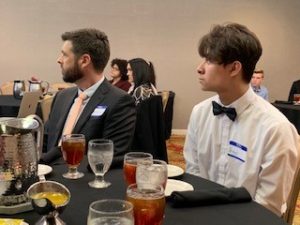 Sometimes giving back is through sharing knowledge. Local mentors can sign up online and help students individually, supporting them through academics or career exploration. Mentors connect students to the broader community, maybe introducing them to someone who will interview them or inform them about a particular job field. A mentor may love and know their own job well and have a gift for conveying its attributes to others. Meeting someone in the field makes it real. It lets students see a real job, and it makes the human connection to it possible. Mentoring can be short term, an hour job shadowing or a professional connection lasting several months. Students also need support navigating college admissions and financial aid applications. Another way to help is by being a donor. Money follows the student. If their interests and goals connect with a certificate program through the community college, it is applicable.
Like Carr, many can think of a time when someone lent support, whether it was monetary or intangible advice. Donating to or becoming a mentor with Give Something Back is one way to return that generosity and make a big difference in someone's future.