The South Puget Sound Community College (SPSCC) women's basketball team will open the month of February by playing its first three games and four out of its first five on the road as the Clippers look to secure a berth into the Northwest Athletic Conference tournament.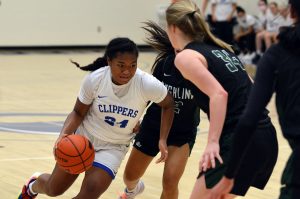 SPSCC will travel to Tacoma on Wednesday, February 2 to begin its road trip with a NWAC West Region game against conference foe Tacoma Community College. Tip-off is scheduled for 5:30 p.m.
The Clippers, who are 1-3 away from home this year, bring a 5-4 overall record and a 1-1 mark in region play into the game against the Titans. Tacoma is 7-9 this year with a 2-1 conference record. Lower Columbia College, which is ranked No. 3 in the TicketSmarter NWAC Women's Basketball Poll Coaches, currently holds the top spot in the region standings at 3-0 with Centralia College sitting a half game back in second at 2-0.
The top four teams from each of the NWAC's four regions advance to the 2022 NWAC basketball Championships March 17-20 and March 26-27 at the Walt Price Fitness Center at Everett Community College.
SPSCC is currently fourth in the West Region with 10 conference games remaining and is coming off a 72-60 setback to Centralia on January 26.
Offensively, the Clippers have three players average 10 or more points a game with freshman Sharay Trotter leading the way, averaging 18.1 points a game. Freshman post Jennie Goldsberry (12.0 points per game) and freshman guard/forward Payten Foster (10.7 ppg) round out the scoring trio with freshman guard Kayla Jackson (9.7 ppg) on the verge of making it a quartet of double-digit scorers.
Trotter is second in the NWAC in scoring, trailing only Clackamas Community College's Brook Bullock, who averages 19.4 points.
Trotter, who also ranks fifth in the conference in steals per game (3.2), has scored 20 or more points in three out of the past four games, scoring a career-high 25 points in a close 72-66 loss against Clark College on December 18. She also scored 23 points in a 69-56 win over Columbia Basin College and 23 in the defeat to Centralia College. She shot 66.7 percent from the field in both the games against Centralia and Columbia Basin, sinking 18 of the 27 combined shots she put up.
Goldsberry is eighth in the conference in blocks per game (1.3) and ninth in rebounds, pulling down 10.3 boards a game, while teammate Foster is 13th overall in the conference in rebounds per game (8.1).
Despite playing in just six games this season, Goldsberry has registered four games with double-digit rebounds and has eight or more boards in all six outings with a career-high 14 rebounds against Shoreline Community College. She is coming off a 14-point, eight-rebound performance against Centralia College and is one of just seven players in the NWAC to average a double-double this year in points and rebounds.
Foster has been finding her stride lately on the offensive end of the court, scoring double digits in four out of her last five games with her low point in scoring during that stretch being a nine-point effort against Clark College.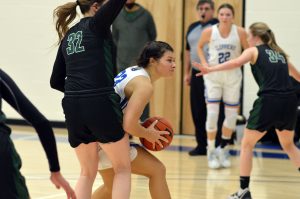 As a team, the Clippers rank among the top 10 team in the NWAC in eight different categories this season. SPSCC is second in offensive rebounds per game (16.7), Third free throw attempts per game (19), third total rebounds per game (44.4), fourth steals per game (12.1), sixth defensive rebounds per game (27.8), sixth rebound margin per game (7.3), seventh in field goal attempts per game (65.3) and ninth blocks per game (2.6)
Tacoma, which is winless at home this year at 0-5, saw its three-game winning streak snapped in a 74-58 loss to Lower Columbia in the Titans' last game on January 26. TCC is one of the more active 3-point shooting teams in the NWAC, ranking seventh in the conference in 3-point field goals made per game (6.8) and eighth in 3-point field goals attempted per game (23.8).
Shiho Isono paces Tacoma offensively, scoring 15.3 points a game. She is followed by Precious Serafica, who averages 10.1 points.
The Titans' roster features one former local standout in freshman My'Kel Jones, a 2021 Yelm High School graduate. Jones, a 5-5 guard, was a first-team all-South Sound Conference player for the Tornados last season, helping Yelm finish the year a perfect 14-0.
The Clippers will follow up their game with the Titans by travelling to Green River College on February 5 and Lower Columbia on February 9 before returning home to play Pierce College on February 12.
Sponsored