In the new year we love to find little ways of primping, polishing and facing things with a bit of extra sparkle. We like to make resolutions, establish health and beauty regimens, and treat our bodies to some much needed, post-holiday healthy living. At Olympia's Rejuvenate IV Hydration & Wellness Center, owner Stacy McIntyre is jump starting 2022 by adding exciting options to benefit clients inside and out.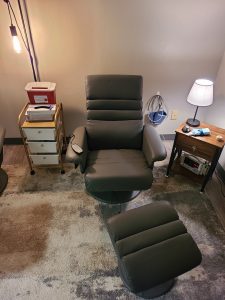 One of their newest additions is Emsculpt Neo. Stacy explains that: "Emsculpt Neo reduces fat by 30% and increases muscle by 25% on average. You can sculpt your abdomen, buttocks, arms and legs. This innovative solution is first of its kind to simultaneously treat both muscle and fat to dramatically change the tone and appearance of the treated area. Emsculpt Neo delivers radio frequency to destroy fat and a HIFEM procedure to stimulate muscle in the treatment area. By delivering optimal energy in a short period of time, we can now give you more results and confidence in less time and for less cost."
Treatment protocols typically call for four 30-minute sessions scheduled between 5 and 10 days apart, explains Stacy. They target the abdomen, thighs, buttocks, saddle bags, calves, biceps and triceps. Results vary by patient, but the best improvements are visible approximately three months after the final visit.
"We already offered ways to help support our clients in their mission to losing weight and feeling better, this seemed like the smart and effective way to help them be even more successful in an easy and proven way," says Stacy. After the initial series, follow-up visits are "recommended every two to three months, but some find it most beneficial to do a monthly visit."
There are no pre-treatment requirements other than to arrive well hydrated and to not exercise that particular area the day of your appointment. "We do require a thorough consultation prior to treatments," explains Stacy. "This will include an in-depth health history, body measurements and before pictures. These are crucial to a successful treatment regime."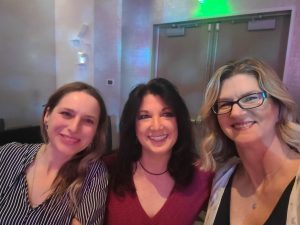 On February 10, they'll be hosting an Emsculpt Neo launch party with information and demonstrations. RSVP by contacting the office at 360.489.1558 and you will be added to the list. Running from 3 p.m. to 7 p.m., there will be food, drinks and prizes. Stacy and her representative for Emsculpt Neo will be on hand to answer questions and set up appointments. Follow Rejuvenate on Instagram and Facebook for details.
In 2022, the Center hopes to be open six days a week "to help more people with their health needs," says Stacy. And "we will be introducing a new way via an app, just for Rejuvenate clients, to earn rewards for purchases and pay for treatments in an easy and convenient way by the end of January. This is a very exciting addition to our business because we want our clients to be recognized for their referrals and continued support of our business."
The addition of Emsculpt Neo doesn't take away from the Center's existing menu of IV hydration drips, oxygen therapy and ketamine treatment. Their customized blends of vitamins, minerals and electrolytes address headaches, weight loss support, and immunity. There are also formulations to boost energy, aid in performance and recovery, and provide individual minerals and amino acids needed by the body.
For tried-and-true fans, consider joining the Drip Club which discounts products and services on a monthly basis. "Membership allows you to promote regular health and wellness while saving money," explains Stacy. "We want you to be able to get your much needed self-care without spending a fortune." Says one local 5-star review: "I was able to make an appt for the same day. I joined the Drip Club as part of my commitment to treat my body better. The staff was friendly and answered all my questions. Starting the IV went smoothly with no issues and no bruising. Excited to feel the results and continue a journey of health."
Share the love with friends and family through electronic gift cards or—better yet—book the Hydration Station bus for your next get-together. All she needs is somewhere to park it and the perks can come to you. Whether family reunion or office party, Stacy is happy to discuss options and explain which drips might be best for you and your group. Guests must all be 18+ and fill out a basic health history, sign consent forms and show a photo ID.
New Year=New You is a phrase we hear endlessly as January rolls around. But after the disruptions and stress of the pandemic, long winter slog and chaotic holiday schedules, take a breather with a boost. Schedule a visit to Rejuvenate IV Hydration & Wellness Center today to recharge body, mind and spirit.
Sponsored