As the most diverse school district in Thurston County, North Thurston Public Schools (NTPS) understands the importance of equity and inclusion. Just consider their theme for the 2021-22 school year, "Including Everyone." This supports the district's mission to prepare all students for rewarding careers, fulfilling lives and compassionate global citizenship. This commitment is meant to include every student, giving each one access to high quality, inclusive learning experiences. Students want to feel included regardless of culture, race, language, socioeconomic status, nationality, sexual orientation, gender and disabilities.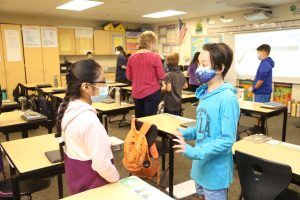 If you want to go straight to a comprehensive, good-feeling video about the district's practices on inclusion, click here.
NTPS continues to take action on these issues. Through open conversations with graduates, staff, families and community members, the district determined better ways to support special education services to help eliminate opportunity and achievement gaps. This can range from inclusive P.E. classes, to a Dual Language Program in Spanish and English, to adaptive seating and wireless FM systems.
Another example is providing self-contained classrooms for students needing significant functional services at all the elementary schools, rather than at a few satellite locations.
"We've been working on getting students back to their neighborhood school," says Dr. Kari Lewinsohn, NTPS special education director. "It keeps kids with peers in their community." Eight of the 13 elementary schools now incorporate these special programs within the building.
Tyler Stiner, also a special education director, is excited to see the inclusionary environments expanding at the elementary levels. "The pandemic has shown us how we need to stick together and support each other," he says. Having special programs at each school means students get to ride the bus together and eat lunch with friends. When students are integrated as appropriate into general educations classes, it's the same kids in their neighborhood.
South Bay Elementary is one of the new locations for special programs. Principal Amy Richardson sees the many benefits of keeping students in their neighborhood school. "Our staff is amazing," she says. "They jumped in and things are going really well." Amy also sees inclusionary practices are about all students, not just those in Life Skills classes. She looks at situations by asking two questions. How do we include everybody? How do we provide access to students and have what they need?"
Such questions are addressed through the Universal Design for Learning. This guides the development of flexible environments and spaces that can accommodate individual learning differences, from challenged to gifted. When a lesson is being taught, thought is given to the barriers students may face, such as reading levels, intellectual capacity, or physical limitations. Amy explains that this covers all students. For example, students may be doing a module about nutrition. The whole class will be studying the topic but reading materials may be at varied reading levels or be longer or shorter. Some students may get information via videos. She sees children grow in personal empowerment when they have more choice and ownership of their learning level and style.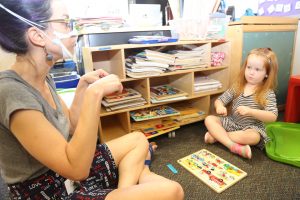 For the past 24 years, Stephanie White has been teaching either kindergarteners or first-graders at South Bay. Every day she has lessons for up to 6 different groups in her class of 22 students. "The disparity of levels within the classroom this year has been exacerbated after a year at home when some students received an abundance on one-on-one support and others received very little," says Stephanie. She works tirelessly to include each one of her learners.
Athletics for All
River Ridge, North Thurston, and Timberline high schools also offer a Unified Sports Program. Team sports like basketball and soccer promote social inclusion through shared sports training and competition experiences. Students with and without intellectual disabilities join together for fun, fitness and friendship.
"Unified Sports provides inclusive opportunities both in and out of the classroom, and allows us to raise a Unified Generation," says Michela Laverty, North Thurston High School special education teacher, who also supports students in a peer tutoring program. Over time the club has incorporated other activities like movie nights, prom dinners, and attending sports games together. "Every person deserves the opportunity to be included, try new things, and meet new people" she adds. "That's what high school is about!" Thurston Unified was recently nationally recognized as a Unified Champion School through Special Olympics.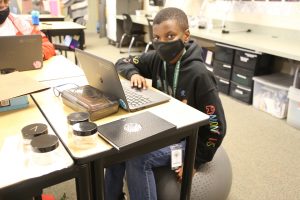 Our community is strengthened when our young people grow up with a depth of academic experiences and abilities to live compassionately. School is preparation for the rest of life that is filled with people of all sorts. NTPS works to expand access for children who do not fit the traditional mode of learning. "Everyone comes from different places," says Lewinsohn. We all want to be included. We can all learn to be better examples. "It's an on-going process," she adds.
Check out the school calendar for many related activities and examples of inclusive learning. The North Thurston Public Schools website is also filled with information about peer tutoring, the Unified Sports Program and much more.
Sponsored