Until the envelopes are opened on February 2, no one—not even those on the selection committees—will know who is receiving the Lacey South Sound Chamber Business Awards. It will be the culmination of one of the most rigorous processes for any regional business awards and the businesses recognized will know that they have truly earned the esteem of their peers.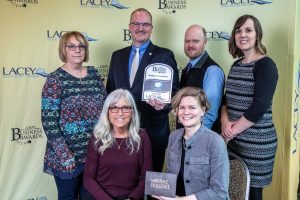 Fast Signs owner Grace Kendall has been involved with the event from its inception and has been the Committee Chair for the past eight years. To her mind, the awards are a way to acknowledge the members' impact on the organization as well as the community. "I feel very strongly that we need to let our members know how valuable they are to us," she says. "They have contributed to our success as a chamber."
Awards fall into seven categories: Think Chamber First, Community Giving, Got Grit, Armed Forces Champion, Entrepreneur of the Year, Legacy, and Business of the Year. Chamber members make the initial nominations starting in August, which the committee narrows down to three in each category. One committee member interviews each nominee in a given category and then reports to their group and members vote anonymously. During the ceremony local video production company Pardiman Productions will film the winners.
Within each award category, the committee develops specific questions for candidates, in addition to more general questions. "We tried to make it more than just a numbers game," says Kendall. "We want it to be content and achievement-driven rather than just a popularity contest."
This year Andrew Miller interviewed the three candidates for Business of the Year: Nik Hakala of Chicago Title, Becky Carver of Prime Lending and Greg Wilson of Dirty Dave's Pizza. "I was the winner," Miller jokes. "My faith in humanity has been restored. I was so impressed with all of them. Not only do they care deeply about the people who work for them, but they did everything they possibly could during the pandemic to make sure that customer experiences were where what they needed to be."
At Chicago Title, Hakala initiated a program to support the Thurston County Food Bank. If employees want to wear jeans to work that day, they put $5 in a pot and the company donates the money once per quarter. The program allows the Food Bank to purchase fresh food to supplement what others donate. Carver serves on the board of the North Thurston Education Foundation and helps to distribute backpacks to students who are living on the street or in cars. At Dirty Dave's Wilson and his wife never turn down a request to donate to any organization that serves youth.
In addition to the seven business awards, Kendall created an Angel Award for a person or business who has made a significant difference. "This award goes to someone who has made people feel special and appreciated and inspires people through the great work they do," she explains. The first Angel Award went to All Kids Win (formerly Homeless Backpacks) chair Kelly Wilson. Kendall has another award to give out this year but she's keeping the information about the recipient to herself.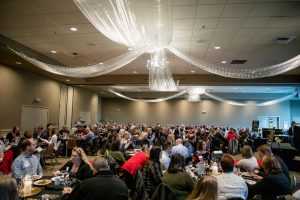 According to Lacey South Sound Chamber Executive Director Blake Knoblauch, the awards make an impact on the nominees, regardless of who wins. "It's an honor to be nominated by your peers and other businesspeople," he says. "It's a great day to recognize and celebrate outstanding organizations and their achievements and community contributions."
The event has come a long way from where it started, but Kendall believes it can still grow. "From the early years, we've been trying to build it to be bigger and better so that people would be excited about nominating other members for things they've done in the community and within the chamber," she says. "We've made a lot of progress and I think everyone knows that this chamber appreciates them."
Aside from the Business of the Year Award, this year's nominees by category are:
Think Chamber First
Community Service 
Got Grit Award
Armed Forces Champion Award
Entrepreneur of the Year
Legacy Award
The chamber will host the event at Indian Summer Golf & Country Club from 11:30 a.m. to 1:30 p.m., February 2. The Lacey South Sound Chamber wants to thank the following sponsors:
Pardiman Productions
Twin Star Credit Union
Christine Forrey with Keller Williams Real Estate
Becky Carver and Hayden Hoage with PrimeLending
T&S Cleaning
First Citizens Bank
For more information, visit the Lacey South Sound Chamber of Commerce website.
Sponsored