I've grown into the habit of taking more care in reading labels and packaging, really learning where my food comes from and buying local whenever I am able. In the spring and summer, I feel like the community around me is doing this, too. The local grocers and markets are bursting with produce and patrons. My toddler and I carry home giant zucchinis from boxes marked "free" and pick ripe strawberries as neighbors share their bounty. Then, things get colder, darker and quieter as winter sets. But this doesn't mean we shouldn't be supporting out local Thurston County farmers. They need us year round, even in the winter.
Winter at Rising River Farm
To learn more about these deceivingly quiet days of winter I reached out to Jennifer Belknap of Rising River Farm in Rochester. Jennifer began farming in the mid-90s aiming to provide clean, healthy food for her community as well as becoming food secure herself.
"People tend to romanticize farming," observes Jennifer. "I don't think people are aware of all of the challenges we face on a daily level. The reality is that it is a lot of hard work and constant challenges. Weather, pests, equipment, staffing, supply chain hiccups all add to the crazy puzzle that is farming."
Rising River Farm is just one of many farms in our area that work tirelessly, year-round, to fill our tables with local, nutritious food. Healthy soil means healthy food and it has been a priority for them since day one. They support this belief through both the choices they make and the location they have chosen, surrounding themselves with like-minded neighbors, keeping their field protected and clean.
Working with just a skeleton crew, Rising River Farm continues to harvest through the winter, sell at the farmers markets, fix and maintain equipment, and upgrade and repair infrastructures.
"Winter is definitely a slower time for us," admits Jennifer, "but since we sell produce year-round, work never completely stops. For each item that we cross off the to-do list, two more get added. Winter is the time to reflect and repair."
How Can We Keep the Local Food Movement Alive This Winter?
While Jennifer and her team—and all the farms around us—continue to toil this winter, we can keep the local food movement alive into spring by doing three simple things.
Buy Local
Perhaps the simplest thing you can do to support farmers and the local food movement is to buy local. Whether you sign up for a CSA box, buy starts from local farms this year for your own garden or simply choose local goods at your favorite market or grocer, you are doing your part to keep the dream of a self-supported community alive.
"If you ever hesitate to buy something local, especially in winter because of price, try to imagine the backstory of how that carrot got to the farmers market or store," suggests Jennifer. "Visualize farm crew members decked out in layers of wool and rain gear, slip-sliding in the mud, prying those tasty morsels out of the ground. Know that freshly harvested carrots will taste 1,000 times better than the cheaper California carrots also on offer. Know that the local carrots only had to travel 30 miles instead of 1,500 or more. Know that the farm worker's paycheck will be spent locally, maybe even at your own place of employment."
Understand the Impact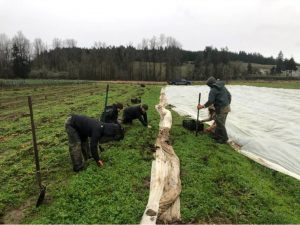 Local farms do far more than provide clean, healthy food for our community. They preserve green spaces, offering protection for wildlife, offset climate change and offer a landscape all can enjoy. They promote food security as goods are sold directly to consumers via CSAs, farm stands, farmers markets, local restaurants and stores. And, just like other local businesses, farms spend their own money in the community as well buying supplies, hiring mechanics and spending paychecks.
Get Personal
"We live in a relatively mild climate, so it is possible to have some veggies in your garden all winter," reminds Jennifer. "Root crops like carrots, beets and parsnips can stay in the ground all winter. Kale and winter cabbage can withstand temperatures into the high teens. Leeks will also survive low temperatures. The trick is to choose cold-hardy varieties and utilize things like floating row cover to add a few degrees of cold protection."
Outside my kitchen window the snow is finally melting. I can see the patch of grass in the back corner, sunken and outlined from the garden beds that once thrived there. Instead of making excuses, I grab my gardening book and a new notebook and start sketching out a plan. This tiny dream I have of dirty nails, daily chores and food I've grown out of my own determination isn't a dream for others, it's a reality, and it can be yours too. Jennifer is planning for the year ahead and now, so am I.  Are you?
Visit the Rising River Farm website for more information on the farm, Jennifer and how you can support their mission.