January means out with the old, in with the new. We wave farewell to our former Grinch-y selves and replace it with the slightly madcap, can-do New Year's attitude of the Cat in the Hat. At Mason Health, those are also the themes of December and January's vaccination clinics for kids ages 5 to 11 and their entire family too.
On Friday, December 17 staff hosted How the Grinch Stole COVID, a pediatric clinic that encouraged local families to get the pinch and not be a Grinch. To date, Mason General Hospital and Mason Clinic have administered 28,163 doses of COVID-19 vaccines and boosters to residents from age 5 and up, according to CDC guidelines. The Grinch was even in attendance to help nervous little ones cheer up afterwards.
The December festivities were hosted by the Shelton Family YMCA. Mason Health's Chief Development and Communication Officer Jennifer Capps estimates more than 300 people attended and 239 vaccinations were provided. "We offered vaccinations for both youth and adults at the event," says Capps. "This included first time shots and boosters."
"It was great working with the YMCA, Mason County Public Health and the Shelton School District," says Capps. "Great partnership opportunity with all four partners, including our Mason Health staff and teams and volunteers. The YMCA is an awesome location!"
Awesome enough that on Friday, January 7 they'll host a second COVID vaccine clinic at the same spot but this time featuring the Cat in the Hat. "We strongly encourage those who want an initial vaccine or boosters to join us, walk-ins are welcome, and kids of all ages are welcome. This also includes parents, guardians and family members," says Capps.
Like the December fun, this Dr. Seuss-themed afternoon offers Pfizer and Moderna shots to anyone aged 5 and up, whether first, second or booster dose. Appointments are recommended but not required and paperwork can be downloaded online beforehand. The event runs from 1 p.m. to 6 p.m. in the Shelton Family YMCA's central gymnasium, located at 3101 North Shelton Springs Road.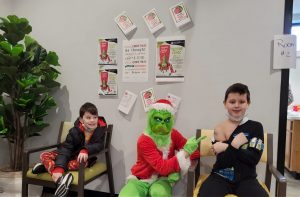 "The vaccination has proven to be safe and effective in protecting us from serious illness from the COVID-19 virus," encourages Capps. "And with the surge of the Omicron variant, we are bolstering our efforts to provide access to the vaccine and make it as as convenient as possible. Those who are unvaccinated tend to get much sicker than those who are vaccinated when they contract COVID-19."
"We strongly encourage the community to get a vaccination and booster when possible," Capps continues. "We are eager to serve the youth and adults in our community and protect the health of our community. We are trying to make it a fun and safe opportunity for all. Thank you for being a part of keeping us all healthy and well!"
"We appreciate so much what everyone is doing here," said Chelsea, a mom who attended December's Grinch event with her 6- and 9-year-old children. "We go to Olympia for everything. When I received an email from our school about this event, we immediately pre-registered. We were not going to pass this up to get vaccinated in our town."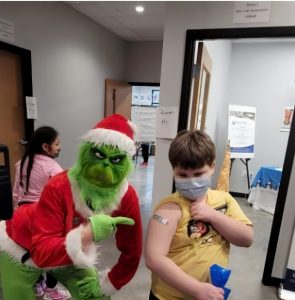 Can't make it to the event? Schedule an appointment online for your COVID or annual flu shot today. These will take place at the Mason Health Vaccine Clinic located at 1710 N. 13th Loop Road by appointment only. Read more about eligibility requirements, other local vaccine locations, and Clinic details on their website before heading over. You can safely receive both flu and COVID shots at the same time which saves a return trip. For upcoming Mason Health events, weather-related closures, advice and information, follow them on Facebook.
Winter makes us drag our feet just like children in the Cat in the Hat: "The sun did not shine. It was too wet to play. So we sat in the house all that cold, cold, wet day…Too wet to go out, and too cold to play ball. So we sat in the house. We did nothing at all."
But doing nothing isn't an option when it comes to COVID-19. No kid wants to receive a shot ("We did not like it, not one little bit!") but like the Cat in the Hat, it's worthwhile in the end. Bring your Thing One and Thing Two to the YMCA and do your part. Then, like the Cat, you can say "That was that" with a tip of your hat and look forward to a healthy, happy spring.
Sponsored