The South Puget Sound Community College (SPSCC) Architecture, Engineering, and Construction Technology (AEC Tech) program can be a game-changer when it comes to breaking into the field of architecture and civil engineering. With their AEC Tech program, you can gain essential skills and knowledge for a range of careers in the architecture and engineering industry. Program faculty member Ting Song and student Shelby Norton share how the program can advance your career in this exciting field.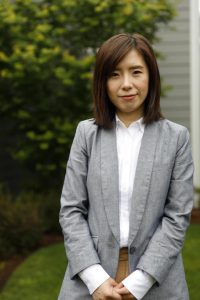 The SPSCC AEC Tech program has been around for well over 30 years and went through a program redesign in 2016. "We invited a lot of people from the industry and from University of Washington to talk about their needs and expectations for our students," shares Ting, who has been faculty for the program for almost 8 years. During this experience, SPSCC discovered that soft skills were an essential component that was missing from their program. The new program incorporated more general education classes to help support soft skills, including English, math, communications and diversity classes.
In the redesign, faculty removed older mechanical engineering courses and made a program name change from CAD/BIM to AEC Tech to better exemplify the program outcomes. "We added more commercial buildings to the Building Information Modeling (BIM) courses and then rearranged the syllabus to make it easier for our students," Ting explains. Once faculty Adam Waters joined the program, he and Ting were able to collaborate more between their classes. Ting teaches some of the fundamental courses and all of the civil engineering courses while Adam teachers most of the architectural courses. Together they have been able to develop a symbiotic learning experience for their students.
The program is six quarters long, which takes approximately two years full time with a summer break each year. At the end of the program, students take two final classes that culminate their knowledge and give them a chance to apply their knowledge to real-world situations. Adam's course is Building Information Modeling IV, which focuses on building an as-built model of an existing building with all of the elements, including floor, walls, plumbing and electrical. Ting's course is Survey I, which requires students to create a topographic map using survey data collected on the same existing building. "I take my students to study outside of the building and take measurements to create the map," she explains. "The map is combined with the as-built model to make the completed project."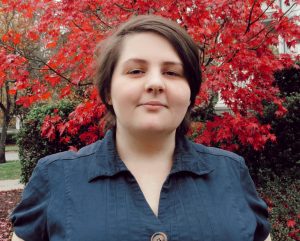 Student Shelby Norton is more than halfway through the program and has loved the learning experience. "I originally started out at SPSCC with the intention to transfer to UW to further my career," she says. "I took a class where I learned AutoCAD and Revit, and I fell in love with it as soon as it started." She started working with faculty member Adam who recognized her knack for the concepts and resources used in the course and encouraged her to switch into the AEC Tech program. This transition has been an amazing opportunity for Shelby and has given her a chance to enter a field she is passionate about. "I love working with these programs," Shelby shares. "Ideally I want a job where I can work in Revit every day."
Aside from the engaging technology and intriguing industry insight, the best parts of this program for Shelby have been her program cohort and the wonderful faculty. "I love how tight-knit the program is," she says. "You get to be with the same people throughout the program which is exciting and nice because you not only develop relationships with people in your field, but you also get to work through things together and rely on each other when you need help."
The faculty have also been incredible influences on Shelby and she has found their commitment to education in this industry to be inspiring. "I love how amazing and attentive the teachers are," Shelby shares. "Everyone really cares about each student that comes through. I honestly wouldn't be here in this program without them."
Currently this two-year program is transferrable to The Evergreen State College, and SPSCC is working to expand transferability to more institutions. An alternative to pursuing a four-year degree is to go directly to working in the industry, which is a viable option for many SPSCC students. "We have had lots of employers contacting us for potential candidates before students even graduated," Ting shares. "Some have reached out to us again and again because they really like our students." These opportunities range from local companies and firms in Tacoma and Seattle to state agencies in Washington. Though COVID has changed the job market a bit, there is still a high demand for architectural students and many students in the program find success upon graduation.
Students can join the SPSCC AEC Technology program in fall and spring. There are no prerequisites to start the program and financial aid is available for all students. If you are ready to gain the skills and knowledge to embark on an exciting new career in architecture, engineering, or construction technology, apply for admission today or contact Admissions & Outreach at 360.596.5241 or via email at enroll@spscc.edu.
Sponsored