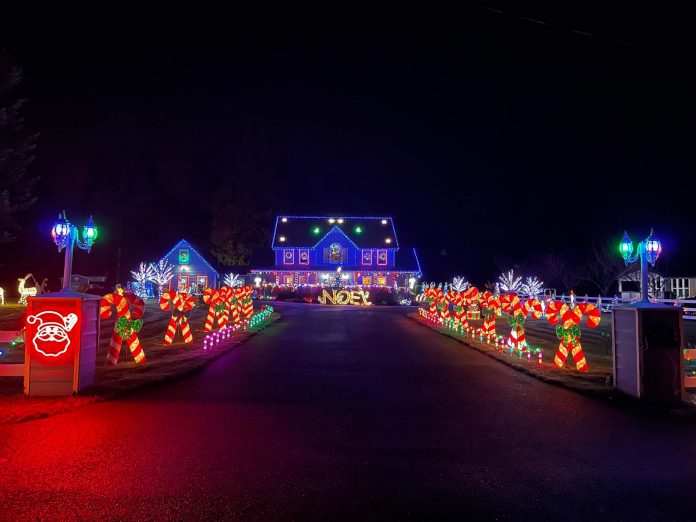 It's time for holiday lights, and a quick look at a few decorated roofs, porches and yards on the way home is a fun side trip. Swing by some jolly twinkle lights with the kids after dinner. Pick up a coffee or coco and take an evening drive to see all the lights you can. Each display invites a scavenger hunt among the humorous characters and never-ending creative scenes. Seeing these twinkles in person is a don't miss event only happening this time of year. Here is where to find 2021 Christmas lights in Olympia and throughout Thurston County
Candy Cane Lane at the Kelley Ranch
66th Avenue NW, Olympia
Head out on Steamboat Island Road NW, and go west on 66th Avenue NW. See the "Dog Pound" or a Nativity scene in this neighborhood as well as a king-sized teddy bear. Candy Cane Lane's Facebook announcement indicates they are accepting donations for the Thurston County Foodbank too. Come see the lights that are on Thursdays from 5 p.m. to 10 p.m., Fridays and Saturdays from 5 p.m. to 10:30 p.m. The lights will go on these nights until New Year's Day.
Don't miss 2520 Island Drive NW either. They have three lots that you can drive by, or they invite you stop and look at the light up close too! They have lots of inflatables as well as lights, including Santa's RV Park, a Jurassic Park Dino Land, a manager scene and more. This display is lit from dusk to 9 p.m.
West Olympia Winter Wonderland at Westbrook Park
2203 Park Circle SW, Olympia
Turn east from Black Lake Boulevard onto Park Drive SW. 2203 Park Circle SW is the first cul-de-sac on the left. A glittering Santa Clause is on the roof being pulled in a sleigh by reindeer. See stars, snowmen, an inflatable unicorn and more. A small forest of lit trees is new this year. This display is on from 6 p.m. to 11 p.m. daily.
Continue east on Park Drive, up the hill, winding through heavy trees to the next part of the neighborhood. On the corner of Park Drive and Silvan View Court SW is a huge multicolored display of lights strung all throughout the landscaping. At the top of the hill, an electric blue moon appears to be floating in the trees.
West Olympia Ken Lake
Ken Lake Drive SW, Olympia
Also accessible from Black Lake Boulevard is the Ken Lake neighborhood that offers a variety of light displays. Drive east on Ken Lake Drive SW from Black Lake Boulevard to Lakemoor Drive SW, which is a long loop. Part way through the drive, if you are driving counterclockwise, there is a home with moving lights accompanied by music. Tune in to 107.9 as the sign in the yard will remind you. There is a large inflatable Snoopy in an airplane where the loop turns south.
Southeast Olympia
North Street SE, Olympia
Roaming the streets between Carlyon Avenue SE and North Street SE near Olympia High School will reveal quaint lights around windows, doorways and arched trellises. Intermittently, there are some very elaborately decorated lawns and rooftops. Passersby will see a Santa and a snowman rocking on a moving teeter totter on Lorne Street SE. Lit wreaths, candy canes and a Nativity scene all make for a good game of "I Spy." Another home with glowing icicle arches has a larger-than-life Santa towering on the roof. Along North Street, a few passes may be necessary to take in all the many features of one home. A baby Yoda and a Star Wars AT-AT walker join with Santa's village and sleigh. Inflatable unicorns, a swan and a dinosaur ridden by a Santa also add to the mix.
Other "Don't Miss" addresses in Olympia include:
7916 Diagonal Road SE
3330 Lorne Street SE
2920 Street SW – Christmas Island
7140 Deerfield Park Drive NE

2214 Nut Tree Loop SE

1630 26

th

Avenue NE – lights on 5:30 p.m. to 9:30 p.m. through December 31.
The Farm at Yelm Highway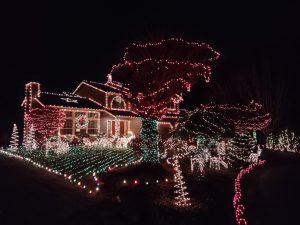 Palomino Drive SE, Olympia
Take Palomino Drive SE south from Yelm Highway. Follow Harvest Drive west to its end. A pair of homes in the cul-de-sac light up the night with two grand displays. Lights line the eaves of one home and outline its trees like an electric painting. A Santa on a chimney and another driving a sleigh and reindeer can be seen headed across the neighbor's roof.
Tumwater
1710 Ridgeview Loop SW, Tumwater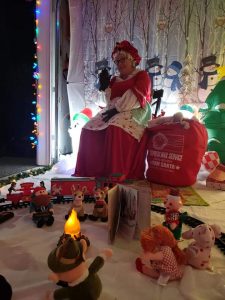 Head to Ridgeview Loop SW in Tumwater for an incredible Christmas display! Mrs. Claus will even be there to hand out mini stockings filled with candy, some kids may even get a book or a stuffed animal! Be sure to check out the living Christmas Card with animatronics, blow molds, lights and more.
Be sure to check out 2109 Brookside Rd SW, Tumwater and 303 Ferry Street SW, Tumwater as well!
Lacey
Narada Court SE, Lacey
Continuing down Yelm Highway and on up Ruddell Road SE will take holiday light seekers to Narada Court. From Ruddell Road SE, go west on 54th Avenue SE and then right on Narada Court. Multiple Nativity scenes and inflatables are surrounded by sparkling lights. Mickey Mouse, penguins and snowmen abound. A pig-Santa as well as another Santa with reindeer and sleigh all share the cul-de-sac. You will find lit candy canes, an inflatable swan and a mechanical mailbox. Even Olaf from "Frozen" and the Grinch join the scene. Exit Narada Court, turning right, continue west on 54th Avenue to a house with an electronic, Christmas Day calendar countdown, a twinkle light tricycle and polar bears.
Also don't miss Santis Loop SE. The Schilter Farm HOA has quite a few houses that are decorated along the street for a festive drive.
Epic Lights – 4819 50th Avenue SW, Lacey
If you want to see in a carefully choreographed, amazing light display, head to 50th Avenue! Epic lights has hundreds of lights set to music–be sure to tune to 107.9! Shows are from 5 p.m. – 10 p.m. nightly.