South Puget Sound Community College women's basketball Coach Darah Vining has the Clippers off to one of their best starts in program history. SPSCC has established a considerable home court advantage, going a perfect 3-for-3 to open the 2021-2022 campaign. One of the reasons for the strong start? Family.
Vining preaches the concept, looking to build her program around team bonding. It's one of the main reasons transfers Sharay Trotter and Jennie Goldsberry became Clippers and it's a large component why true freshman Kayla Jackson left her home state of Utah for the Olympia campus.
And by season's end it could have SPSCC in unfamiliar territory: the Northwest Athletic Conference tournament.
"We have a great group of girls that are slowly turning into a family," Vining said.
A family that has yet to taste defeat.
The Clippers opened the season with three consecutive home victories at the newly renovated Health & Wellness Center, knocking off visiting Skagit Valley (77-67) and Shoreline (59-55) before putting the defensive clamps down in a 51-37 triumph over Portland.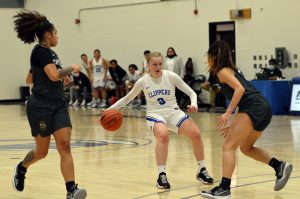 "One of our main goals is we want to be the best defensive team," said Jackson, who places point guard and was the 6A state most valuable player in Utah last season as a high school senior. "Defense wins games. We're just trying to get into the flow of being great communicators with each other on the court."
To get to that point you're going to need a team with an increased comfort level and trust among the players – something that Vining's squad is quickly developing.
Against Portland, in just the team's third game of the season, these two valuable team traits shined through when the Clippers needed it most. Trailing 33-31 against the previously unbeaten Panthers, SPSCC outscored its opposition, 20-4, in the final frame to win.
"We finished strong and stayed disciplined in the 4th quarter," said Vining about her team's win over Portland. "We weren't hitting our shots tonight but to stay disciplined and get those steals at the end that was huge for us."
Equally beneficial during the early stages of the season has been the play of Trotter, the team's leading scorer, Goldsberry, the team's leading rebounder, and Jackson, the team's leader in assists. "Those three are our captains and we are very thankful to have them in our program," Vining said. "Kayla is going to give us everything she has. She's an all-around player. She's going to be the best point guard, play the best defense she can every time she's on the court.
"Ray is one of our best slashers on this team," Vining continued. "She's able to make her way through some weird holes and finds ways to score and always play hard. And Jennie, you just don't see too many mobile posts anymore and she's a true post and she knows that. These three have really changed the culture of this program. They make us a tough team and when they are all on, it's scary."
Scarier is the fact the three are just getting comfortable playing with each other.  "It just feels like we work really well together," Trotter said about the trio. "From week one, we've really focused on team bonding and just getting to know each other. We're still learning, but we're starting to understand how we play together. The connection is obviously there. We just hope it continues to grow."
Trotter, a 5-foot-9 freshman guard/forward who last played at The Evergreen State College, was brought on to provide the Clippers some offensive punch, which she has more than delivered on as she currently ranks fourth in scoring in the NWAC at 18 points per game. "Ray brings toughness day in and day out to each practice," Vining said. "Her toughness allows her to compete at a high level on both ends of the floor and pushes her teammates to do the same each day."
Trotter, however, is not the only Clipper to appear among the NWAC leaders as Goldsberry, a 6-2 transfer from Northwest University, is sixth in the conference in rebounding, pulling down 11 boards a contest with a career-high 16 rebounds against Shoreline to go with 11.7 points per game.  "It was just a great opportunity to come here and help build the program back up, and there's really a big family aspect with the team," Goldsberry said. "We work hard together and lift each other up.
That was big for me to have this family."
It also played a large role in bringing Jackson from Utah.
"Having that family atmosphere was big time," Jackson said. "When the coaches reached out to me at the end of my high school season the family culture was definitely something I was looking for. I just really trusted the coaches from the start, and I trusted my teammates. We all want the same thing for the program."
With three wins under their belt, it appears the Clippers are well on their way for that to happen.
"We're still working our way there," Vining said, "and have a lot of work to do, but it's been so much fun. I am very excited for what's ahead."
The Clippers will look to remain undefeated when they return to action on Saturday, December 4 with a home game against Lane Community College. Tipoff is scheduled for 2 p.m.
Sponsored