After nearly 21 months, basketball is officially back at South Puget Sound Community College (SPSCC). The SPSCC women's basketball team will hold its season opener at the Health & Wellness Center against visiting Skagit Valley College on Friday, November 19 with a 5 p.m. tipoff, while the men host Whatcom Community College on Sunday, November 21 at 1 p.m.
It marks the first time both programs will play at home since the 2018-2019 season as each team played home games at The Evergreen State College during the 2019-2020 campaign, which was cut short due to the COVID pandemic in late February and neither played last year as SPSCC opt to not have basketball seasons in 2020-2021.
"I would say excited would be an understatement," SPSCC women's Head Coach Darah Vining said about the Clippers returning to the court. "Not playing last season was very tough and we've taken last year into each practice. You truly never know when your last game will be so we practice every day like it could be our last. The girls are hungry and eager to finally put their jersey on in front of family and friends."
Attendance will be limited to 150, including players, coaching staff, officials and fans, as per NWAC COVID-19 polices, which also requires fans to wear face coverings. Both games will be streamed live on the NWAC Sports Network.
The 14-member SPSCC women's roster features 11 freshmen and three sophomores in guards Tracy Abesamis, Emma Cheetham and Capital High School graduate Angelica Francisco with Abesamis and Francisco being the only returning players from the team that last played two years ago.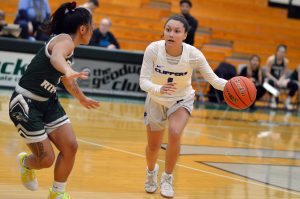 "We have a great group of girls that are slowly turning into a family," Vining said. "It's been an adjustment for everyone with the transition from high school and/or new program. Not once has anyone complained, instead they've embraced the hard practices and challenges we've thrown at them on and off the court. We hold the team to very high standards on and off the court and they accept the challenge every day.  I believe we are all very excited to finally play our first game as a new program."
Vining listed freshman transfers Jennie Goldsberry, a 6-foot-2 from Northwest University, and Sharay Trotter, a 5-9 guard/forward from The Evergreen State College, and true freshman Kayla Jackson, 5-6 guard who was the 5A Utah High School Player of the Year in 2021, as Clipper newcomers who could make an early impact on the team.
"There has been a lot of change and creating a new culture here at South Puget Sound for women's basketball. Returning super sophomore, Tracy Abesamis, has had a huge impact on forming that foundation," Vining said. "I've told these young women coming into the season they have an opportunity to leave a new legacy here at SPSCC and they have all embraced it together. What I appreciate most as the head coach is the level of respect and trust they have in this staff. Getting 14 girls to buy in can be difficult, but not with this group. Like my team, there aren't words to really explain how excited I am. With not having a season last year, I've been itching for this moment. We have spent many hours competing and building chemistry on and off the court, so I'm ready to see that transfer into our first home game."
Skagit Valley holds a 5-1 all-time lead in the series, having won the last three meetings against the Clippers. The two teams last played each other on December 29, 2019 with Skagit Valley posting a 60-47 win. SPSCC's lone win came four years when the Clippers' bested Skagit Valley, 64-51, on the road.
"We're a brand-new team here at SPSCC (with) new players stepping on the floor as a Clipper, and new coaches as well," Vining said. "This being my first official coaching season as the head coach at SPSCC, we as a program have a lot to learn but we are all willing and they are improving each day. It'll be a fun season, we never quit, we play fast, and we love defense."
Sponsored