In all life's hustle and bustle we can forget that the holidays are about giving to one another and expressing our gratitude.  During the holiday season, and especially during Thanksgiving, we can find ways to give our time, food and gifts to family, friends and loved ones. Mason Health and its caring staff are giving back through their second annual Drive Thru Trunk or Treat Halloween festivities and by participating in the Community Foundation of South Puget Sound's Give Local Campaign to raise money that benefits the surrounding community.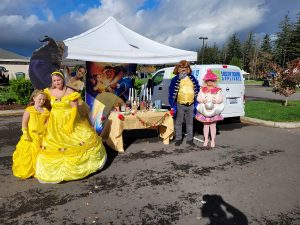 With the 2020 arrival of the coronavirus pandemic, Mason Health staff wanted to do something festive—but still safe—for families in the area. "Staff needed a morale boost and families and little ones needed something to lift their spirits," says Chief Development and Communication Officer Jennifer Capps. "We planned for 150 cars but had 800 in the first year. Police and fire had to come help direct traffic."
"This year we reached out proactively and the city, police and fire, and officials involved," says Capps. "In 2021 we gave out 560 goodie bags and we are pretty sure next year we'll grow. We're also planning a preview time and considering longer event time for next year."
Cars were ushered past decorations and elaborately costumed staff and community volunteers. Prizes were awarded for the best costume, community trunk and Mason Health trunk. Wyndi Herrera, a clinic supervisor at Mason Clinic, won best costume as the scarecrow from the Wizard of Oz. South Sound Appliance's "Beauty & the Beast" trunk won the community prize, while Mason Health's Diagnostic Imaging team's "Nightmare Before Christmas" trunk won for best Mason Health for second year in a row.
Richard Jones is a member of the Diagnostic Imaging Team's winning trunk crew and came dressed as Jack Skellington, the "Pumpkin King", from the film The Nightmare Before Christmas. "This event has been so great," he admits, "Especially watching kids come around the corner and get so excited; we teared up watching some of the little kids. It was great to see everybody get into it."
Senior Director of Ancillary Services, Nicole Eddins, PharmD, says that this year they added a new activity for families waiting in the 30-to-45-minute line, free flu shots and COVID-19 vaccinations. "It was a try and see approach," she admits, because of MGH Foundation's support of the event, no insurance paperwork was needed, making the vaccinations "an added bonus." In all, they provided 37 flu shots and 21 immunizations. Eddins enjoys events like these where "it gives us a chance to connect with the community and have good times, not just when people are sick."
If folks want to learn more about next year's Trunk or Treat event or Mason Health staffers would like to volunteer to greet, give out candy or host a trunk, simply email the hospital's Foundation at foundation@masongeneral.com or call 360.427.3623.
Nataly Renteria is a Community Relations Representative for Amerigroup who made a charitable donation to MGHF and was recognized as the sponsor for the Trunk or Treat event this year. She loves that "Mason Health is one of the few [organizations] to host events for their community. It makes me happy to partner with you guys and see how you value your community and patients." Watching delighted Trunk or Treaters she was also totally "surprised how many kids can fit in a car!"
Renteria dressed as an astronaut and her outfit was complimented by many. "The event put smiles on kids and parents faces," she recalls. "To offer this sets an example for other healthcare facilities."
Mason General Hospital Foundation is also participating in the Community Foundation of South Puget Sound's Give Local campaign. This is an annual online giving opportunity that benefits nonprofits in Thurston, Mason and Lewis counties.
"Give Local is one more way we engage with the community," says Capps. They didn't want to host a large in-person fundraiser during the pandemic for health and safety concerns, so they chose Give Local in 2020 and 2021. "Community members can donate, and it helps provide funding for  Mason Health; the support will help to support MGHF's mission and provide funding for medications, medical equipment and charity care services" for patients in need.
"There are matching gift donors and no fees on donations, so the more dollars raised the more is matched by the Community Foundation," says Capps. "No gift is too small and it's a way for folks to get involved." Giving ends on Friday, November 19 so make your contribution today."
Last year donations of $6750 from the community were boosted by an additional $1696 in Bonus Fund matching dollars from the Community Foundation's Dawes Charitable Trust Fund. Those contributions went towards much needed equipment like infant warmers and surgery tables and COVID-19 relief efforts for MGHF.
Giving back doesn't have to be stressful or expensive. It can be as simple as wearing your favorite Halloween costume while handing out goodie bags or pledging $5 to a neighborhood fundraiser. This year as we face the approaching holiday season, do what you can wherever you can. Every little bit helps improve a life, bring a smile or spread a little cheer.
Sponsored