Late 19th-century visitors to downtown Olympia could treat themselves to a delicious pan roast of fresh Olympia oysters at Doane's Oyster House. Their memorable host was a retired sea captain and living legend, Captain W. J. Doane.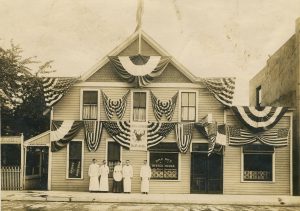 Woodbury Jewitt Doane was born January 18, 1826 in Maine. He became a sailor in his youth, working on his father's ship. Doane came to California for the 1849 Gold Rush, served as a pilot in British Columbia during the Fraser River Gold Rush and later worked as a mate on the Eliza Anderson on Puget Sound. In 1866 Doane married Elizabeth Pendergast (1845-1875) in Victoria B.C. The couple had two sons, Woodbury Jr. ("Wood") and George ("Jack").
In 1880 (or 1879) Doane moved to Olympia and opened an oyster eatery, popularly known as Doane's Oyster House. He first operated out of a stall near the site of the Olympia National Bank along Capitol Way, but disaster struck when the building burned in a massive fire that destroyed the area. Doane reopened in a small room on the south side of Fifth Street, the only available place he could find. It was nicknamed "The Hole in the Wall."
In 1889, the year Washington became a state, Doane opened operations at his final and most famous location on the south side of 5th Street. He lived across from his restaurant, and his barn and garden ran along the rear of the building. His rose garden was a local landmark. "Captain Doane's oyster house has been made picturesque by a pretty garden in the rear," wrote the Morning Olympian newspaper on April 16, 1893, "Sinbad the Sailor [Wesley Wilken] planted fifty varieties of rose bushes and painted a Jacob's ladder in honor of the event."
Doane's restaurant was a local gathering spot. Captain Doane was a legendary host, often personally greeting visitors. His sons served as waiters for a time. Legislators, lobbyists, and businessmen met there and it was known as a place for political wheeling and dealing. The restaurant was also popular with local families, with a separate area for them that Doane called the Ladies' Cabin. Dining rooms were also available upstairs.
Doane became especially famous for what was later called Doane's Pan Roast of oysters. When asked for the recipe in 1922, there was a debate over the perfect one. Some said that chef A. J. Johnson had the recipe or that a Chinese cook had it. The Oyster Growers Association provided the following recipe, published in the Morning Olympian on November 1, 1922: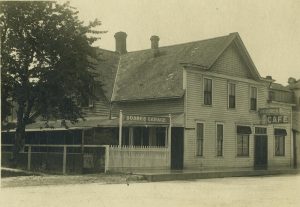 "(For six persons). Put over fire in frying-pan or kettle a slice of butter about 1-inch thick off the end of a 2-pound roll. Drain thoroughly and dry one quarter of Olympia oysters in colander and remove any particle of shell; when the butter is melted place the oysters in the butter and roast them till edges begin to curl. Have ready mixed, in separate receptacle, one teacup of best tomato catsup, three drops of tabasco sauce, one dessert spoon of old-fashioned pepper sauce, one dessert spoon of Worcestershire sauce, one teaspoonful of salt. Pour over oysters roasted in butter as above, and keep over fire until heated through. Serve hot on slices of buttered toast."
A local restaurant keeper thought the original recipe had more "kick" and "eliminates the tabasco sauce and adds vinegar to taste and some walnuts. The chapped walnuts are boiled with the sauce and then strained from it."
Goldie Robertson Funk, describing the legendary dish in the Pacific Northwest Quarterly (April 1952), writes that the meal came with "a large platter with pickles, coffee, or beer, and for many years the price was thirty-five cents for the Pan Roast and five cents for the beer or coffee. Years later the price was fifty cents."
Most of Doane's employees were Chinese Americans. Labor was in short supply when he opened his business and restaurant work was one of the few occupations open to immigrants from China. Some of them were members of the Locke family. In 1902, the paper mentioned that Locke Ying Wing, a popular longtime waiter, had returned to work to Doane's after a serious illness.
In the 1890s Doane moved to Tacoma where he opened another oyster restaurant. He came back to Olympia to retire near his family. Captain Doane died on February 12, 1903. His funeral was held at his niece Topsy Harris's house, officiated by the pastor of Saint John's Episcopal Church. He was laid to rest next to his wife at the Masonic Cemetery. The "genial old captain" was widely mourned.
After the captain's death, his Olympia restaurant was passed through a number of owners and managers. It closed abruptly in 1916 after two young managers absconded to San Francisco and the restaurant's napkins, plates, silverware and crockery went missing. The building was soon torn down to build the Martin Building (113-119 5th Ave SE).
Captain Doane's Oyster House was in operation for over 40 years. Even after its closure, residents fondly remembered the restaurant's delicious food and jovial host. Today seafood restaurants are an important part of Olympia and the city's ties to Puget Sound continue to be strong.