Tenino is a charming, quaint town in rural Thurston County with many wonderful qualities. Tenino Mayor Wayne Fournier has been passionate about finding ways to capture these elements in the eyes of the world and support his hometown through innovative projects and ideas. Through his creativity and partnership with the Thurston Economic Development Council (EDC), Wayne has been able to attract business and intrigue to his hometown.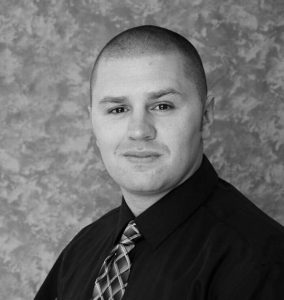 Wayne's family has a great history in Tenino. His grandfather served as the police chief in Tenino in the 1970s and his father was a firefighter and battalion chief for the Tenino Fire Department. "I was raised to be in public service and safety," he says. At 18 years old, Wayne worked as a volunteer firefighter with the Tenino Fire Department and was later hired as a professional firefighter. He served the Lacey Fire District in 2005 and joined the Aberdeen Fire Department in 2009. Working in public service has been exceptionally rewarding for Wayne, and he knew he wanted to be able to do even more for the community he loved.
"I started to have opinions about the city and began getting involved in things politically and administratively," Wayne recalls. "Once I learned more about how municipal government works and what it means to be an elected official, I just went for it." He decided to campaign for an open seat on the City Council and was elected for his first term in 2011. One of the first things he did as a City Council Member was a public awareness campaign called the Tenino Yellow Bicycle Project. Wayne partnered with a local street artist named Adam Barr to promote engagement and community building by buying old bicycles, painting them yellow, and then secretly placing them in obscure or uncommon places to attract attention and create a sense of wonder.
The project has since morphed into a cultural community service where people can rent the yellow bicycles to ride around the city. Through social media and promotion, the bicycles became popular enough that kids YouTube star Blippi brought his show to Tenino to join the fun. "He came to Tenino and he rode one of the yellow bicycles around," Wayne says. In addition to the bicycle video, Blippi and his film crew ended up returning to Tenino, filming multiple videos over the course of two days, which normally would have taken three months. Wayne hopes to be able to attract more of the film industry to Tenino in the future.
In addition to art and community, Wayne is deeply passionate about agriculture as a means of economic development. One of the first pieces of legislation that he passed as a City Council Member was the Urban Farming Initiative, which allowed people to do urban farming on their own land. The idea expanded from there as they realized that Tenino could serve as a regional hub for farming and agriculture in the Pacific Northwest. In 2013, Wayne began planning for ways to really capture this exceptional aspect of Tenino, and became one of his primary focuses when he was elected Mayor of Tenino in 2015. "We had been kicking around the idea of creating an industrial park for agriculture, and were trying to evolve it," Wayne recalls. At that same time, the Thurston EDC had hired Aslan Meade to focus on regional agriculture.
Wayne knew this would be a great opportunity to demonstrate the exceptional agricultural industry already thriving in the surrounding areas and make a case for the industrial park. "I started linking Aslan with all of these farmers in the region," Wayne says. "We started synergizing and that's when this idea took on a whole new set of legs." Through the support of the Thurston EDC and state grants, what started as an idea at Wayne's kitchen table has grown into the Southwest Washington Agricultural and Business Innovation Park. "It's a really exciting thing for Tenino because it represents jobs and millions of dollars for the community," Wayne says.
With such a strong established partnership, Wayne jumped at the opportunity to join the Thurston EDC Board when a vacancy opened up last year. "I'm excited and happy to be a part of it," he says. "It's been a weird time for everyone and for economic development projects. The Thurston EDC is so critical for anyone to be successful, and it is more important than ever right now to reach out and use these resources." He is eager to see what other projects are on the horizon for him and the Thurston EDC to continue to support economic development in Tenino.
Wayne loves the EDC's mission to support local businesses and came up with an idea for the city to print their own money for residents in need to spend within the city. "We printed off $10,000 in $25 wooden bills, which were backed by the city budget," he says. The idea quickly went viral throughout the country and the world, and shortly after the Tenino dollars became more valuable outside the city because of the interest in these unique dollars. "We spent a nickel to print each dollar, and due to outside influences, people were able to sell them for up to $700 to collectors," Wayne shares. It was inspiring to see Tenino on the world's radar for this initiative and he is hopeful to find more ways to keep the city in the limelight.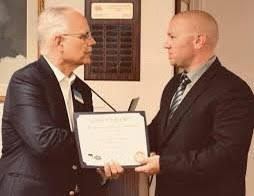 Through creativity, innovation, and passion, Wayne has been able to encourage development and worldwide appreciation of all that Tenino has to offer. He has been grateful for so many opportunities to support his hometown and is looking toward a bright future for the city of Tenino.