Ready or not, summer produce is waning while the gorgeous beauties of autumn take center stage. Changes are afoot at the Olympia Farmers Market. Fall's fruits and vegetables are ready for roasting, toasting, and making their way into soups and other comfort foods. Your eyes can feast on the saturated leaf-turning colors like burnt oranges and dark mustard yellows. The seasonal bounty is enough to take your breath away, but don't worry, it won't. Just bring your bags, your friends and your appetites for the pleasures of fall feasting.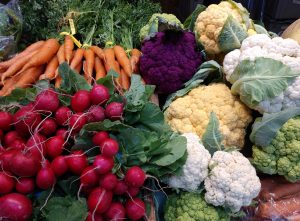 First, there are squashes, gourds and pumpkins galore. Rather than figure out which is which, you can consider them one big, happy family. Some say squashes are softer with edible skins and gourds are hard on the outside. All make excellent eating. Roasting softens and sweetens them up, providing tasty as well as nutritious ingredients for entrees or side dishes. Pumpkins are versatile, too. Carve and decorate the big pumpkins and find other varieties called pie pumpkins that are more suitable for baking.
The acorn squash is handy for single servings and roasts nicely. The butternut squash can become delicious soup. The ancient Hubbard squash is meaty and will store for months. Some people love spaghetti squash for a pasta replacement. It really does look like spaghetti when you use a fork to pull out the fleshy insides. My favorite remains the delicata squash, so named for its easily eaten, thin skin. If you haven't tried it before, please consider doing it this season. Roasted delicata squash as an appetizer will amaze your guests with its candy-like appeal. It almost qualifies as a dessert.
Roasted Delicata Squash: Quick prep for top notch results
Wash the skin because you get to eat it.
Slice the long way and scoop out the seeds.
Cut into evenly sliced half-moons.
Toss with olive oil, salt and pepper.
Separate pieces and roast at 425 degrees until nearly burnt.
Fall produce is known for earthy root vegetables, potatoes, mushrooms, certain fruits and various greens. Did you know that simply roasting most vegetables brings out their tender sweetness? I never used to think of vegetables as sweet, but now I do. It is even more pronounced when you start with produce from our local growers. I find the quality and taste of close-to-home food is better (cooked or not). Shopping at the Olympia Farmers Market gives you plenty of options for getting acquainted with, and then liking, many vegetables.
"Keep your eyes out for the autumn fruit," reminds Nora Hantula, who works at the Olympia Farmers Market. There will be apples and pears from Burnt Ridge Nursery & Orchards, Taber Ranch, Sullivan's Homestead and The Fresh Approach. Nora is looking forward to kiwi berries, which are small enough to pop into your mouth like a grape or used on a cheeseboard. Another idea is to mix into a salad for juicy flavor and more texture. Fall fruits can be dried in a dehydrator or oven and stored for use all winter long.
A bit of summer lingers. Cedar Slope Farm's heirloom tomatoes are plump jewels that are pretty as a picture but meant to be eaten. "He always had a green thumb," says Sammy Davis, life-long friend of co-owner Rory Lenehan. The small organic certified farm also grows flowers for bouquets.
Get your ears of corn while they last. "The season still has a little time left," says Ryan Rutledge, who likes to help out with the family business, Rutledge Corn Maze. When you buy corn that is recently picked, it is high in sugar and low in starch. The longer it sits, the more sugar turns to starch, losing optimal taste and texture. Take it home and then set the table. It is okay to drop your ears into a pot of boiling water if only to warm them up for buttering. Extra minutes in the scalding water is unnecessary. Upon shucking, the corn is ready to eat.
The Olympia Farmers Market looks forward to the Harvest Celebration the last Saturday in October. The whole day will feature fun activities including cooking demonstrations. Local partners will join in the festivities. The Olympia Farmers Market maintains health and safety standards at all times.
The Olympia Farmers Market remains open four days a week Thursday through Sundays through October, from 10 a.m. to 3 p.m. There is plenty of free parking all days. Walk through the stalls to appreciate the change of seasons. See if you can find a fruit or vegetable that looks new to you. The abundant produce is beautiful. Talk to the vendors and ask their favorites. Check out the latest news and upcoming activities on the Olympia Farmers Market website.
Be lavish with your vegetables!
Olympia Farmers Market
700 Capitol Way N, Olympia
360.352.9096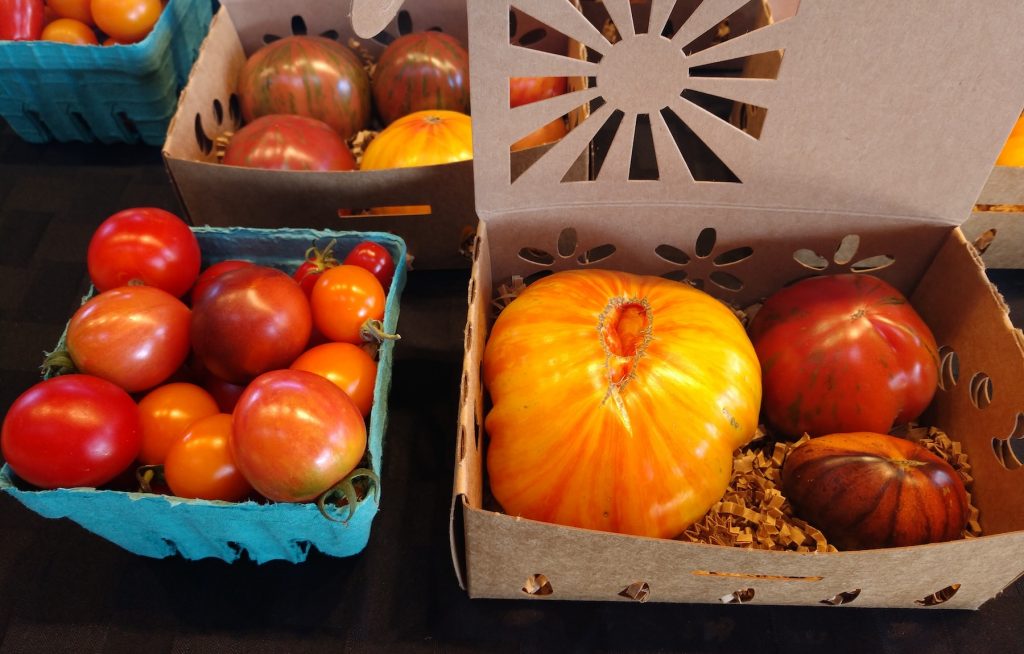 Sponsored