Jayde Grams is listed as a defensive specialist for the South Puget Sound Community College volleyball program. And while technically that's correct, head coach Tusalava Kuaea believes it doesn't accurately sum up Grams' value on the Clippers' squad this season.
"Jayde's the glue," Kuaea said. "She holds everything together for this team."
That she does as Grams is a veteran, a three-year player for South Puget Sound and most importantly, the only sophomore on an otherwise all-freshmen Clippers' roster.
"She's so important to us. The majority of our team are freshmen who came right out high school where they didn't get a season last year," Kuaea said. "Jayde has been with us for two years and we're asking a lot out of her this year, and she's just been incredible. She's a natural leader."
Grams, a graduate of Sumner High School, was part of Kuaea's second recruiting class three years ago, playing as a freshman in 2019 before South Puget Sound saw its 2020 season cancelled due to the COVID pandemic, leading her coach to wonder if Grams would even be back on the team this year.
"I really did not know if she was coming back for her COVID year," said Kuaea, who is now in her fourth year with the Clippers. "I am so happy she did. She's worked hard. She's been a 4.0 student the last two years here and she's been a mentor for every one of our incoming freshmen. She had opportunities to move on and play at a four year college and I am so grateful she decided to stay."
Yes, she had other opportunities, but, as it turns out, the decision to remain a Clipper for one more year was a relatively simple one for Grams to make.
"I just looked at it as an opportunity for me," said Grams, who earned her Associates of Arts degree in the spring and will add an Associates degree in Business this fall. "It was a big decision to make, but the truth is it was pretty easy because I knew this is where I wanted to be. Everyone has been just so awesome to me here. They're family to me. That's what we preach around here and that's exactly what they are to me."
Up next for Grams will be a yet-to-be-decided four-year university – University of Washington – Tacoma and Central Washington University are both currently in the mix – where she plans to study accounting with the goal of becoming a certified public accountant.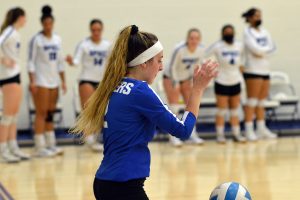 But before that happens, she remains focused on continuing to lead the Clippers volleyball program, which opened the newly renovated Health and Wellness Center at South Puget Sound with a victory over Green River on September 24.
It marked the first home game on the SPSCC campus – albeit without fans – for Grams in three years.
"I was just super excited to finally have our own home court," said Grams. "We knew one day we would play here, but we've been waiting for this gym to open for so long. I am so glad I got the opportunity to come back (this season) and play here and represent Clippers' nation."
Grams did her part in the three-set sweep of Green River, leading South Puget Sound with eight digs and providing plenty of direction for her freshmen teammates.
"She deserved this," Kuaea said about Grams finally getting to play on her home court. "Jayde has been with us for two years and this is the first time for her playing in the new gym. It's so very deserving. She is such an asset to this team. She is one of my favorite players I have coached over the last 10 years, and I am very blessed to have her on my team."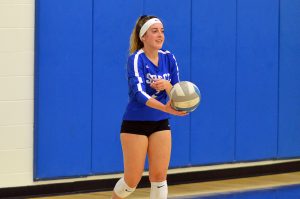 Grams and the Clippers, who opened the season with 12 consecutive road games, play five more times at home this season, beginning on Wednesday, October 13 against Pierce College and concluding on Friday, November 5 against Tacoma Community College.
In addition to her success on the court, Grams was also the 2021 recipient of South Puget Sound's Outstanding Student Award due to her achievements and contributions to the school in the areas of academics, performance and service to the college or the community combined with her overall personal growth and development during her time at SPSCC, which is highlighted by her dedication to the Olympia community through the Olympia Special Olympics and Relay For Life and her continued help with prospective student outreach and SPSCC Foundation events.
"From Jayde's freshman year to now, she has set the bar to what a successful student-athlete should strive for academically and athletically," Kuaea said. "I've had the pleasure to watch Jayde grow in all areas while attending SPSCC and I couldn't be more proud of her."
Sponsored