The South Puget Sound Community College men's soccer team will look to record its first win of the season when the Clippers host visiting Pierce College at the Regional Athletic Complex in Lacey on Wednesday, September 29.
The match begins at 2:15 p.m. South Puget Sound is 0-6-1 on the year and 0-5 in Northwest Athletic Conference West Region play.
The Clippers are paced this season on offense by Francisco Ojeda with four points, while Saloum Malang is second on the team with three. Amri Mwenyeheri, Yuta Shimazu and Eric Stephens have each registered two points.
South Puget Sound is 0-1 on its current four-match homestand and is coming off a 5-1 home loss to Everett on September 25. Mwenyeheri provided SPSCC with its lone goal against the Trojans. The midfielder notched his first goal on the season in the 18th minute to tie the match at 1-1. However, Edmonds responded by scoring four unanswered goals with three coming in the second half to improve to 5-3.
The Clippers will stay at home for their next two matches. South Puget Sound hosts Bellevue College on Saturday, October 2 and Highline on Saturday, October 9. Both matches start at 2:15 p.m. at the RAC.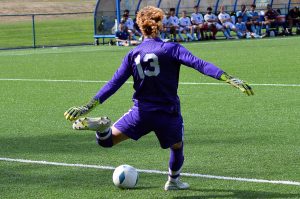 The Clippers home slate comes following a three-loss road trip, which started with a 4-3 defeat at Edmonds on September 15. Against the Tritons, South Puget Sound led 3-1 midway through the second half, getting a first-half goal from Stephens and two second-half goals from Ojeda before Edmonds registered a trio of goals in the final 17 minutes. Joshua Coetzee and Malang both tallied assists in the loss.
Pierce College enters the contest winless at 0-6. The Raiders were shutout in their last match, losing at home to Skagit Valley College, 1-0, on September 25. Pierce has lost 10 consecutive matches, last winning on October 26, 2020 when the Raiders edged South Puget Sound, 2-1.
Sponsored