Six words you should not say to Ernesta Ballard: "Have you thought about slowing down?" Ballard has led an active life thus far and at age 75, she sees no reason to change. Her body, however, had other ideas. Last November, she began to experience severe pain originating in her gluteus muscle, to the degree that it hurt to sit or walk. It was clear that she had injured one of the muscles that runs through the buttocks, but she wasn't sure how. "I'm very athletic and outdoorsy, and this was a life-altering kind of injury," she says.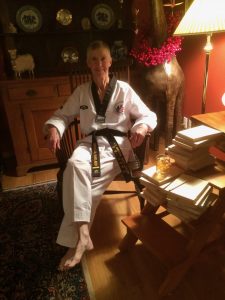 Her primary care physician, Dr. Kimberly Elliott of Providence Medical Group, recommended that Ballard put some focused attention on the problem which led her to Penrose & Associates Physical Therapy. From the start, she was impressed with the practice.
"They have a well-structured intake," Ballard explains. "They do an interview and get to know what you've been doing with your body. Then they watch you walk, squat and bend over and they begin to build their view of what's going on. There is some hands-on assessment where they feel the musculature and do some basic exercises to come to a preliminary assessment of where they need to start."
It turned out Ballard had several interconnected issues that had accumulated over a lifetime of activity. The most obvious was a torn piriformis, a muscle that starts at the lower spine and connects to the upper surface of each femur, but she also had trouble with discs in her back and some arthritis. The Penrose team decided to start with loosening muscles that had tightened over the years. The next focus was on developing better alignment through core strengthening exercises.
That was after several months of top-quality care, according to Ballard. "The Penrose staff understood me, they knew me and they knew what I was trying to do," she says. "When I went there, I felt somebody was taking me seriously. That doesn't happen in every professional relationship."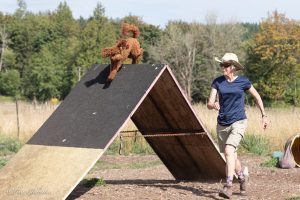 Far from telling her to consider slowing down, one of the therapists had her speed up – running up and down hallways, taking turns and navigating obstacles. "He knew that I do dog agility course competitions and I'd been having a lot of trouble running," she explains. "He said, 'Okay, we're going to practice running. Let me see what happens when you do it.'"
During those sessions, they found some deterioration in Ballard's spine which was causing pressure on the sciatic nerves that run from the vertebrae through the piriformis and down the leg. Ultimately, they referred her to a sports medicine doctor. Although she has moved on, Ballard appreciates her time with the Penrose & Associates staff. "It wasn't perfunctory," she says. "They tailored the treatment to my goals. I would visualize the endpoint and then we would work together to achieve it."
Learn more by visiting the Penrose & Associates Physical Therapy website or calling 360.456.1444.
Sponsored