Submitted by Gateway Rotary
Slainte is a band whose concept is to play anything Irish or Scottish either traditional or Contemporary. If the artists are Irish/Scot they might play it. Dance a jig with Slainte at the 9th Annual Brats, Brews & Bands Festival in Lacey on September 11, 2021.
Expect this event for adults 21 and over to sell out. Tickets are $25 in advance with 5 drink tastes, and $30 at the door. From 2017 to 2019, the BBB doubled in attendance annually from 800 to over 3,200 attendees. Buying tickets in advance guarantees you through the door, especially with COVID-19 crowd restrictions.
The Brats, Brews & Bands Festival is a one-day, 100% volunteer-operated event. Hosted by the largest rotary membership in the area, Gateway Rotary, the event raises thousands of dollars annually for local children's charities in the area. Rotary International has over 1 million members, and has been helping provide humanitarian service and advancing goodwill globally as a non-political, non-religious organization since 1905.
"Come party while supporting a good cause at the Brats, Brews & Bands Festival!
shares Nathan Peters, Gateway vice president & BBB chair. "Proceeds from the event benefit local nonprofit organizations."
It features over 50 types of craft beers, ciders and Washington wines, and a lot of great food, including brats and tacos. It is the end of the summer party before we head into the fall.
"I remember our first year the event was two days, Friday afternoon and all-day Saturday," shares Eric Rowe, past Gateway Rotary president. "Needless to say the Saturday shifts were brutal. Let's just say we had several Rotarian 'Beverage Tasters' on Friday night."
"The year I ran the event, I was closely monitoring a storm that was coming down from Seattle and heading to Lacey," shares Len Faucher, past Gateway president & BBB chair. "We saw on TV that the UW football game was suspended due to lightning and I was concerned about our event. I watched the doppler on my phone as the storm stayed east of us. The crowd was having fun and probably never knew."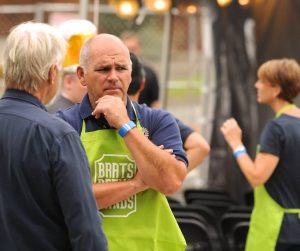 Gateway Rotary Member Spotlight
Meet Tim Braniff. Tim is an active club volunteer with the Gateway Rotary Club of Thurston County. Tim joined the Gateway club in September 2011 as one of original charter members. Tim recently retired as a Thurston Sheriff's Deputy with decades of service our community.  Tim is always available to help with service projects. Tim really helped the club to focus on important projects like supporting All Kids Wins (formerly Homeless Backpacks). Tim consistently demonstrates the Rotary motto of "Service Above Self." Our community is made better through Tim's actions. Thank you, Tim!
What We Do In The Community: We Are Gateway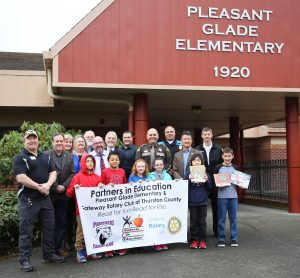 Our fundraising from the Brats Brews Bands Festival creates impact in our community. Gateway is Pleasant Glade Elementary's (PGE) Partner in Elementary. In December 2020, Gateway Rotary 'adopted' a student and their family as part of PGE's Giving Tree Event, providing a variety of holiday gifts from the wish list of a PGE student and their family.
Founded in 2011, Gateway Rotary meets in an Irish Pub (O'Blarney's) every Wednesday at 7 a.m. with a membership of 114 and growing. We provide a high-energy experience to those who want to help their community, roll up their sleeves and engage in a setting that welcomes a great group of active people in our area.
New Gateway member Syliva Davenport said that when she thinks of Gateway, she is reminded of the laughter and joy of member fellowship, as well as the impact the club has on the community overall.