When parents are unable to care for their children, it is often up to other close family members to take the role of primary caregiver. This special relationship, known in these circles as kinship care, is more common than one would think. According to the Kids Count Data Center, there are an estimated 2.6 million children in the U.S. (around 4% of all children) being raised in kinship care. This is why foundations like Family Education and Support Services has stepped up to the plate, not only to offer financial and education assistance, but also to celebrate these special relationships between the child and the caregiver.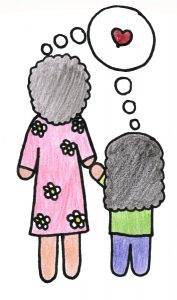 Family Education and Support Services is a nonprofit organization that has been serving the South Sound Area of Washington for 20 years. They provide education and access to resources via a variety of programs. One program, The Kinship Program, specifically serves grandparents and other relatives that are raising children in Mason, Thurston, and Lewis counties. This includes financial assistance, referrals to community programs, as well as support groups and activities for kinship families. So, what does that exactly entail? Lynn Urvina, The Kinship Program director at Family Education and Support Services, says it involves working closely with people via support groups and meetings.
These social interactions, of course, were made more difficult with the COVID-19 pandemic. "Our offices closed in March 2020 due to COVID-19," recalls Urvina. "We are now back working in the office on most days – but it is not yet open to the public or to our clients. I worked from home and was able to continue providing services to Kinship families. We were grateful to receive grant funds that allowed us to provide computers, internet access and PPE for our clients during this time. Many of our families struggled to provide the equipment and internet that their children needed to continue with their schooling, and it was great to be able to help with that. Our Support Groups used to meet in person – and that changed to Zoom meetings. That works well for some of our caregivers, but they are looking forward to being able to return to in person meetings in the future."
Giving Them a Voice
The pandemic affected their yearly contest as well. "The Voices of Children Raised by Grandparents and Other Relatives began 18 years ago. This year we added The Voices of Kinship Caregivers," says Urvina. "This gave the relative caregivers an opportunity to write about what it is like to bring their grandchildren or other relatives into their full-time care. The children who enter the contest either draw a picture, write a poem, or short essay about how their lives changed when their relatives took them into their homes. The contest is open to Kinship families living anywhere in Washington State."
Sponsored by ALTSA (Aging and Long-Term Services Administration/DSHS) and TwinStar Credit Union, the contest is divided into three age groups, as well as a caregiver's section. "Two winners in each of the children's categories are chosen and three adult caregivers were chosen as winners," continues Urvina. "TwinStar provided each of the winning children with a check for $100. Their families also received a Discover Pass and a book to journal their visits to the parks in our state. The three adult winners each received a $50 gift card."
They also print a booklet each year with the entries of each contestant, and every participant is given a copy. Urvina believes it has done wonders in creating awareness to the powers that be. "We have shared this booklet with law makers, program managers and officials in our state and around the world. Other states have requested information on how they can replicate this contest in their own area. This booklet is a great way to help people understand the challenges and the joys that Kinship Families experience. Elected officials have become more supportive of Kinship Programs after reading what the children have written."
At the end of the day, however, Urvina stresses that Family Education and Support Services is about compassion over judgment. "Most people know a kinship family," she clarifies. "You probably don't know the reasons someone is raising a grandchild – and it probably is NOT because they were a bad parent to their own children. Substance use disorders and mental health challenges, as well as incarceration are the reason many find themselves taking in their grandchildren. It is a full time, stressful change in the lives of the grandparents who make this choice. Please look for ways to be supportive, rather than judgmental. They didn't plan for this, and it may have a very serious impact on their financial situation. Offer to take the kids to a movie or to the park to give the caregiver a little break."
For people like Lynn Urvina, the work is much more personal. "I came to this work because I am a kinship caregiver," she says. "Our granddaughter came to live with us when she was 11 months old. She is now my adopted daughter and is entering her senior year of High School. Her birth parents continue to struggle, and I am glad I can keep her safe."
For more information, visit the Family Education and Support Services website.
Sponsored