Small businesses are the backbone of communities across the country, and Thurston County is no exception. The Thurston Economic Development Council (EDC) is always looking for better ways to support small businesses throughout Washington. The Center for Business and Innovation (CB&I) is launching an online portal, which will be a one-stop access point to a variety of resources geared toward different stages of entrepreneurship. Manager Sean Moore shares the ideas behind the portal and dives into some of the resources that will be available online.
During the pandemic, many businesses and organizations shifted gears to adapt. The Thurston EDC found that virtual training was the best way to continue to support their small business owners safely, so they began to coordinate and develop programs to allow for distance learning and coaching. With the online portal, businesses will now have access to a multitude of resources, training videos, and modules anytime they want to dive in and explore more. Rather than scheduling time out of their busy schedules to hop on a Zoom call or attend a meeting, business owners can have the freedom to jump into learning when it is most convenient for them.
One of the biggest drivers behind the portal was creating more accessibility and awareness around the numerous resources the Thurston EDC offers. It can be difficult to know where to go for help, and oftentimes people are discouraged from pursuing assistance if they end up at the wrong resource. "We want to make sure people get to the right resource the first time so they can take advantage of it right away," says Sean. The online portal categorizes resources for three different stages in business, which can help business owners easily navigate the exceptional services being provided by the Thurston EDC CB&I.
Business Start-Up Help
The first stage of business is the start-up stage. The online portal will have resources specific to first time business owners to help people interested in starting a business, including a no-cost Intro to Business class offered through the CB&I School. Here, a new entrepreneur can begin to learn more about the fundamentals of starting a successful business. They also offer the Business Enterprise Start-Up Training, known as BEST, which is a business plan writing course. "There are learning modules and step-by-step videos," Sean explains. "Each enrollee will also have access to a weekly drop-in meeting where they can ask me questions."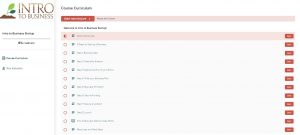 Another exciting resource that will be featured on the online portal is a new program called Quick Start-Up, which recently launched through the Washington Center for Women in Business. "The intention is to quickly get people into a position to begin selling their products and services," says Sean. It is an addition to the W Marketplace, which is a new online marketplace based in Seattle that is geared toward women-owned and gender balance businesses. "The W Marketplace is like an ethical Etsy," Sean explains. "It is a place where they can start to put up their goods and core services for sale." Interested and eligible businesses can apply for a $1,500 scholarship to attend a two-day training and a one-year marketing package as part of the program.
Business Growth Help
The second category the online portal targets are people looking to grow their business. They want to help newly established businesses create more success for themselves and expand in their industries, which is why they will be featuring a training called ScaleUp on the portal. This statewide training is free to any business that has been in operation for 2 years and is made up of a combination of live instruction and modules through Teachable that help supplement the curriculum. It is an excellent resource for businesses that want to learn how to strategically grow.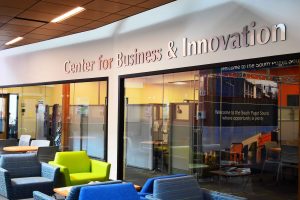 The online portal will also feature the CB&I Consulting program for recently established businesses. "We pair a local Thurston County contractor with those in need of services," Sean explains. "The whole program is at no cost to business owners and is designed to pay consultants to do work for small businesses." The services can range from web development to accounting and human resource services. Small businesses are encouraged to take advantage of this exceptional resource to learn about new and exciting ways to manage and expand their existing operations.
Additional Business Support
The final category that the online portal will be catering to is longer established businesses that are looking for additional resources to support their endeavors. The main resource for this group is the Washington Procurement Technical Assistance Center, which is geared toward helping businesses navigate the process of obtaining government contract work. "It opens up the potential for a significant increase in revenue," says Sean. "It can be quite a process, which is why we have counselors that guide business owners through the entire process." Government contracting can be quite lucrative and a great stream of steady income, so it is an excellent next step for established businesses to take.
The new online portal will be a one-stop access point for a multitude of resources, and will make it that much easier for businesses to get the help and support they need to be successful. "We are really trying to develop this entrepreneur ecosystem," says Sean. "We want to make sure people are aware that there is support out there for them." The Thurston EDC is always looking for innovative ways to continue to serve the business community, so they are very excited to launch the online portal. Whether you are an established corporation or a brand-new start-up, the online portal has the tools, resources, and trainings to help you take your business to the next level. Visit the Center for Business and Innovation website to learn more.
Sponsored