Shifting gears and reinventing a company is something that most hope to never face in their career, but that's exactly what Sandstone Distillery had to do in the historic year that was 2020. While distilling spirits is their specialty, this local Tenino company pivoted to rapidly produce hand sanitizer during the early and most crucial months of the pandemic, thus earning them a nomination from the Thurston Economic Development Council (Thurston EDC) for an Economic Courage Award.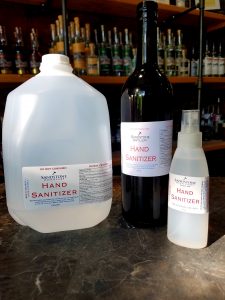 The Thurston EDC defines "Economic Courage" as: "a leader, a business, nonprofit or organization that, while facing economic uncertainty and a radical retraction of 'business as usual,' took extraordinary steps to provide a service, a product, and or a support service that made a positive impact to the community and or employees of their organization." Normally the Thurston EDC presents their awards at a more formal Gala and Business Awards event, but this year opted for an old-fashioned BBQ and Hootenanny on July 22. At the event, a Bluegrass band performed tunes outside the South Puget Sound Community College (SPSCC) along with food, a cornhole tournament and an award presentation to the deserving businesses and individuals who overcame tremendous obstacles over the last year.
Being nominated for the Economic Courage Award is an honor that Sandstone Distillery owner, John Bourdon is humbled to have received. During 2020, the biggest challenge that he, his wife Jenni, son Justin and workers faced was how to make enough hand sanitizer to fill the need when stores were depleted and the world was put on pause. "We could still produce about 20 gallons of the high-proof alcohol in 24 hours," explains John. "It took two hours to heat up, so that's when we would get some sleep. Then it would run for 20 hours while someone watched it, then cool down for another two hours. This repetition happened for over six months."
Every drop of alcohol they made over these long and grueling days went into the sanitizer, but not without the help of many local community members that stepped up as well. Fish Brewing Company had 12 to 14 thousand gallons of wine on hand and donated it to the cause. The Nisqually Indian Tribe bought three drums of glycerin for the Distillery to utilize. Additionally, John goes on to thank the many individuals who heard of their efforts and stepped up in so many different ways. There were the those who bought little bottles of hydrogen peroxide in the store, the countless businesses who made monetary donations, and the people who would come pick up paper bags of sanitizer to distribute in their communities. "While it was a really crazy time with a lot of sleep deprivation and sadness," explains John, "we saw first-hand the very best of people who came together for the greater good."
While a great deal of product was donated to use in the hand sanitizer, the actual vodka column still needed to make it was built thanks to the generous monetary donations. Created in rapid fashion by Truepoint Metalworks in Rochester after a rough design sketch was made on cardboard, the vision came to life and Raphael was born. Normally a commissioned still the size of Raphael would require over a year to design and build, but was completed in just five weeks.
The ample hand sanitizer production went to supply people far and wide including the U.S. Army, U.S. Navy, U.S. Air Force, fire departments, police, nursing homes, hospitals, businesses from a hundred miles away and many, many others. The Thurston EDC also bought hundreds of gallons to give to businesses to help them stay open. "We quit counting how many bottles we gave away after 11,000," says John. "We were shocked when the army captain at Joint Base Lewis-McChord mentioned how they couldn't get their hands on sanitizer. It became essential for us to figure out a way to help."
Today, Raphael has had some modifications and now can produce a fantastic vodka. "While we truly got to see enormous generosity from people far and wide," expresses John, "it's great to be at a more stable point where we can get back to distilling spirits. Not one person ever complained about anything regarding our hand sanitizer operation and were incredibly receptive to our goal. Whether you want to try our spirits or purchase our hand sanitizer, we have a pretty good inventory of both!"
Learn more about this local business by visiting the Sandstone Distillery website.
Sponsored