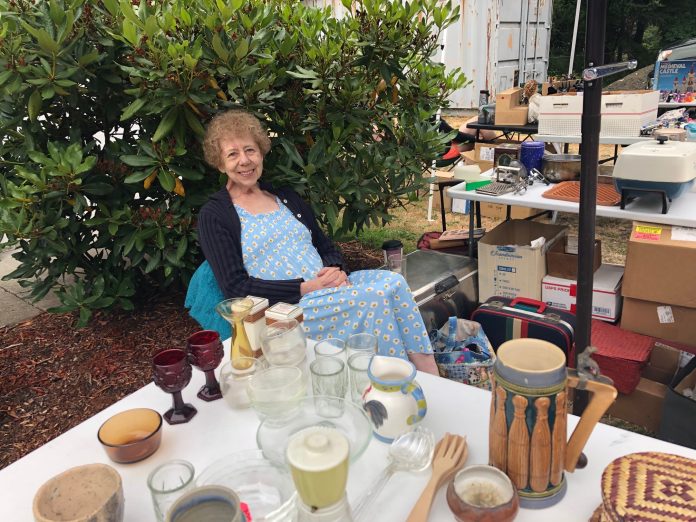 Cleaning out the garage and have extra stuff to sell? Looking for a lamp like your grandmother once had? Want to get an early jump on holiday craft selling or buying? Got a craving for banana bread? Then check out the McLane Grange's Delphi Craft and Swap Meet, held the second Saturday of each month April through November, at 931 Delphi Road SW in Olympia.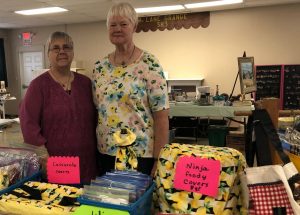 The Grange is a farm-based fraternal organization. The land where the Grange now sits was the site of the first McLane Elementary School. The Grange obtained this site in 1910 when the school moved to the intersection of Delphi and McKenzie Roads.
Grange Chaplain Eladice Arnold says the craft and swap meet started out small several years ago but has become increasingly popular with vendors and shoppers, both locals as well as persons from outside Thurston County. "It has really grown," she says. "More and more people are doing this."
Arnold says while they typically have about 14 vendors during most months, she often has 20 to 25 vendors interested in reserving a table before the winter holidays, which is more than their indoor hall can hold. "In the summer it's easier because we can also put tables outside," she says.
Vendors sell antiques, used goods, plants, crafts, home baked treats and other items. Pat Campbell and Christine Lyon own the TripleOakBoutique and usually sell online through Etsy. But they decided to reserve a table at the Delphi meet as well. Campbell and Lyon are longtime friends and former coworkers at a fabric store. For years, they sewed bridal wear, western clothing and other clothes. "We have been sewing together for more than 25 years," Campbell says. They now sew and sell items such as casserole covers, wine bags, aprons and totes. Campbell also makes crafts with a country farm and equestrian theme. She adds that often it's difficult to find available space at craft fairs and bazaars. "We were able to get a table here, so we got in when we could," she says.
Eddy Black recently moved to the area when her husband was stationed at the Joint Base – Lewis McChord. Her table is "Eddy's Odds and Ends – Fiber Artist." She knits and crochets dolls, toys and other goods. "This is my first time doing this," Black says of reserving a Grange table, although she sold at other craft fairs before her family's move. When she is not knitting and crocheting, she is working at Heritage Bank.
Another table inside the hall is covered with a variety of cookies, breads and other homemade baked treats. The table is a fundraiser for the Cousins Charity Bake Sale. That table is the work of several cousins, including Joy Rosado and Pam Keselburg. Proceeds help low-income children and families in Thurston County. "At Thanksgiving, we help the North Thurston School District by providing turkeys to families and facilities to cook," says Keselburg. And at Christmas, the charity helps homeless families celebrate by arranging for a hotel room, gifts, decorations and meal donations from local restaurants. "We helped six families last year," she says of their holiday program.
David Heydt and William Porter of Bearing Fruit Associates sell and swap native plants. They have undergraduate degrees that focus on plants or agriculture, and they want to further their education. "We are a small business to help fund our master's programs," Heydt says. "We like to swap (plants), in fact, we prefer to swap," he says. Porter says part of his mission – and a reason he attended the meet – is to get people interested in growing native plants. "If I give them a plant and then they get excited about gardening, that's enough," he says.
Dianna Fezer is a lifetime Grange member and former Washington State Grange accountant. She remembers participating in the 4-H youth development club at the McLane Grange long ago. More recently, Fezer has been cleaning out her mother's house and selling items at the craft and swap meet over time. "Mom was a collector," Fezer says. "I keep trying to push things out. This is an easier way to do it."
Fezer says customers are just ordinary people looking for something. "It's nice," she says of the variety of vendors' tables. "Everyone has something different."
Customers pay no entry fee and parking is free. Vendors interested in reserving a table may contact Arnold at 360.970.5325 or 360.866.7254. Learn more by visiting the McLane Grange website.