At one time or another, we've all been the target of fraud. From internet scams threatening to hold our computers and phones hostage unless we pay a ransom, to voicemails promising we've won money and prizes galore, scammers are everywhere. On Wednesday, July 28, Washington's AARP, along with the Olympia Police Department, the Lewis-Mason-Thurston Area Agency on Aging, the Washington State Senior Citizens' Lobby, the State Attorney General's Office, BECU and Nomorobo, hosted an online educational event called 'Tip-Offs to Rip-Offs' which provided valuable ways to avoid being the next victim.
The meeting opened with greetings from Doug Shadel, state director of AARP Washington. "Fraud has been a perpetual problem in the United States but has really been exacerbated in the last year during the COVID crisis," Shadel explains. Filed complaints went up 45% last year, but AARP Washington has been working on fraud prevention for many years.
Shadel then introduced Senator Sam Hunt. "As a senior myself, I'm always on the watch for people who are out to scam me," he admits. "As you'll hear today, there are hundreds of ingenious ways imposters try to get into your bank account or trick you into sending money. In short, be careful and do your homework. If it sounds too good to be true, it probably is. The time-honored phrase buyer beware should be your key."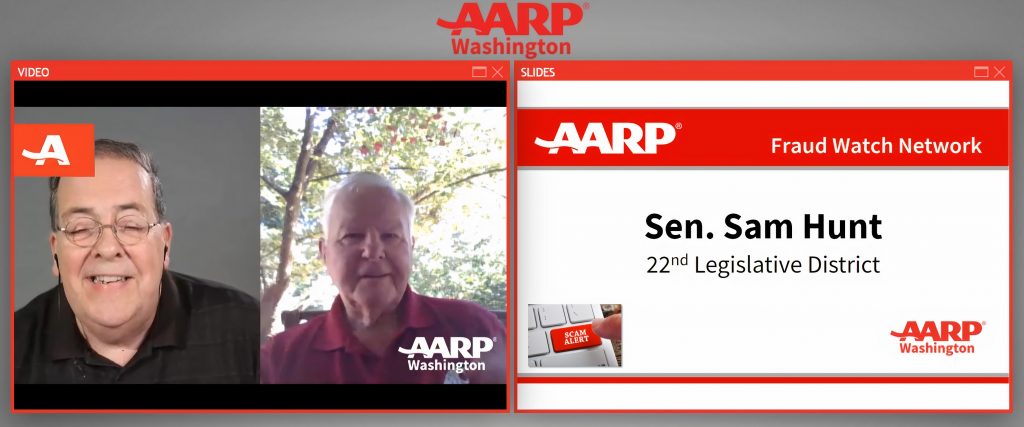 Hunt's advice was then echoed by Olympia Police Department's Kory Pearce. On the department for 28 years, Pearce is also an Army vet and spent three years with the Drug Enforcement Agency. He explains that scams fall into in a variety of types. These include scams which play on fear, joy or pretending to be someone else like Medicare, Publisher's Clearing House or the IRS.
"Let's face it," Pearce says, "Technology: we all use it to our advantage but others use it to their advantage so they can facilitate their scams." He offered ways to spot an attempt and take the proper steps. "The prevention is on you. Stay educated, be aware of scams that are out there, attend events like this, spread the word to your friends and family, be suspicious." And, most of all, protect your personal information. No-one who calls from a legitimate organization will ever ask for passwords, financial details or compromising data over the phone.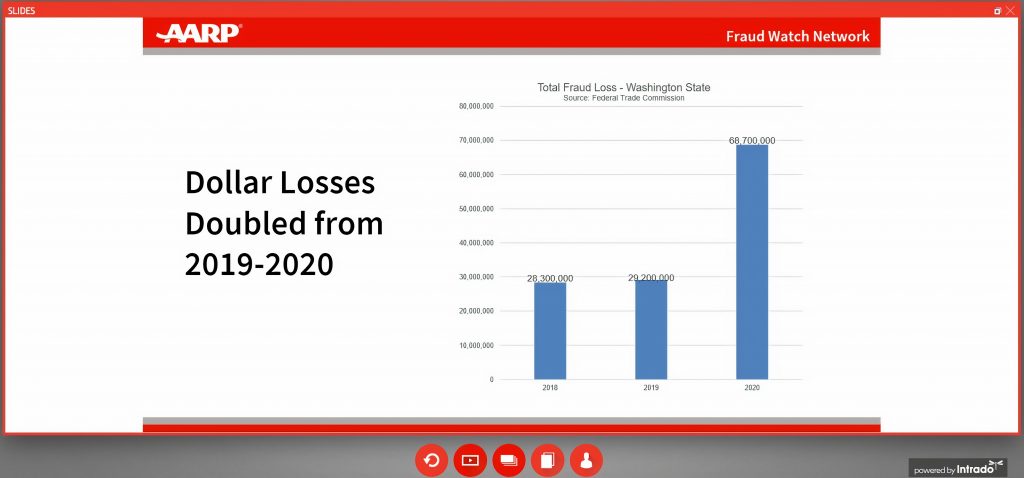 But if you think you've been targeted, says Pearce, "tell somebody. If you believe that you're a true victim of a scam, please don't be embarrassed about it, let us know. Tell your friends so they don't become victims of these scams as well." Sharing information is the best way to be safe.
"The goal of the scam artist is to get you into this heightened emotional state," says Shadel. "Scammers work to get you into that state. Don't act until stress or heightened anxiety goes away." One way to avoid a large portion of these attempts is by using a robocall blocker. Services like the National Do Not Call Registry and others greatly slow down the frequency of incoming junk calls.
Aaron Foss won the FTC's Robocall Challenge seven years ago by creating the Nomorobo service. He explained to event participants that services like his are "like an immune system for the phone system." Since his product was released, they've stopped more than 2.25 billion robocalls and detect 1500 new robocallers each day but "this is just a drop in the bucket."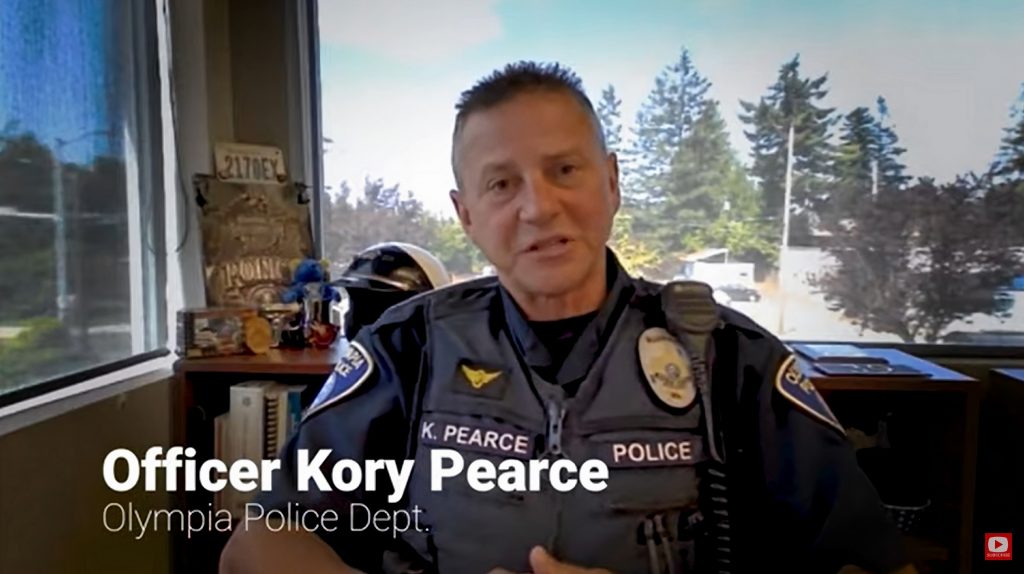 Presenters then explained that in the Olympia area, the most prevalent calls involved Medicare, real estate, fake police charities, Amazon phishing, mortgage and credit card scams, computer, travel, auto warranty and timeshare scams.
Attendees were then shown videos which include a walk-through of actual scam calls thanks to YouTuber Jim Browning. He uses his technical skill to hack actual scammers, even to the point of accessing their cameras and showing their workplaces, and records actual calls. He then works with victims to stop the theft. "I look at this as it could be my own relative, why wouldn't I step in?" says Browning. "I have to do something."
The event closed with a question-and-answer session and links to valuable information. Viewers were encouraged to share the number of the Fraud Watch Network Helpline 877.908.3360 with friends and family and provided a link to the top five robocall scams in the Lacey/Olympia/Tumwater area.
You can find an abbreviated video version online called Turning the Tables on Scammers Olympia thanks to AARP Washington. This link is easy to share with those around you and could perhaps save someone financial and emotional distress.
Keeping up with technology is difficult in our everchanging world. And with each new discovery comes a new way to twist it into fraud or theft. The best way to stay safe is being informed, sharing what you know and working with organizations like these to fight back.
Sponsored