Submitted by Gateway Rotary
Formed in 2012, Lemmings have been writing, refining, producing and performing their original music at events and local venues throughout the region. The Lemmings will be featured at the 9th annual Brats, Brews, & Bands (BBB) Festival in Lacey on September 11, 2021.
Expect this event for adults 21 and over to sell out. Tickets are $25 in advance with 5 drink tastes, and $30 at the door. From 2017 to 2019, the BBB doubled in attendance annually from 800 to over 3,200 attendees. Buying tickets in advance guarantees you through the door, especially with COVID-19 crowd restrictions.
The Brats Brews, & Bands Festival is a one-day, 100% volunteer-operated event for those 21-years-old and over. Hosted by the largest rotary membership in the area, Gateway Rotary, the event raises thousands of dollars annually for local children's charities in the area. Rotary International has over 1 million members, and has been helping provide humanitarian service and advancing goodwill globally as a non-political, non-religious organization since 1905.
"With the COVID-19 pandemic limitation this past year, the Brats, Brews, & Bands Festival will be an opportunity for people to get outside and interact," says Nathan Peters, Gateway vice president and BBB chair. "It's a great opportunity for businesses to support the local community while also getting their business seen by thousands of event attendees."
"I love the bands," says Len Faucher, past Gateway president and BBB chair. "We have some great music talent that comes in every year and they bring a ton of energy to an already exciting event!"
It features over 50 types of craft beers, ciders and Washington wines, and a lot of great food, including brats and tacos. It is the end of the summer party before we head into the fall.
"I really enjoy watching groups of friends finding each other at the festival and then hanging out together and having a good time," says Amanda Vey, incoming Gateway president for 2021-2022.
Gateway Rotary Member Spotlight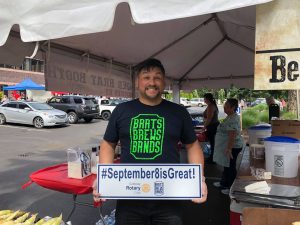 Meet Nathan Magee. Nathan is an active club volunteer with the Gateway Rotary Club of Thurston County.  Nathan joined the Gateway club in April 2017 and has been everywhere Gateway Rotary goes. Nathan is active in all club activities and is especially busy with youth programs like Rotaract and projects like the Lacey Food Bank. Nathan consistently demonstrates the Rotary motto of "Service Above Self." Our community is made better through Nathan's actions. Thank you, Nathan!
What We Do In The Community: We Are Gateway
Our fundraising from the Brats, Brews, & Bands Festival creates impact in our community. In June and December 2020, 12 Gateway Rotarians purchased boxed lunches for 20 Hawks Prairie COVID-19 Testing Site workers as a gesture of thanks for their help and support through the pandemic. Rotarians also used the unique letterhead template from the Gateway Notes of Thanks campaign to send a letter thanking the workers for their service.
Founded in 2011, Gateway Rotary meets in an Irish Pub (O'Blarney's) every Wednesday at 7 a.m. with a membership of 114 and growing. We provide a high-energy experience to those who want to help their community, roll up their sleeves and engage in a setting that welcomes a great group of active people in our area.