Olympians love to be outside. Whether dining al fresco or at one of our many festivals, concerts or block parties, this town loves blue skies and fresh air. Unfortunately, COVID-19 limited those activities last summer and the spring of 2021 has been a slow reemergence into the sun. But thanks to the Port of Olympia, we can once again meet, greet and raise a pint at this summer's Movies at the Marina.
"We are thrilled to bring the community opportunities to gather after more than a year of minimal community interaction," said Port of Olympia Executive Director Sam Gibboney. "Our hope is to deliver a quality experience at the Port, and to hopefully restore a sense of normalcy for our guests."
There will be three opportunities to enjoy movies, live entertainment, a beer garden and food vendors. The 21+ beer garden is presented by Nicole's Bar to support the 4 the Love Foundation. Evenings kick off at 4 p.m. with entertainers taking the stage at 5 p.m. The beer garden and food vendors will be open from 4 p.m. until 30 minutes before that night's movie begins.
Hungry? Movies at the Marina offers more than just popcorn. Food and concessions will be available for purchase from Bastard Pies, Batdorf and Bronson, Kona Ice, Olympita, Uncle Pete's Family BBQ and The Washington Center for the Performing Arts. The Port encourages movie goers to arrive early to purchase food from food truck vendors or support local restaurants offering dine in and pre-order takeout options to grab on your way to the waterfront.
Admission is free and no RSVP is required. Bring your own chairs and blankets and dress warmly, despite the summer sun, as temperatures drop noticeably at dusk. The family-friendly evenings will take place on Saturday, July 31, Saturday, August 14 and Saturday, August 21 at the lot next to the Swantown Marina Boat Launch Parking Lot located at the Port's NorthPoint (next to Anthony's Hearthfire Grill and KGY radio station).
Individual show schedules and start times vary.
JULY 31:
Entertainment: Ricky Hendricks, 5 p.m. to 7:45 p.m. Ricky Hendricks is from Louisiana and started performing at just three years old. He started writing music at 12 and performed on American Idol at 17. He joined the military in 2016 and has currently been stationed at JBLM since 2018.
Movie: "The Sandlot" (PG) – 9:15 p.m.
AUGUST 14:
Entertainment: Ethan Tucker, 5 p.m. to 7 p.m. An Olympia native, Ethan Tucker is a mix of acoustic and blues, soul and guitar magic. He joined Blake Shelton's team on NBC's "The Voice," has toured with Jimmy Cliff, Buddy Guy and the Wailers and released his album Misunderstood in 2015.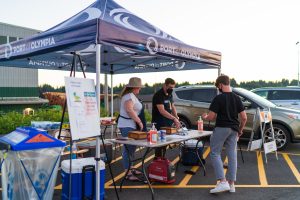 Movie: "Pirates of the Caribbean: The Curse of the Black Pearl" (PG-13) – 9 p.m.
AUGUST 21:
Entertainment: Jake Grantham & Kieran Lynch ft. Wade Cota 5 p.m. to 8 p.m. Thurston County native, Jake Grantham has teamed with Kieran Lynch to create music that is best described as soulful, rock, hop and roll that crosses the generational tastes of music and they make a perfect complement to Wade Cota's unique and appealing Indie rock and future base style. Wade Cota was recently a top five finalist on American Idol.
Movie: "Raya and the Last Dragon" (PG) – 8:45 p.m.
Gibboney and the entire Port team are grateful for this year's event sponsors. They include the City of Olympia, KGY 95.3 FM and Olympia Federal Savings. Port staffers also remind unvaccinated attendees to wear masks and maintain a six-foot social distance throughout.
You can find more of the Port's exciting events through their website or Facebook page. This summer alone they are proud to sponsor Summer Splash! at the Hands On Children's Museum, LoveOly Summer Fest in July and August, Olympia Brew Fest in August and Harbor Days in September.
And more than just sponsoring, the Port is always happy to share their knowledge with your event or special interest get-together. Groups can request a speaker to visit their group and speak about Port operations, economic development, environment, seaport, marina, or other regional topics. With a footprint which incorporates public trails and plazas, museums, the Farmer's Market and so much more, they're an integral part of our thriving community.
The weather's warm, Coronavirus restrictions are loosening, summer days are long and it's time to get back to community fun. Thanks to the Port of Olympia's Movies at the Marina, there are now some free, easy ways to be together, have fun and laugh the night away. Grab folding chairs, a sweater, fill your water bottle and head downtown. You won't regret it.
Sponsored