Sipping a cold bottle of root beer while sitting outside his west Olympia luthier workshop on an unseasonably hot summer day, Dan "Mudcat" McKinstry explains why he uses Western red cedar to carve stunning stringed wooden instruments, especially mandolins.

"Unlike hardwood, cedar feeds its sound to you when you play," McKinstry says. "You can really feel it. It's especially good for playing music around the campfire. That's been a joy."
A luthier builds and repairs string instruments that have a neck and a sound box. "Luthier" derives from the French word for lute. At his Red Cedar Luthier, McKinstry, a well-known local gospel and blues musician ("Mudcat Music"), builds and repairs mandolins, mandolas (the larger ancestor of the mandolin), bouzoukis (the Greek member of the stringed lute family) and guitars.
His early childhood involved working with wood in the Grays Harbor area. "I cut shake blocks before I was old enough to drive," he says. "I cut blocks and sold them and made a few bucks that way."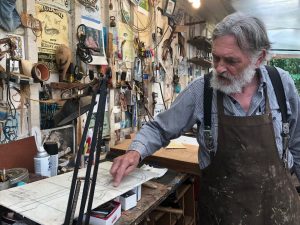 McKinstry continued working with wood in later years at a lumber mill. At the same time, he began his musical career in the 1960s playing guitar, but eventually turned to the mandolin. "I was interested in the mandolin," he says. "I had a 'tater-bug' – a mandolin with a bowl shaped back." Bowl back mandolins were nicknamed "tater-bugs" for their shape with a round back and resemblance to the potato beetle.
But McKinstry says he wanted to find a better instrument than his tater-bug. He searched for a good mandolin while on an extended trip to the East Coast, asking older music shopkeepers if they had a mandolin he could buy, preferably a highly desired Gibson. They suggested he return to the Northwest. "Go back home," he says the shopkeepers told him. "Everything has already been found out here." While on that trip, he saw a Mexican mandolin made of a light-colored wood, but it was not for sale. "I thought, I know a light-colored wood that would sound good – the shakes I used to cut as a kid. So, I decided to 'go on home' as the old men told me, and make mandolins out of cedar."
McKinstry returned to Washington and in the 1970s began making stringed instruments. He felled a premium cedar snag for source wood to carve his first mandolin. "It was short and round, and not as graceful as I wanted, but it worked," he says. He started a business using 400- to 500-year-old cedar. "Mandolin construction took over my life," he says. For a time, he worked out of a cabin in the woods with no running water or electricity.
Later, McKinstry operated a small musical instrument store in Aberdeen where fellow local musician Kurt Cobain, the front man for the rock band Nirvana, used to stop by to read music books and buy equipment with band member Krist Novoselic. "He had a great voice," says McKinstry of Cobain. "Big lungs."
It was also in Aberdeen that the name "Mudcat" became his moniker. His store was originally called "The Fret Shop" but he learned that name was used by other businesses. So, he added "Mudcat Music" to the name. "Mudcat" stuck to him, too. He said Mudcat was the nickname of a local pugilist as well as a feisty fish. "A mudcat is the smallest fish in the creek," he says. "It's thorny. A mudcat grabs the bait from other fish. And it has stingers on its back and jaws. It's an ornery little fish that lives in the bottom of the creek."
In the 1990s McKinstry moved to Olympia. Nowadays, McKinstry designs, builds and repairs instruments at his shop on 11th Avenue Northwest. The shop is easily identified by a large blue wooden guitar sign made by his grandson. Behind the sign is an apple tree where instruments in various stages of construction are hung to dry and cure. And behind that tree is his shop, a combination of a low yellow building plus an old bus.
McKinstry is especially fond of making mandolins, carving unique and lovely designs and mosaics into the wood. Sometimes a completed instrument produces such a beautiful sound that he is reluctant to sell it. "I keep the jewels for myself," he says.
McKinstry's love of these instruments and cedar introduced him to luthiers from around the world who seek the highly desirable wood. "The finest cedar in the world is the Western red cedar found just down the road from Smith Creek and Salmon Creek," he explains. His instruments have shown in many locations including the Palace of Fine Arts in San Francisco.
"Building instruments can be habit forming," McKinstry says. "I put on the glue and the clamps and wake up the next morning – and it's like Christmas. I get to see if it works."
Dan "Mudcat" McKinstry is always ready to talk music. To chat, call 360.866.7687.