Within the Pacific Northwest ecosystem, the story of water is also the story of life. And this summer, the WET Science Center is inviting local children, families and community members to connect with local water through the exploration of the South Sound environment. Through Outdoor Pop-Up events and Rediscovering Science Scavenger Hunts, participants can discover more about LOTT Clean Water Alliance's role in our community.
If a young learner is on the hunt for fun science experiments to conduct while on summer vacation, the WET Science Center's Rediscovering Science program offers a diverse catalog of activities that students and community members can complete at home or at a local park. From building a plankton net, to crafting a homemade hummingbird feeder, participants can learn more about the flora, fauna and geography of the Pacific Northwest.

WET Science Center will host a series of Outdoor Pop-Up events. The first pop-up event, Connecting Us With Water, will take place on Saturday, July 10 at the WET Science Center outdoor plaza, where community members can participate in summertime fun, including chalk art, scavenger hunts and bubble making. Participants may also take home kits that combine water and engineering-based activities.
"Saturday is all about water and wastewater treatment," says Nelson. "We will have science kits that are grab and go. We've created one that what we call a water filtration challenge. So can you build a water filter at home. And then, we'll have an opportunity to grab some of our more popular Rediscovering Science packets."
On Saturday, August 14, community members can learn more about the environment of local wetlands at the Ecosystem Explorers pop-up event at the Hawks Prairie Reclaimed Water Ponds. Home to unique flora and fauna, community members can tour the diversity of pond life, go on a wetland-themed scavenger hunt or create solar art. Participants can continue their exploration through take-home Teeny Ecosystem Kits.
"The Hawks Prairie Reclaimed Water Ponds are a wetland area that is teeming with natural wonder," says Nelson. "It's full of native birds and a popular spot for bird watching. The aquatic ecosystem at the ponds support a lot of life. That ecosystem starts with the aquatic invertebrates, things like dragonfly larvae. Many insects start their lives out in these aquatic forms and they're the basis of that ecosystem. It is a robust and diverse ecosystem worth exploring."
For those who prefer a weekday activity, the Ecosystem Explorers II pop-up event will take place at the WET Science Center outdoor plaza on Thursday, August 19. Allowing community members to explore the many diverse ecosystems that call this region home, participants can become immersed in nature while searching for local pond life. For further fun, participants can take home Teeny Ecosystem Kits.
Another one of this summer's featured activities includes scavenger hunts at Hawks Prairie Reclaimed Water Ponds, the WET Science Center's outdoor plaza, and Tumwater's Deschutes Valley Park., The Deschutes Valley Park houses a Class A Reclaimed Water tank, which helps to water the neighboring golf course Tumwater Valley Golf Club.
"One of the products we create is Class A Reclaimed Water," explains Siri Nelson, the education program manager for the LOTT Clean Water Alliance. "Essentially, that's wastewater that's been treated to a high standard that it's good for almost anything but drinking. For example, the Tumwater Valley Golf Club uses this water to irrigate their golf course. Instead of pulling water from our aquifer, the city uses reclaimed water to irrigate the golf course. This water reuse saves million gallons of drinking water."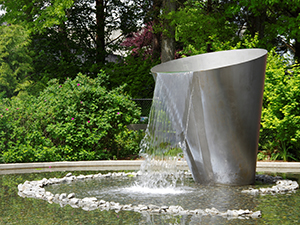 The Deschutes Valley Park is a community space, home to a play area, restrooms, a picnic area and views of the golf course. "The Deschutes Valley Park scavenger hunt is an opportunity for folks to explore the park and look for some features they may have not noticed," says Nelson. "Think about what they see and hear. That could be the public art, or what colors they see, what birds they hear and learn a little bit more about reclaimed water, which is one of the reasons why the park is there."
The WET Science Center building remains closed. In the meantime, "We want to encourage people to get out and explore LOTT's outdoor spaces like the Deschutes Valley Park and the Hawks Prairie Reclaimed Water Ponds," says Nelson. "There's also a small interpretive wetland and plaza outside a WET Science Center. Visiting those areas is a chance to get outside, explore nature and the natural world, and how water integrates with it."
To learn more about the Outdoor Pop-Up events, or the Rediscovering Science Scavenger Hunts visit the WET Science Center website.
Sponsored