If the last year has taught us anything it's that there are scores of unseen healthcare workers who spend long hours looking after people behind the scenes. Locally, the Thurston County Health Officer cares for residents of all ages across our growing region. Dr. Dimyana Abdelmalek works hard around the clock to keep us safe, healthy and informed.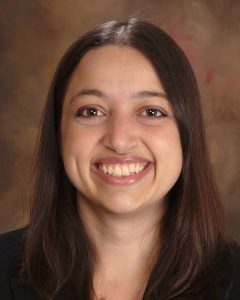 A Bay Area native herself, Abdelmalek's medical education is both vast and varied. She studied global health and received her undergraduate degree in history and integrative biology from UC Berkeley. For medical school, Abdelmalek attended the Albert Einstein College of Medicine with an emergency medicine residency at Washington University in St Louis. She also obtained a Global Emergency Medicine Training Fellowship and Masters of Public Health at Case Western Reserve University.
To become Health Officer, the position requires applicants to possess an MD or DO degree licensed in the state of Washington as well as a Masters of Public Health. Their employment term is appointed by the Board of Health and they report directly to the Public Health Department Director.
"The primary role of the health officer is to protect the health and well-being of everyone in Thurston County," explains Abdelmalek. "This includes upholding public health statutes, controlling the spread of communicable diseases, communicating with public on steps they can take to stay healthy as well as addressing nuisances and environmental health. A health officer is the physician responsible for the entire county."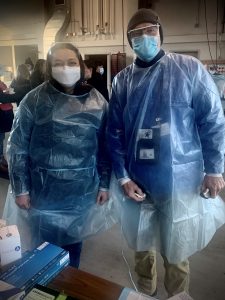 On a day-to-day basis this might be providing "medical oversight to the Thurston County Public Health and Social Services Department," says Abdelmalek. "Specific duties include advising Thurston County and the Thurston County board of health on matters relating to public health, providing technical support to Thurston County Public Health programs, controlling communicable disease in the county and educating the public about risks to health and necessary prevention measures."
Traditionally the Health Officer meets monthly with the Board of Health, however since starting her job in the midst of the pandemic in July 2020 she includes as-needed coronavirus updates with and to the Board of County Commissioners. She also works collaboratively with the Washington State Department of Health and other local health jurisdictions. When invited, she's happy to speak to community groups as well.
"The best part about being a health officer is the opportunity to help people, communities and institutions tackle challenging problems," says Abdelmalek. "In a medium sized county, I have the opportunity to work directly with other community members in our vaccination clinics, work with facilities and institutions to prevent COVID-19 spread, work with health care providers on communicable diseases as well as with other government officials on matters of policy that affect our county and our state."
Read more about Abdelmalek on the County's dedicated Health Officer page. There you will find her frequent coronavirus update letters to schools and superintendents as well as her direct letters to the community. She also posts occasional YouTube videos through their page or via the County's portal.
To learn more about Thurston County Public Health and Social Services, follow them on Facebook or visit their website. Their Facebook page provides updates on COVID-19 vaccination clinics and testing sites, county-wide infection numbers, breakthrough and variant updates and other helpful information.
Caring for an entire community takes passion, compassion and hard work. Throw a pandemic into that mix and it's a lot to ask of anyone. But for Thurston County Health Officer Dr. Dimyana Abdelmalek, every day on the job is a true work of heart. She has a passion for keeping those under her charge safe and explaining complicated—and often stressful—medical news in ways we can all understand. The position may exist behind the scenes, but it benefits residents county-wide.
To contact Abdelmalek's offices call 360.867.2610 during business hours. For the State COVID-19 Assistance Hotline call 800.525.0127 or text 'Coronavirus' to 211-211. Have a public health question you'd like addressed through her letters to the community? Email it to tcphss.pio@co.thurston.wa.us and staff will do their best. Because a healthy community is a happy community, thanks to Dr. Abdelmalek and public health officers nationwide. We owe them a huge debt of gratitude for all they do.