When Heidi Nelson moved back to the Olympia area, she sought out a creative outlet that could help her to reconnect her to the broader South Sound community. As she settled back in the area, Nelson was invited to join a community choir run by local musician and educator, Matthew Melendez. Although Nelson had initial nerves of singing in a group setting, she soon became a consistent member of Melendez's choral ensembles, including those conducted through Melendez's nonprofit organization, the Great Bend Center for Music.

At choir rehearsals for the Great Bend Center for Music, Nelson cultivated a deep connection to fellow members of the South Sound community. With choir members stemming from all walks of life, Nelson says the community choir was able to find common ground through the shared experience of creating music.
"These are people that I would never have come in contact with, otherwise, just because we aren't in the same circles," explains Nelson. "I live in Olympia, so I drive the 45 minutes out there to Mason County, when we can meet in person. I gladly drive out there to go do that. There are all kinds of people. You never know who's going to walk in the door at the beginning of the term, which is really, really fun. Matthew has created this environment where you feel comfortable showing up and you feel comfortable screwing up and learning, and that's not a very common thing."
Based in Mason County, the mission of the Great Bend Center for Music extends beyond performing arts or music education. Harnessing the power of music and shared experience, the Founder and General Director of the Great Bend Center for Music, Matthew Melendez, believes that music can be the answer to strengthening communities and generating social change.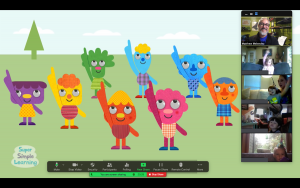 At the heart of the Great Bend Center for Music, is community-based choral ensembles. Trained as a choral conductor, Melendez leads a spectrum of choirs, ranging from young students to adults. Each choir is built around inclusivity, so no auditions are necessary. As a means of building shared meaning and camaraderie, emphasis is not placed on skill alone, but rather the experience of working together to create a common tune. Choral ensembles formed by the Great Bend Center for Music have performed at a range of local venues and were invited to perform at Carnegie Hall in 2019.
Originally from New York, Melendez moved to Mason County when his husband started a new job in the region. Melendez had previous experience as both a professional musician and as a vice president of marketing while living around the country, including New York and Portland, Oregon. While adjusting to small town living, Melendez sought out a new sense of purpose in the tight-knit Mason County community.
A Song for Change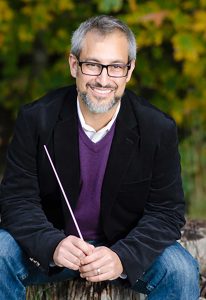 This purpose arrived when Melendez accepted a position as a substitute teacher, eventually working inside almost every public school within Mason County. From classroom to classroom, Melendez became more acquainted with the community, and its need for additional artistic outlets.
"Substitute teaching was the way I got to know the community, through the kids," says Melendez. "And I was shocked by how little these kids thought of themselves, because of where they were. Just because of their geographic location. And that just killed me. I very quickly figured out there's nothing I could say. There's nothing I could say really to counteract that."
Hoping to create a more permanent impact within the community, Melendez decided to return to school to pursue a master's degree in vocal performance and pedagogy and eventually, a doctoral degree for choral conducting. Melendez planned to use his education to create art and music programs for Mason County residents and students.
Established in 2017, the Great Bend Center for Music was built on years of prior music education programming within Mason County. While conducting various choirs and musical performance groups over the years, Melendez noticed the formation of unlikely friendships and music's unique ability to unite community members who came from different backgrounds or held differing personal views.
"Choir members got to know each other without the labels first, and then the labels didn't matter," explains Melendez. "And that, I think, is potentially really powerful. And we saw instance after instance about that. It was the power of making music to help people see that they had more in common than they thought they did."
At the Great Bend Center for Music, creating music, and the associated shared experience, is viewed as a tool for social change. And through this music, Melendez researches and explores possible pathways where music can help address pressing community issues, including those related to incarceration, homelessness, mental health and elementary education.
"We need those opportunities for people in a community to cultivate respect," says Melendez. "Music isn't the only way to do it, but it is by far the most effective and it is by far the lowest hanging fruit. And that's the foundation for everything we take for granted about music today, in terms of its impacts on school success, its impacts on therapy, and wellness outcomes from memory care to Parkinson's."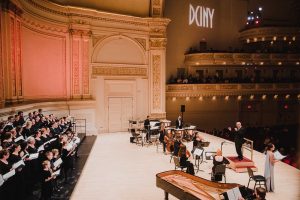 To encourage community building practices, the Great Bend Center for Music is forming partnerships with a range of organizations across Mason County, to help enrich and enhance existing community services. This includes collaborating with schools and faith communities as well as Mason Health, and the South Sound YMCA. The Great Bend Center is also working to expand their services beyond Mason County and into Kitsap, Pierce and King County.
As a longtime participant in Great Bend Center activities, Nelson recently accepted a new position at the Great Bend Center for Music. As the organization expands its services in and around Mason County, Nelson will take on projects that will help support the organization's mission and everyday operations. Nelson also plans to participate in future choral ensembles with the center, continuing to practice her musical craft in a supportive environment, while also forging new friendships along the way.
"Matthew is a really good teacher, and you feel safe with him," says Nelson. "You feel safe to make those screw ups or you feel safe to ask the questions. No question is a dumb question with him. He will be willing to explain it and he has a knack for explaining it in a way people will understand."
To learn more about the organization's work in the community, visit the Great Bend Center for Music website.