Families caring for someone with special needs are all Champions of Courage, which aptly names South Sound Parent to Parent's annual fundraising event. To celebrate and raise money for programs, SSP2P has re-created its annual event this year due to the pandemic. What was formerly held at the Hand's On Children's Museum, will now take place outside on the property of its building on Olympia's westside on August 14. The afternoon party is designed with families in mind, so you'll find fun, food, activities and information. "When life gives you lemons, squeeze the day," is this year's theme. Yes, there will be lemonade.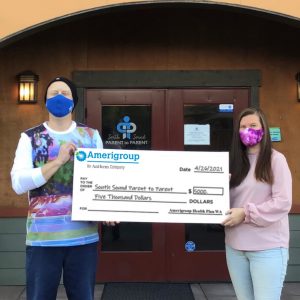 "We are really excited!" says Sheila Kavanaugh, SSP2P's deputy development director. Everything is lining up for a fabulous event, including this year's premiere, Courageous Champion sponsor, Amerigroup. The managed care organization offers low or no cost health insurance for kids, families and adults through Washington Apple Health (Medicaid). Matt Sanders, Amerigroup's community relations representative, will be on hand to talk with guests, answer questions and pass out treats. "I can be a resource," says Matt, who knows the ins and outs of applying for, understanding and using health care insurance. His goal is to defeat anything that stands in the way of getting the appropriate insurance.
A family can be faced with exorbitant, monthly expenses when a child has a medical condition like type 1 diabetes. There are innumerable scenarios and variables which can get complicated quickly. Matt is happy to talk about your specific needs. "I believe in cooperativeness, outreach and collaboration," explains Matt.
Amerigroup is available in all of Washington's 39 counties and believes in the importance of getting to know the people and organizations in each community. Amerigroup wants to spread the word about the value-added benefits in its programs. Basic plans are required to include the 10 essential benefits such as coverage for hospitalization, but a family's or individual's needs generally extend beyond the basics. Amerigroup can help people get their GED, enroll in a no-cost Costco Gold Star membership, receive eye exams and vision care, participate in online doctor visits through video chat and have a smartphone. Gas and grocery cards are other value-added benefits. There are also extras for moms-to-be and their babies. "We believe in going above and beyond," says Matt. Amerigroup supports families in many ways, such as offering free memberships in Boy's & Girl's Clubs of Thurston County.
If you are not familiar with South Sound Parent to Parent, the organization has been active in our county for over 30 years. SSP2P offers a rich diversity of programs for families with children who have disabilities, developmental delays or chronic illness. It all started with parents and professionals working together to identify support for everyone in the family, understanding that the parents and siblings face extra demands. Parents can help each other, because they truly get it. SSP2P offers services in Thurston, Grays Harbor and Mason counties.
Each year SSP2P connects with 4,500 in our community. SSP2P strives for early intervention, which is from birth to three years of age, but the agency is engaged with families throughout their life spans. The organization was quick to offer its full range of services remotely from the very beginning of pandemic restrictions. There are support groups for moms, dads and siblings. The website has information and videos. You can sign up for a monthly newsletter and learn about continuing workshops and parent trainings. Every event is designed to empower parents, to relieve isolation, which has been greatly increased this past year, to provide encouragement and to find ways to make meaningful, supportive connections.
Mark your calendars for the Champions of Courage on Friday August 14. More details on entertainment, food and auction items will be firmed up as the day draws closer. Check out the Facebook page for updates or visit the SSP2P website for more information. You can be sure that SIB (siblings) Shop participants will be hosting a lemonade stand. Take your best shots at the dunk tank and treat yourself to a scoop from Sofie's Scoops. The silent and live auction will feature local artwork, handmade wooden vases and other artisan products.
Tickets are $15 for adults with children under 18 at no cost. You can get your tickets online.
South Sound Parent to Parent extends its gratitude to local businesses for being Super Hero and Fearless level sponsors:
Molina Healthcare
Twin Star Credit Union
Olympia Federal Savings
BECU
B3 Business Solutions
Ironman Steel Erectors
Timberland Bank
Heritage Bank
South Sound Parent to Parent
2108 Caton Way SW, Olympia
360.352.1126
Sponsored