While a house can tell the story of those who lived in inside, it can also contain the story of the builder's motivation. The Georgian style brick home at 408 27th Avenue in East Olympia tells the story of an incredibly ambitious woman who dreamed of its creation from floorplans to chandeliers. Trena Belsito Worthington, native Olympian, attorney and homebuilder, leaves behind a legacy and inspiration in her historical register homes. The 27th Avenue, Wildwood neighborhood home is the third among her homes to be given historic recognition and was added to the Olympia Heritage Register in 2016.
The home is special, not only for the nature of its unique architectural appearance, but for the dream fulfillment that drove its construction. Born Trena Selvidge in 1908 as an Olympia native, she was the daughter of John and Martha Ellen Selvidge who came west from Missouri. Her father, John Selvidge, worked for the Bordeaux Lumber Company as a blacksmith, and her mother ran a store in downtown Olympia. Her father had an open-door policy, offering the Selvidge home as lodging for anyone in need.
"I never had a bedroom to call my own," Worthington shared in a 1991 oral history interview. "I never had a dresser to call my own." The experience had an effect, which spurred her homebuilding interests later in life. "I guess there were times that I thought I would just give my life for a little privacy, so I began to dream about a house. When other little girls were playing with dolls, I was building myself a house. House, house, house is all I had on the brain." The Selvidge family home on Union street in Olympia had a basement where she played out her dreams of having her own house.
At 17 she married Leo Belsito. After living in their first Wildwood residence, at the corner of Hillside Drive and O'Farrell Avenue, Worthington proceeded to build three more houses on Hillside Drive. Each house reflects the Georgian revival style that an Architectural Digest magazine article inspired. She built them mostly for the purpose of selling, but some were built with an intention to reside. On each project, she assumed the role of general contractor, seeing it as the most financially sound approach for saving money by hiring her own sub-contractors.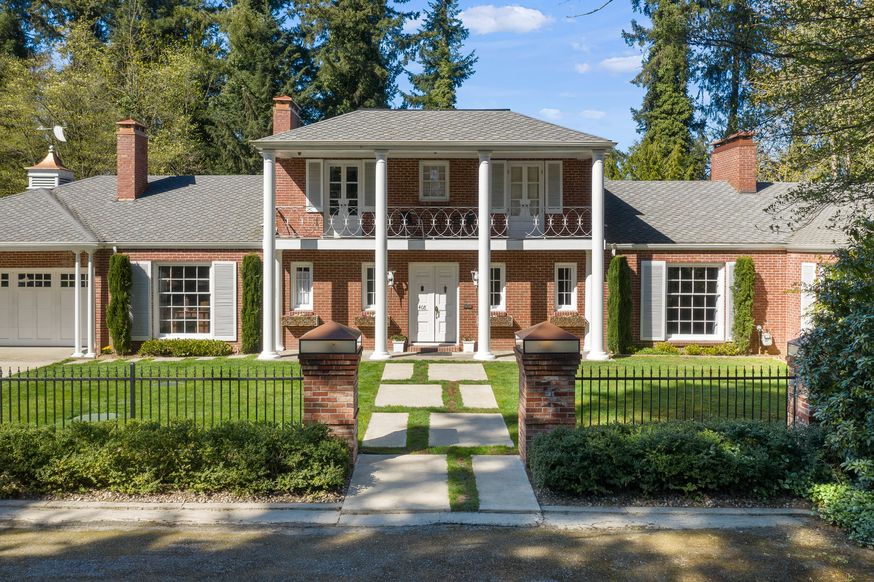 In 1948, aiming to have a good view in the next project, she built the 27th Avenue house in the same Wildwood neighborhood, but at the end of Adams Street where the lot backs up to a hillside looking towards the capitol building. Similar in style to her previous homes, she continued the familiar theme of brick veneer, large windows and careful symmetry in exterior features. "You can't get an architect to build a house on this plan today," Worthington shared in the oral history record. The privacy afforded by the central hall that divides the rooms on either side of the house and the bedrooms upstairs, to her was a plan that was unrivaled. The choice of brick also had its purpose. "I found that they look better longer than any other material. And one thing that encouraged me to build them was you didn't have to paint them," she added.
In addition, her sister had encouraged her by reporting back about older brick homes in Tacoma looking newer than homes of the same period due to their brick construction. "This house, if it were to be wrecked… there wouldn't be anything new to compare it with… This house will be here when we're all gone," Worthington defends.
Architecture and home construction were part of what make Worthington's homes special, the 27th Avenue among them. She was a woman who chased her dreams. Not only did she secure sub-contractors and put finesse into her home designs, but she was also raising a family and practicing a career. Encouraged by her husband Leo, she pursued a law clerkship, passed the Washington State Bar and only later attended law school at Willamette University. She went on to practice law in Olympia for 40 years. Worthington's personal drive behind construction of the architecturally-unique homes makes them prime candidates for the Olympia Heritage Register. "Any building, structure, object, site or district may be designated for inclusion in the City Heritage Register," reads the Olympia municipal code 18.12.080, "if it has significant character, interest or value as part of the development…is at least 50-years-old…is significantly or substantially a part of or connected with the lives of persons significant in national, state or local history." Worthington's family history, her native Olympian status and her place in women's history as a decades-long, local, female attorney open the door to that qualification.
Like all homes, the 27th Avenue Georgian revival requires maintenance over the years. The kitchen and bathrooms have been remodeled, but the main floor bathroom retains its original sink and bathtub. The light fixtures on the main floor are original with the exception of a new chandelier and a ceiling fan. As Worthington herself mentioned, there isn't anything new that can compare, and it will be here for the community to admire for a long time.