Are you interested in exploring a new or enhanced career in a professional technical field such as automotive technology, early childhood education, baking and pastry arts, dental assisting, accounting, or others, but you are not sure what that study or degree would entail? If so, registration is now open for the South Puget Sound Community College's Professional Technical Program open houses conveniently conducted via Zoom in online sessions June 8–11, from 4:30 p.m. – 7 p.m. The sessions will "spotlight" several such programs and help you get those answers.
Professional Technical (Prof Tech) degrees at SPSCC enable students to prepare for a new career, upgrade current skills or get into a trade job. "As a community college, we are here to serve our community," says SPSCC Director of K12 Partnerships and Recruitment Anne Molenda. "We recognize the past year has been a whole different experience. We learned a lot about modalities and how people learn." She says the primarily online learning this past year has given the college an opportunity to look at things like what topics can be lecture-based and which ones are to be more of a hands-on learning experience. "The (June 8 – 11) spotlight is an opportunity to learn about several of the programs and what we have to offer as we transition into more of a traditional (classroom-based) way," she adds.
Molenda says using Zoom is useful for potential students and enables the college to offer a new format for the open houses designed to provide information to prospective students and answer their questions. She notes that the college also used the virtual event format for sessions focused on high school students grades 10-12.  "We have been running 'virtual open house' events since last spring via Zoom to highlight programs, services and enrollment steps information," she says. "We have found the format to be very effective because people can RSVP for the specific sessions they want and tailor their experience to their interests. This spring we are still in a position to not host face to face but wanted to give the opportunity for prospective students to connect with our professional/technical programs."
Each professional technical program spotlighted in the June 8-11 sessions is designing what they want their spotlight time to look like, and each program's presentation will run half an hour. "So, it could be a PowerPoint presentation, or some current students sharing their experience or include a video tour of the facilities or a combination of things," Molenda explains. "Each presentation will be unique to the program and they are all hosted by faculty in the program. Each evening will end with a general admissions information session and the opportunity for people to learn next steps to enroll at SPSCC and in any of the programs for a summer or fall quarter start."
The presentations will cover certain pathways, which is how SPSCC categorizes its degree and certificate programs. Pathways allow students to take classes related to their interests, earn their degree faster, and graduate. The sessions' spotlights will then highlight some of the degree programs within the pathways being represented each evening.
The schedule of pathways and spotlighted programs to be covered is:
Tuesday, June 8
Pathways: Food, Beverage Arts & Hospitality and Social Services & Education
Program Spotlights: Baking & Pastry Arts, Culinary Arts, and Early Childhood Education
Wednesday, June 9 
Pathway: Automotive, Welding & Machining Technologies
Program Spotlights: Automotive Technology and Architecture, Engineering and Construction (AEC) Technology
Thursday, June 10
Pathway: Business, Finance & Office Administration
Program Spotlights: Accounting, Business Administration, and Paralegal
Friday, June 11
Pathway: Healthcare
Program Spotlights: Dental Assisting, Medical Assisting, and Nursing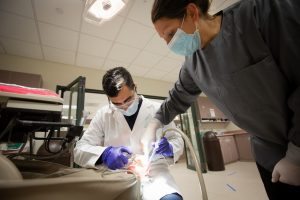 These evening sessions are open to anyone and Molenda anticipates that prospective adult students will have a high interest.
Many of the programs to be covered in these sessions start their core classes in the fall, but Molenda says that prospective students can get a jump on the general education requirements as early as this summer. The college has "Pathway Maps" for each degree to help students see each quarter what they should be taking. Molenda says students are assigned an Educational Planner based on their pathway to help them customize their plan.
Attendees will need to RSVP by registering online. There is no registration deadline. Participants can register in advance or on the day of each session and they can sign up for multiple sessions. Registrants will receive an automated email with the Zoom link when they RSVP.
For answers to questions about the June 8–11 spotlight sessions or the professional technical programs generally, persons can email outreach@spscc.edu or call 360.596.5440. More information on all the professional technical programs is available on SPSCC's website. Many programs have online, evening and weekend classes, providing flexibility for students. Financial aid is also available.
Sponsored