Sandstone Distillery is always up to something creative and exciting, whether it's new and unique craft spirits, shifting gears to produce hand sanitizer on a moment's notice, or hosting fun events for the community. In keeping with their ethos of perpetually adapting and adjusting with the times, Sandstone is thrilled to announce the expansion of their "little sister" company, Wild Heart Sipping Vinegar, into production and storage space in downtown Tenino that will also double as a space for community events.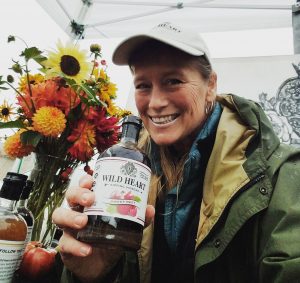 Before unveiling the new space, it's important to first understand what exactly a sipping vinegar is. Sipping vinegars, also known as shrubs, are drinkable, fruit-infused vinegars that have a long history. "They're centuries and centuries old," explains Jenni Bourdon, co-owner of Sandstone Distillery. "When the Brits decided to romp north and take over the world, they wound up in the Arabian Peninsula and neighboring areas. Here, there was a process for acidifying fruit juices in a hot and humid climate that could preserve them and make them enjoyable for longer periods of time." Jenni then describes how this was then called a Sharab.  The acidic liquid was used to flavor water and tea and offered many similarities to a spirit without having any alcohol content.
The Sharab later traveled far and wide before landing in colonial America where it became known as a shrub. Martha Washington was even known to have entertained her guests with the drink, but just before prohibition, it fell out of favor. "Lately," says Jenni, "over the past 8 to 10 years, shrubs have been making a resurgence, especially among health-conscious people."
Four and a half years ago, rules applying to distilleries in Washington changed. "Our craft cocktails couldn't be comprised of liquor from outside our production space," states Jenni. "Today, those rules are different, but this was the point when we decided to start making our own sipping vinegars." As they produced the vinegars, rave reviews from customers began flooding in and people started to visit the distillery just to purchase a vinegar for their complex and delicious components. The acidity of the shrub makes it well suited as an aperitif or used as an alternative to bitters in cocktails. Shrubs are also known to have many health benefits such as helping with inflammatory issues, digestive health and more.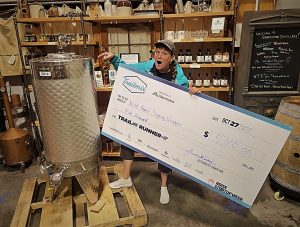 At this point, Jenni, her husband, John and son, Justin made the decision to technically separate Sandstone Distillery from the vinegar production and created the Wild Heart Sipping Vinegar brand. Jenni took the lead on this passion project while John and Justin primarily kept their hands in the Distillery.
While Wild Heart may have started as a little sister, it's quickly taken off and made a name for itself outside of the Distillery. Selling in farmers markets across the state, one of the few customer-direct venues still open during the COVID-19 shutdowns, proved to be their sweet spot. Last year alone, even during the pandemic, Wild Heart bottled and sold over 10,000 sipping vinegars. This was an extraordinary feat as a large portion of the vinegars had previously been both tasted and sold during large scale events like fairs and festivals. "While we were unable to participate in events and gather together," says Jenni, "it was wonderful to have been able to continue to share this product with people during COVID at the markets."
As customer demand for the Wild Heart products increased significantly, Jenni, the visionary behind the company, was eager to move into a larger production space. After working alongside the Thurston County Economic Development Council (EDC), Department of Agriculture, and many other area and industry partners, Wild Heart found a new production and storage space, complete with a large area allocated to event and community space, to complement their refurbished and soon to be fully licensed commercial kitchen. As the vision for Wild Heart's space evolved, another need was also addressed. "There's a huge desire for local small businesses to have access to an affordable kitchen space," explains Jenni. "Our space can help fill this grey area between what's technically considered a small 'cottage kitchen' that brings in $20,000 in sales and a large $100,000+ company. Wild Heart is considered the anchor of this new space one to two days a week and the rest of the week will be available to other business owners to come in."
Originally a movie theater, this new space has a ton of character that Jenni is excited to see restored and put to use, including beautiful old pine wood floors and tall ceilings. She also states how great it is to have space to be creative in. "My imagination really begins when I'm making new vinegar varietals," says Jenni. "Our garden hasn't had fertilizer in years, so I tend to gather ingredients like wild violets, dandelions and stinging nettles directly from there." These natural ingredients, among many others, can be found in her vinegars.  Jenni works with many local area farmers to source the botanicals used in her popular micro-batches.
Along with the production and storage space for the vinegars, the new downtown Tenino space will host small events (COVID permitting). Their first event in the space, Color Me Sundays, featured a local artist who taught guests how to create framed pebble art. Being a small event made the atmosphere both COVID-friendly and more intimate. "We served some of our tasting vinegars and snacks and had a really fantastic time," explains Jenni. "It's wonderful to be able to hold small events again." Moving forward, Color Me Sundays is an event that Jenni plans to host twice a month. Another event idea, among many, is to assist local businesses that have struggled tremendously over the past year by partnering together to organize a pop-up restaurant event where customers can enjoy dishes crafted by local chefs that inspire them to patronize their restaurant in the future.
The future of Wild Heart is bright as Jenni, John, and Justin, as well as their five valued employees, look to continue expanding into the future. By early summer, bottled sparkling sipping vinegar seltzers are on the docket as well as the launch of culinary sauces made from quintessential Pacific Northwest ingredients. "I am so profoundly blessed to work with my husband and son, and for all of us to get along," jokes Jenni. "Wild Heart has also allowed me to work with other members of my family who have become my right arm in the operation. I can't wait for what's to come."
The Wild Heart Sipping Vinegar's production and storage space, and their emerging community kitchen, is located at 291 Sussex Avenue West in Tenino. To stay up to date on upcoming events, new releases and more, visit the Wild Heart Sipping Vinegar Facebook page or request to be added to their email list for micro batch release notifications by emailing wildheartsippingvinegar@gmail.com.
Sponsored