Visitors to Talking Cedar Brewery enjoy a multitude of tasting options available and often leave with a full growler. And a misconception. Brewery General Manager Jason Summers has heard the rumor, and he wants to set the record straight. "People like coming here, but they think we don't brew our own beer," he says. "They believe someone else is contract brewing for us."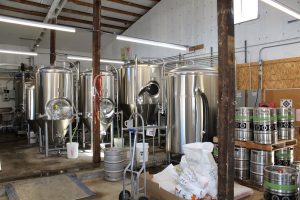 That couldn't be further from the truth. Since June 2020, Talking Cedar has produced 800 barrels of 45 different varieties of beer, all of which are served in the brewery's taproom at different points throughout the year. The confusion lies in what customers see when they visit, or, more specifically, what they don't see.
The company's large-scale, state-of-the-art brewing facility is in the same building as its restaurant and distillery. With six 120-barrel fermentation tanks, it has the capacity to produce 120 kegs in one batch. Until recently the larger facility was inactive as the brewery crew prepares to scale up operations, which means visitors see little evidence of production. Now that it's operational, with the first few test batches having been completed, brewing will scale up quickly. "We'll use this facility to produce our top five or six brands at volume," says Summers.
Meanwhile, brewing has been ongoing at a smaller Talking Cedar annex across the street that allows the brew team to develop small batches, test them out in the taproom and decide how much volume to run. "At the annex, we're using a three and a half-barrel system," says Summers. "When we want to try something new, we see how it's received and then potentially launch it into the market." All property is owned and operated by the Chehalis Tribe.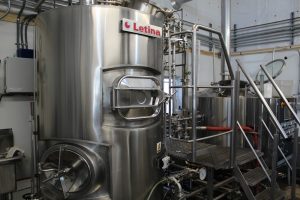 Summers, Production Manager Bill Lundeen and Quality Control Lab Technician Ryan Myhre share a passion for brewing. The trio meets daily to discuss new flavors and strategize next steps, with a goal of consistency. "If you try a beer that you like now and you try it again six months down the road, it should taste the same," Summers explains. "That's very important to us."
While certain varieties have developed a loyal following, customers are also focused on novelty. "It's a world of rotation," says Summers. "The most common question for our bartenders is, 'What do you have that's new?'" IPAs are popular favorites, along with Raspberry Blonde and BOTM shake (blood orange, tangerine and mango). Other creative blends include Samoa Stout, based on the Girl Scout cookie of the same name, Juicy IPA and a Milkshake IPA.
"We like to be creative but also understand that people are drawn to Pacific Northwest IPAs," Summers notes. "They want hyper-local." The team retires some varieties as the weather changes but some, like Raspberry Blonde, have been revived by popular demand.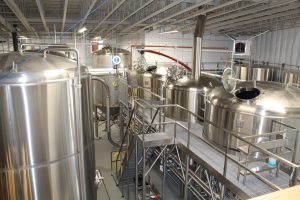 Last year the brewery expanded its reach into the retail market by canning its most popular IPAs, PNW and Juicy. Originally the company wasn't scheduled to begin canning until June or August 2021 but with the pandemic in full swing, Summers saw an opportunity to pivot. "I pushed pretty hard to have that happen before Christmas, to keep up with the demand," he explains. Talking Cedar worked with Craft Canning & Bottling from Portland to produce 120 cases (7,000 cans) by December 2020.
Partnerships play an important role in the company's business and distribution model. The brewery's only cider comes from Olympia's Whitewood Cider Company and Gig Harbor's Heritage Distilling Company will run an on-site distillery. When it came to deciding how to distribute their beer for retail, the team chose to go through other Native communities. Currently, Talking Cedar beer is available at stores on Nisqually and Squaxin Island tribal lands. "Using tribal connections is very important to us," Summers maintains. "We knew we wanted to meet with the Nisqually and Squaxin Island Tribes and that's the approach we want to take all over the state."
South Puget Sound Community College (SPSCC) is another partner. The college offers a craft brewing and distilling program and students will be able to tour the facility, ask questions and learn from industry experts like Lundeen and Myhre.
Approximately 60% of the product will not be available anywhere other than the taproom. The brewery donates raw grain from the mashing and fermentation process to a local farmer. "He drops off a massive trailer," says Summers. "He's thrilled because he gets to feed it to his cattle."
After months of testing the large-scale equipment, the next step will be to run high-volume batches of PNW and Juicy IPA, along with four seasonally rotating varieties. The eventual plan is to distribute to grocery stores and chains throughout Washington State and beyond. "That's the kind of potential we see here," Summers says. "We want everyone to enjoy Talking Cedar premium craft."
Learn more by visiting the Talking Cedar website or calling 360.858.7867.
Sponsored