Over their short six years in operation, Tenino's Sandstone Distillery has experienced many expansions allowing for the capability to rapidly produce high quality, award winning spirits. While the pandemic knocked many businesses off their feet, Sandstone Distillery was lucky enough to find a way to pivot and stand tall during one of the hardest years in history.
Since day one, husband and wife duo, John and Jenni Bourdon and their son Justin, have had big plans for their distilling business. Each batch of spirits made on-site is handcrafted from Washington-grown grains, carefully fermented and artfully distilled at just the right moment to bring the finest of the spirit to community. With their constant growth and desire to consistently produce unique and creative products, Sandstone Distillery has grown to become one of the top producing distilleries in Washington State. To keep up with the demand, they're now proud owners of six stills at the facility.
A still is an apparatus used to distill liquid mixtures. It does this by heating to selectively boil and then cooling to condense the vapor. Sandstone Distillery's first two stills at the facility were formerly soup kettles from a navy ship and received the names Hark and Harold. Keeping with the tradition of naming their stills after angels, Raphael and Hadriel are welcome additions to the business.
Raphael is a vodka column that was commissioned in Rochester at the beginning of the COVID-19 pandemic. The request for Raphael was sparked after the need for something larger arose in order to keep up with the increasing demand for hand sanitizer production. "We had a base vessel and tote already on site that we had purchased the year prior," explains Justin. "Up until last March, we hadn't had a use for it, but we're lucky it was here and ready to go. After both our facility and the rest of the state were shut down, we put in the order for Raphael, a still six times the size of our previous vodka column." The turnaround was incredibly quick as Raphael was assembled with sheet metal and installed at Sandstone Distillery within five weeks. "It was truly astounding," states Justin. "Normally a commissioned still the size of Raphael would require a six month wait time just to get things started, and after that another nine months to a year for delivery."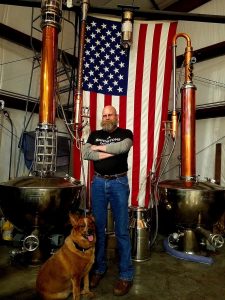 The entire Sandstone Distillery crew was very thankful to receive their new still in such a rapid fashion, however, by the time it was ready to go, denatured alcohol was readily available which proved to be a much cheaper product in producing hand sanitizer. Raphael did see some action during a few hand sanitizer productions and now patiently awaits his opportunity to be used again down the line. "Although we were honored to be able to help our local economy by producing hand sanitizer," explains Jenni, "we're excited to be able to put that in the rearview mirror and focus on distilling spirits once again."
The second new still at Sandstone Distillery is Hadriel. "We're thrilled to have Hadriel join our family as he's our very first piece of equipment that wasn't refurbished out of something else," explains Jenni. Originally built in Montana, Hadriel has an exciting history bouncing around the country. After making the journey from Montana to California, Hadriel was discovered by the Sandstone Distillery crew in a crate on the auction block. "Once we saw the still," exclaims Jenni, "we grabbed it immediately. The design was almost precisely what we envisioned and how we would have commissioned it on our own. It's truly magnificent how it fell into our lap."
Hadriel is massive in comparison to his predecessor and can produce three times the normal batch sizes. He has three jackets, two on the side for cooling and one on the bottom for extra cooling or heating capabilities. "Hadriel really is perfect for busting out barrel spirits one after another," says Justin. "We're currently using this still to ferment 900 gallons of bourbon. Our biggest problem in the past was not having enough cooling capacity, so it's great to be at a point where we can run in less time, saving money, while still keeping the distilling process very fun." While the distillery once smelt like a hospital during hand sanitizer production days, the space is now filled with sweet smells reminiscent of a bakery as Hadriel continues grinding away.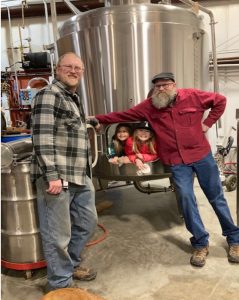 The bourbon currently being produced is moved from Hadriel into new American white oak barrels. "The last bourbon we concocted sat in barrels for two years and really flew off the shelves," explains Justin. "This straight bourbon whiskey will most likely sit for three to four years, and we can't wait to taste the result."
Sandstone is very excited to once again be open for distillery tours and tastings. Visitors are encouraged to book online to ensure the space is available upon arrival with the current 50% capacity limitations, although regulations continue to be fluid. While the space currently has less visitors than pre-COVID days, the Sandstone Distillery team has repurposed barrels to fill the space and create standing bistro tables for guests to taste their spirits at.
For more information and to book a tasting, visit the Sandstone Distillery website.
Sandstone Distillery
842 Wright Rd SE, Tenino
360.239.7272
Sponsored